Books

Featured Books

design007 Magazine

Latest Issues

Current Issue

Simplification

On the subject of simplification, our expert contributors explain how to design PCBs without making them complex and over-constrained—whatever the level of technology. In addition, we discuss the effect your decisions and tradeoffs have on design complexity.

The Standards of Design

Our expert contributors discuss how PCB designers can utilize standards to save time and money, not to mention frustration. We also spotlight the newly updated version of the IPC Checklist, a handy guide that illustrates which standards cover which topics, from front-end design through assembly.

Rigid-flex: Designing in 3D

In this month's issue, our expert contributors share their best tips, tricks and techniques for designing rigid-flex circuits. If you're a rigid board designer considering moving into the 3D world of rigid-flex, this issue is just what the doctor ordered!

Columns

Latest Columns

||| MENU
I-Connect007 Launches Real Time with... American Standard Circuits Event
September 15, 2021 | I-Connect007 Editorial Team
Estimated reading time: Less than a minute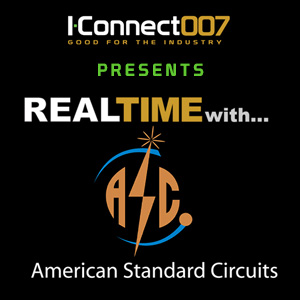 I-Connect007 is pleased to announce Real Time with... American Standard Circuits, the first-of-its-kind event featuring three in-depth discussions and a virtual tour of American Standard Circuits' factory. Inspired by their three wildly successful books in I-Connect007's The Printed Circuit Designer's Guide to… series (Flex and Rigid-Flex Fundamentals, Fundamentals of RF/Microwave PCBs and Thermal Management: A Fabricator's Perspective), this project is a comprehensive knowledge base for the reader interested in learning about high-tech circuit board manufacturing. These discussions augment the book series, offering a deeper dive into the respective technology segments. 
Each of the three stand-alone, educational discussions runs approximately 20 minutes. ASC experts Anaya Vardya, David Lackey, and John Bushie deliver a detailed and education-based approach to the chosen topics. 
"American Standard Circuits is furthering the industry conversation on their areas of expertise," said I-Connect007 Managing Editor Nolan Johnson. "In addition to the recorded discussions, video, and photo tours, readers will find links to past and current columns, interviews, and articles. This comprehensive body of work, easy to access in one place, is extremely useful." 
Please visit Real Time with... ASC to start your tour today!