Books

Featured Books

design007 Magazine

Latest Issues

Current Issue

Rigid-flex: Designing in 3D

In this month's issue, our expert contributors share their best tips, tricks and techniques for designing rigid-flex circuits. If you're a rigid board designer considering moving into the 3D world of rigid-flex, this issue is just what the doctor ordered!

Simulation, Analysis, and AI

Getting today's designs "right the first time" is critical, especially with costly advanced PCBs. Simulation and analysis software tools can help you in the fight to eliminate respins. They're not magical, but they can predict the future of your design.

Advanced, Complex & Emerging Designs

This month, our contributors focus on designing PCBs with advanced, complex and emerging technologies. We investigate design strategies for boards that are on the cutting edge of technology, or crazily complex, or so new that designers are still writing the rules as they go.

Columns

Latest Columns

||| MENU
I-Connect007 Editor's Choice: Five Must-Reads for the Week
January 20, 2023 | Andy Shaughnessy, Design007 Magazine
Estimated reading time: 2 minutes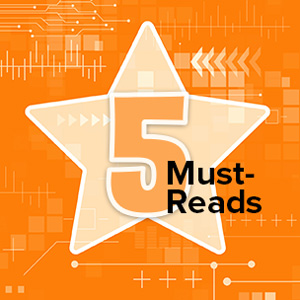 We're in the middle of show season, and it certainly "shows." Thank you very much. I'm here all week. Don't forget to tip your wait staff.
This week, we published a variety of articles, columns, and news items, and much of it centered on trade shows. Technical Editor Dan Feinberg brings us a report from CES 2023. IPC announced the winners of the Best Technical Paper awards for IPC APEX EXPO 2023. And we have an interview with Altium's Rea Callender about the company's educational efforts at APEX and around the globe. 
We saw some big M&A news this week as APCT acquired Advanced Circuits, continuing APCT's years-long growth streak. And Sam Sadri of QP Technologies discusses an alternative to ceramic packaging—open-cavity plastic packaging—that might be a great solution to the DoD's packaging material supply chain issues.
It's been a busy week, and it's about to get much busier. If you're at APEX next week, stop by and say hi. Then I'm off to DesignCon a few days later. I'll be home eventually. I hope to see you on the road!
Fein-Lines: An Eye-Popping Eureka Park and ShowStoppers at CES 2023
Published January 16
Technical Editor Dan Feinberg has been at every CES show for over a decade, and he's become our go-to guy for coverage of the consumer electronics market. In this review, Dan discusses all kinds of cool gadgets that he checked out at the show. I never knew I needed an air-to-water dispenser that transforms moisture in the air into alkaline water. 
Altium Focuses on Design Education
Published January 16
In this interview, Rea Callender, Altium's VP of education, explains the firm's partnerships with colleges that provides EDA software for students. Rea also discusses their special focus on outreach to women in electronics design. Altium is supplying the software for this year's Design Competition at APEX as well.
Compass Diversified Announces Sale of Advanced Circuits to APCT
Published January 17
Mergers and acquisitions continue in this industry, with APCT entering an agreement to buy Colorado-based Advanced Circuits. If approved, this deal would be worth $220 million and add a variety of technologies to APCT's offerings. APCT has been acquiring board shops for the past few years.
Durability and Cost Benefits Drive Mil-Aero Demand for OCPP
Published January 17
OCPP? Well, you know me. Military and aerospace contractors are having a rough time securing a solid supply chain for next-gen packaging materials. But as Sam Sadri explains, open-cavity plastic packaging (OCPP) is a lower-cost, reliable option that may be the answer to your mil-aero packaging needs.
Best Technical Papers at IPC APEX EXPO 2023 Selected
Published January 16
The best technical papers from this year's APEX have been named, and they run the entire gamut. The authors represent 18 countries and 15 are in the "next generation" category—five years or less in the industry. It's good to see new, young people taking an interest in the industry; they will be running things in 20 years, and we're feeling pretty good about that.
---
Suggested Items
09/26/2023 | GlobalFoundries
GlobalFoundries (GF) announced it has applied for U.S. CHIPS and Science Act Funding, with two full applications submitted to the CHIPS Program Office of the U.S. Department of Commerce.
09/25/2023 | HyRel
HyRel Technologies, a global provider of quick turn semiconductor modification solutions, proudly announces that it earned the prestigious AS9100 certification.
09/18/2023 | RTX
RTX business Collins Aerospace has been selected by BAE Systems as the provider for Large Area Display technology to be integrated into the cockpits of future Eurofighter Typhoon aircraft.
09/18/2023 | IPC
IPC Day France: Aerospace Electronics is an aerospace-focused networking event featuring key industry experts from NASA and Airbus and will take place on October 2, 2023 . 
09/14/2023 | CONFIDEE
CONFIDEE, a leading PCB partner, proudly announces its recent achievement of AS9120 certification. This prestigious certification highlights the company's commitment to excellence, quality, and customer satisfaction, making it a preferred choice for all defence and aerospace needs.