Books

Featured Books

design007 Magazine

Latest Issues

Current Issue

Rigid-flex: Designing in 3D

In this month's issue, our expert contributors share their best tips, tricks and techniques for designing rigid-flex circuits. If you're a rigid board designer considering moving into the 3D world of rigid-flex, this issue is just what the doctor ordered!

Simulation, Analysis, and AI

Getting today's designs "right the first time" is critical, especially with costly advanced PCBs. Simulation and analysis software tools can help you in the fight to eliminate respins. They're not magical, but they can predict the future of your design.

Advanced, Complex & Emerging Designs

This month, our contributors focus on designing PCBs with advanced, complex and emerging technologies. We investigate design strategies for boards that are on the cutting edge of technology, or crazily complex, or so new that designers are still writing the rules as they go.

Columns

Latest Columns

||| MENU
Show & Tell Magazine: Reflecting on Another Unforgettable Year
February 21, 2023 | Michelle Te, I-Connect007
Estimated reading time: 5 minutes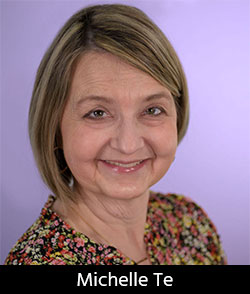 There's always a sense of heightened expectation as we prepare for another show, and then a bit of a collective sigh when it's over—a sigh of relief, maybe, but mostly a sigh of contentment at another job well done. Thank you for a week of unforgettable memories.
The close of the show also means it's time for our annual Real Time with… Show & Tell Magazine, the only post-show guide you'll need. Why? Because it isn't just a comprehensive look at what happened at the show—it's so much more. We have exclusive interviews with IPC award winners, thoughtful observations on the show from industry leaders, pages of image galleries, special STEM event coverage, and a complete listing of the nearly 80 Real Time with… interviews conducted and posted during the show. 
IPC APEX EXPO is a place to see and be seen. This year's conference embodied that philosophy more than ever; everywhere I looked, I saw attendees pouring their energy into making this once-a-year event unforgettable. Aisles and booths were packed, exhibitors were anxious to talk and, even better, visitors were eager to listen, ask questions, buy products, and make those lasting connections that help our industry grow. Here are just some of the reasons I love attending every year:
I'm always learning something new. I don't come from the electronics manufacturing world, so all my conversations at the show feel fresh and authentic. I get to experience dialogues that I'd never hear at the grocery store or my daughter's varsity basketball game. Conversations at the show, whether they're among engineers, suppliers, company leaders, marketing executives, or technical support, are always carried out with a high degree of technical expertise and knowledge—which means I'm always learning, and I love that.
The beauty of the show floor always catches my breath. I arrived on Saturday and watched the show floor transform before my eyes. Pulling it all together by Tuesday always seems impossible, but come morning, the carpet is laid, the machines are on, and it's go-time. Arranging so many booths and their displays is truly an art, surpassed only by the professionalism of each exhibitor. Well done, folks. Throughout this issue, you will find several photo galleries with images taken by the IPC photographer Josh Sears, our guest photographer PV Nguyen, and the I-Connect007 staff.
I get to step outside my virtual world. The I-Connect007 team is a virtual company. Getting face-to-face with each other, our customers, and those who stop by to get acquainted helps keep our social skills from getting fuzzy. I hear so many interesting and engaging stories from visitors to our booth while they check in for their exclusive Real Time with... video interviews. To those I met, thank you for sharing some of your lives with me, for getting to know the I-Connect007 team as much as we got to know you. This is a "people" business as much as it is a technology and operations-driven business.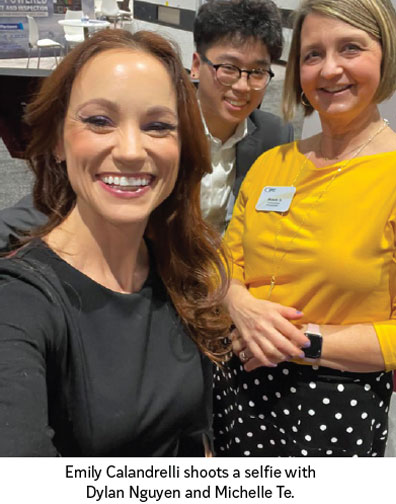 I have the chance to interview some really cool people. Sitting down with Emily Calandrelli, the show's keynote speaker, for an exclusive one-on-one discussion about her role as a science communicator, her advocacy for women in STEM, and the future she envisions for her children was an experience I won't soon forget. Emily is young, full of energy, and most importantly, she walks the talk. The ability to break down complex ideas into something we can all understand is a challenge that Emily tackles head on. This magazine features our interview with Emily, as well as recaps from our keynote speakers, and dozens of video interviews we conducted with the greater electronics manufacturing community. Thank you to all who shared their expertise with us this year. 
Turn to page 22 for a listing of all the video interviews we conducted and direct links to watch the videos on our Real Time with… website. You won't find content as specific or curated anywhere else—you won't want to miss it.
I have the opportunity to connect with columnists. As the manager for our columnist program, I'm always emailing back and forth with our columnists about deadlines, the weather—you name it. I invited all my columnists to find me at the show so we could shake hands and chat. Writing about important issues in the field takes a lot of hard work and coordination, which is why it's so gratifying when I finally get to meet columnists in person. In this issue, you'll find several post-show reviews written by our columnists—be sure to check them out.
I get to see young people participating in the show and in our booth. It's no secret that there's an age crisis in this industry, which is why seeing how many younger people participated in this year's show was so empowering. If they weren't leading discussions at the booth, they were meeting at events like Tuesday's Newcomers Reception, which was packed to capacity. Let's welcome these "kids" with open arms and give them all the opportunities they need to keep this industry thriving. Thank you to our young columnists Paige Fiet, Hannah Nelson, and Chris Bonsell for conducting video interviews in our booth. We can't wait to read more from you this year.
I'm able to witness the results of unique programs like this year's STEM event. This year, I-Connect007 publisher Barry Matties invited Dylan and Cardin Nguyen, two high schoolers he has been mentoring for years, to assist us at IPC APEX EXPO. He has prepared them for months, including inviting Dylan to share some thoughts with all the STEM students who attended. Well done, Dylan and Cardin. Every time you were challenged to try something new, you stepped up and proved you could do it. You'll find articles, interviews, and photos from the Nguyen brothers in this issue.
I get to experience the reaction to new projects like IPC Community. Seeing the magazine in print after building it out of the mere spark of an idea from IPC last summer was truly amazing. I've been in publishing for many years, and I never lose that giddiness that comes from seeing the hard work of my team come together. The magazine is free as a digital download, so if you missed picking up a copy at the show, you can still read about all the partnerships between IPC and its members in our first issue. 
Finally, a big thank you to the entire technical team that makes this huge event run so smoothly. Sometimes that behind-the-scenes labor is more work than "love," but we couldn't do any of it without you. Thank you also to all our contributors for this 2023 issue, our copy editing and production teams, and publisher Barry Matties for his vision and leadership. 
Thanks for this year's memories—we can't wait to make more in 2024.
This article originally appeared in Real Time with... IPC APEX EXPO 2023 Show & Tell magazine.
---
Suggested Items
09/20/2023 | I-Connect007 Editorial Team
Panasonic's Darren Hitchcock spoke with the I-Connect007 Editorial Team on the complexities of moving toward ultra HDI manufacturing. As we learn in this conversation, the number of shifting constraints relative to traditional PCB fabrication is quite large and can sometimes conflict with each other.
09/19/2023 | Anaya Vardya -- Column: Standard of Excellence
In my last column, I discussed cutting-edge innovations in printed circuit board technology, focusing on innovative trends in ultra HDI, embedded passives and components, green PCBs, and advanced substrate materials. This month, I'm following up with the products these new PCB technologies are destined for. Why do we need all these new technologies?
09/18/2023 | ViTrox
ViTrox, which aims to be the world's most trusted technology company, is excited to announce that our trusted Sales Channel Partner (SCP) in Mexico, SMTo Engineering, S.A. de C.V., will be participating in SMTA Guadalajara Expo & Tech Forum. They will be exhibiting in Booth #911 from the 25th  to the 26th of October 2023,  at the Expo Guadalajara in Jalisco, Mexico.
09/18/2023 | Intel
Intel announced one of the industry's first glass substrates for next-generation advanced packaging, planned for the latter part of this decade.
09/18/2023 | Aidan Salvi -- Column: Facing the Future
I have been in and around circuit boards most of my life. I started 20 years ago in my family's PCB shop, leaving after a couple of years to start my own software company. About a year ago, I returned to the family business, and the first thing I noticed was that nothing had really changed. We were doing the same things in the same way as the day I left. After talking to several experts in the industry, I realized it was worse than that: The manufacturing of PCBs had not changed in 70 years.