Books

Featured Books

design007 Magazine

Latest Issues

Current Issue

Rigid-flex: Designing in 3D

In this month's issue, our expert contributors share their best tips, tricks and techniques for designing rigid-flex circuits. If you're a rigid board designer considering moving into the 3D world of rigid-flex, this issue is just what the doctor ordered!

Simulation, Analysis, and AI

Getting today's designs "right the first time" is critical, especially with costly advanced PCBs. Simulation and analysis software tools can help you in the fight to eliminate respins. They're not magical, but they can predict the future of your design.

Advanced, Complex & Emerging Designs

This month, our contributors focus on designing PCBs with advanced, complex and emerging technologies. We investigate design strategies for boards that are on the cutting edge of technology, or crazily complex, or so new that designers are still writing the rules as they go.

Columns

Latest Columns

||| MENU
EIPC Winter Conference 2023, Day 2 Review
February 28, 2023 | Pete Starkey, I-Connect007
Estimated reading time: 7 minutes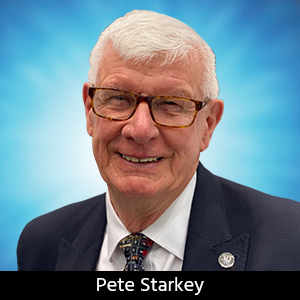 Day 2 of the EIPC Winter Conference at the Groupama Stadium in the Décines-Charpieu region of the Metropolis of Lyon in eastern France included a privileged visit to the Bugey Nuclear Power Plant for those who were registered and passed their security clearance. Such was the interest that the party was split into morning and afternoon groups. EIPC board member Martyn Gaudion, CEO of Polar Instruments, made a fine job of moderating Session 6 twice over. 
Material Solutions
The theme of the session was material solutions for challenging conditions and the first to speak was Anthony Pascalet, process engineer with AGC Multi Material Europe in France, discussing the development and evaluation of thermally stable antenna materials for automotive radar.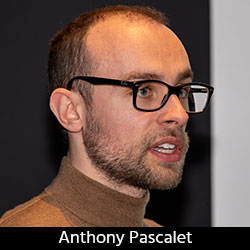 He reviewed the evolution of automation in driving and parking, from early driver assistance to full automation, the different radar sensors involved and the antenna designs and materials to be optimised depending on the radar function.
His product roadmap showed AGC's glass-reinforced and glass-free PTFE grades already in mass production to support major Tier 1 companies, and the glass-reinforced thermoset materials that are the new option for automotive radar.
Pascalet listed some reasons for the trend toward thermoset materials for high frequency applications: PTFE is difficult to process, not mechanically robust and gives limited options for homogeneous multilayers. Challenges for thermoset materials have been their comparative thermal instability, variation of dielectric properties with temperature and significantly higher loss than PTFE. 
He explained that AGC's advanced thermoset materials offer advanced electrical performance and very high reliability, with improved design flexibility using sequential build up processes that are not possible with PTFE. He compared a conventional hybrid antenna board with an antenna board created by sequential build up process, showed examples of double-sided three-step and four-step build-up constructions, and gave numerous test results.
The material is straightforward to process, comparable with FR-s4, and hd good compatibility with FR4 in hybrid builds. PCBs haves stable electric performance and insertion loss comparable with PTFE laminate, with low temperature dependence. It has robust thermal performance and is resistant to heat aging, is compatible with lead-free assembly, and has good thermal cycling properties. Antennas exhibit stable resonant frequency over a wide temperature range.
Specialist Laminates
A further presentation on specialist laminates—this time for high performance computing and the automotive industry—was given by Andreas Folge of Nan Ya Plastics in Germany. He introduced high performance computing (HPC) as a practice of aggregating computing power in ways that deliver much higher performance than traditional computers. Individual computer nodes in a connected group, processing large amounts of data at very high speed, enable the world's biggest scientific, technological and economic problems to be studied.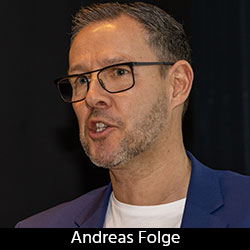 Examples in the automotive industry are simulations for autonomous driving; for supporting the design, manufacture, and testing of new products; and aiming for safer cars and more efficient processes. Folge sees the car of tomorrow as a computer on four wheels, its value increasingly dependent on software content and related services. The car will be built around a software platform rather than around an engine and  will be a merging of the worlds of automotive and high performance computing: "Software shapes the hardware." There will be an integration of software and services from multiple vendors. 
What will the automotive industry of the future require of the supplier of copper-clad laminates? Folge first gave some typical examples in the area of electric vehicle power and charging: heavy copper, anything up to 12 ounces, high thermal reliability, high anti-CAF performance, and comparative tracking index of at least 600. For embedded components, a customer specification could include Tg above 220°C, CTE less than 40 ppm per degree, insulation performance better than 50KV per mm, high moisture resistance, and low ionic contamination.
For millimetre-wave communications and driver-assistance systems, typical material requirements are for low Dk and Df; low expansion coefficients in X, Y, and Z directions; high modulus; and high anti-CAF performance. 
Folge gave examples of specific Nan Ya product offerings in low Dk and Df materials to support 24GHz, 77Ghz, and 79GHz radar in vehicle ADAS systems, high thermal reliability materials for electric drive-chain, and battery management systems. Elsewhere, in high performance computing, there is rapid growth in the server and storage equipment market, and particularly in artificial intelligence and machine learning accelerators. Nan Ya continues to invest heavily in R&D, especially in low-loss materials, and has the benefits of a vertically integrated upstream structure.
Managing PCB Stackup
Martyn Gaudion not only moderated the session on material solutions for challenging conditions twice, he also made an extremely valuable contribution to the conference proceedings with his own presentation on managing PCB stackup across the global supply chain—twice.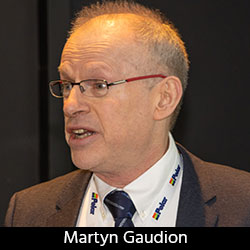 His message: "Stackup tools are a solution for communication." He asked: "Would you rely on a board where a complex stackup has been communicated like this?" and gave a series of actual examples of vague and potentially misleading instructions and drawings, even including one on the back of an envelope, or no more than a telephone call. He knew of many instances where miscommunication of stackup information has led to expensive consequences, often with compromised reliability and unpredictable high speed performance.
The alternative he offered was Polar's industry-standard Speedstack PCB stackup design tool which clarifies and reduces the chances of miscommunication with PCB manufacturers and the supply chain. 
He commented upon the growing need for designers and fabricators to communicate layer stackup information at an unprecedented level of detail, and increasingly for procurement teams and third-party brokers to ensure error-free exchange of stackup information between originator and fabricator. 
Polar's solution for communication is to define the stack in an open XML format that links with industry-standard CAD and CAM, can be scripted into other vendors' tools, and has access to comprehensive material libraries. 
Bugey Nuclear Power Plant
While Gaudion was moderating the conference sessions, two separate groups set off on their buses and followed the Rhône river about 35 km upstream from Lyon to Bugey in the Saint-Vulbas commune to visit the nuclear power plant with its four pressurized water reactors. 
Here are some notes that Alun Morgan made on the visit: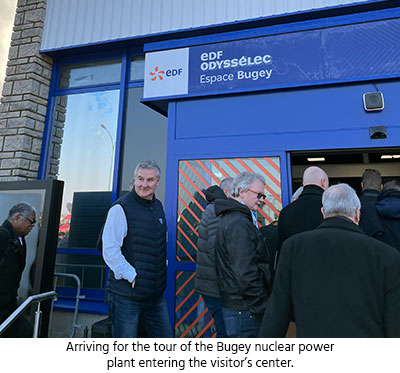 "The visit started with an introduction to EDF and their energy footprint in France. EDF has 167,000 employees, 38.5 million customers and generates 558TWh of electricity 78% from nuclear, 12.8% from renewable, 8.8% from hydro, 0.7% from coal, 1% from fuel oil and 7.3% from gas. 91% of their energy production has zero CO2 emission. There are 56 nuclear generating units in France spread over 18 sites, they are all generation 2 pressurized water reactors with an output range of 900 Mwe to 1450 Mwe.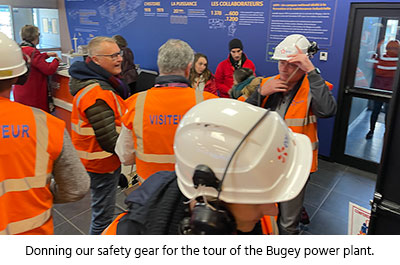 "They explained in detail how the grid is supplied and were able to give comprehensive answers to the many questions raised. They passed around a container of three uranium fuel pellets of 7 grams each. Each one had the same energy producing potential as 1 tonne of coal.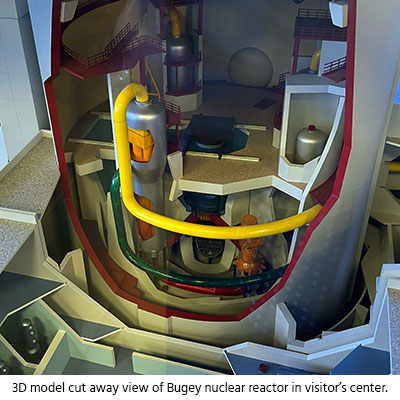 "The site visit was fascinating and it was clear that the site was well organised and run. We were able to see the various backup power systems, as well as the most recent that were housed in tall buildings to put them above any possible flood risk. We were able to enter the secure area and see the reactor containment. The visit then took us into the enormous turbine hall. Each of the turbine blade assemblies weighed 150 tonnes and the hall was equipped with heavy lifting cranes. This is engineering on a massive scale; the return water pumps, of which there were three, were the size of houses. 
"I visited the Trawsfynydd nuclear power station in my teens, the main memory I have of that was the massive turbine hall which looked remarkably similar to the one in Bugey; the process of turning steam into electricity has probably changed little in the past 50 years. The other memory is walking on the reactor floor at Trawsfynydd whilst it was operating, something you could do in a generation 1 Magnox reactor that you can't do today with the PWR design. On leaving the site, I was struck that all the massive power generated leaves by only six pairs of modestly sized wires over pylons to the grid. I was probably expecting more, or thicker, cables."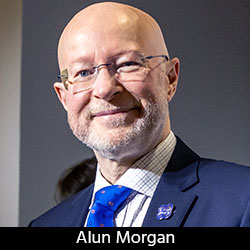 Conference Observation
Overall, the 2023 EIPC Winter Conference was a superbly organised and coordinated event, and the efforts of the EIPC team, especially Kirsten Smit-Westenberg, Tarja Rapala-Virtanen, and Carol Pelzers, are heartily acknowledged. Sincere thanks for arranging an impressive and informative programme, an excellent venue and a great networking opportunity for the European PCB community. 
I am grateful to Alun Morgan for allowing me to use his excellent photographs and his notes on the power station visit.
---
Suggested Items
09/28/2023 | Anaya Vardya, American Standard Circuits
There has always been pressure to reduce line and space as we have seen the bleeding edge technology go from 8 mils to 5 mils and then to 3 mils. The difference between "then" and "now" is that the prior advancements, for the most part, used the same processes, chemistry and equipment going from 8 mils to 3 mils. But going from 3 mil to sub 1 mil trace and space is a quantum leap in printed circuit board (PCB) technology that requires a whole new set of processes and materials.
09/28/2023 | Michael Carano -- Column: Trouble in Your Tank
In a previous column, the critical process of desmear and its necessity to ensure a clean copper surface connection was presented. Now, my discussion will focus on obtaining a void-free and tightly adherent copper plating deposit on these surfaces. After the desmear process, the task is to insure a continuous, conductive, and void-free deposit on the via walls and capture pad. Today, there are several processes that can be utilized to render vias conductive.
09/20/2023 | I-Connect007 Editorial Team
Panasonic's Darren Hitchcock spoke with the I-Connect007 Editorial Team on the complexities of moving toward ultra HDI manufacturing. As we learn in this conversation, the number of shifting constraints relative to traditional PCB fabrication is quite large and can sometimes conflict with each other.
09/14/2023 | MKS' Atotech
MKS' Atotech, a leading surface finishing brand of MKS Instruments, will participate in the upcoming IPCA Expo at Bangalore International Exhibition Centre (BIEC) and showcase its latest PCB manufacturing solutions from September 13 – 15.
09/14/2023 | Vern Solberg -- Column: Designer's Notebook
Flexible circuit applications can be as basic as furnishing electrical interconnect between two conventional circuit board assemblies, or to prove a platform for placing and interconnecting electronic components. During the planning and pre-design phase of the flexible circuit, there will be several material and process related questions that need to be addressed. Most flexible circuit fabricators welcome the opportunity to discuss their customers' flexible circuit objectives prior to beginning the actual design process.