Books

Featured Books

pcb007 Magazine

Latest Issues

Current Issue

The Registration Sweet Spot

Registration is underrated and underappreciated. The key is to ensure proper registration from layer to layer across the entire printed circuit board. It's a holistic process requiring anticipation, prediction, precise attention at each step, and detailed data tracking and monitoring.

High-reliability Fabrication

In this month's issue, our expert contributors discuss the latest in technologies, trends, complexities and resources regarding high-reliability fabrication.

Finding Ultra

New demands on PCB fabrication, namely advanced packaging, ultra high density interconnect (UHDI), and new specialty materials, are converging, changing the landscape of our business. Is it time to start paying close attention to this convergence?

Columns

Latest Columns

||| MENU
Estimated reading time: 1 minute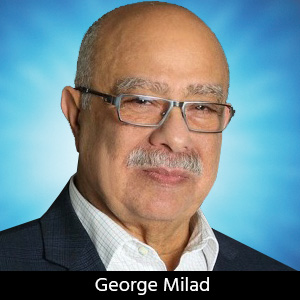 January 7, 2014
The Plating Forum: ENIG and the Plating Process
Electroless nickel immersion gold (ENIG) continues to gain market share due to its versatility in a wide range of component assembly methods including solder fusing, wave soldering, and wire bonding. The ENIG finish provides a highly solderable flat surface that does not tarnish or discolor. It has a long shelf life and the precious metal topcoat provides excellent electrical continuity. The nickel serves as a barrier against copper diffusion and prevents copper contamination of the solder during wave soldering and rework operations.
The ENIG Plating Process
The plating of ENIG is a complex multi-step process. Each process step is carefully designed and must be well understood and controlled to produce the desired end product.
These can be broken down into the following:
Preparing the catalyzed surface for Ni deposition
The Ni deposition step
The gold deposition step
1. Preparing the Catalyzed Surface for Ni Deposition
The objective is to form a thin immersion uniformly distributed palladium catalyst layer on the copper surfaces to be plated with nickel. Nickel deposition is specific to the catalyzed surface. Nickel will not initiate or deposit on non-catalyzed surfaces like soldermask or laminate. The uniformity is important so that the nickel will initiate at the same time on all areas of the copper surfaces to be plated. This will give rise to an even nickel deposit with no crevices or protrusions in the final plating. An even nickel deposit is not susceptible to corrosion during the gold deposition step.
Achieving a uniformly catalyzed surface begins with bringing a pristine copper surface to the catalyst bath. A pristine copper surface is one that is free of oxidation, organic contaminants, neutral (charge-free) and fairly smooth (low profile). Read the full column here.
Editor's Note: This column originally appeared in the December 2013 issue of The PCB Magazine under George's "The Finish Line" column.