Books

Featured Books

design007 Magazine

Latest Issues

Current Issue

Odd Geometries

In this issue, we discuss some of the challenges, pitfalls and mitigations to consider when designing non-standard board geometries. We share strategies for designing odd-shaped PCBs, including manufacturing trade-offs and considerations required for different segments and perspectives.

Simplification

On the subject of simplification, our expert contributors explain how to design PCBs without making them complex and over-constrained—whatever the level of technology. In addition, we discuss the effect your decisions and tradeoffs have on design complexity.

The Standards of Design

Our expert contributors discuss how PCB designers can utilize standards to save time and money, not to mention frustration. We also spotlight the newly updated version of the IPC Checklist, a handy guide that illustrates which standards cover which topics, from front-end design through assembly.

Columns

Latest Columns

||| MENU
Fast Interconnect: Engineering Services for the Masses
July 20, 2015 | Andy Shaughnessy, PCBDesign007
Estimated reading time: 8 minutes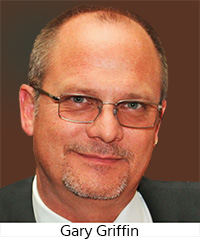 Gary Griffin and Ana Rosique are co-founders of Fast Interconnect, an Arizona-based product engineering company designed to serve an underserved market: the small product developers, inventors, and anyone with an idea for a "cool gadget." I caught up with Griffin recently to discuss the new company, its innovative business model, and the challenges facing smaller OEMs and product developers.  
Andy Shaughnessy: Gary, why don't you start off by giving us some information about yourself and your background in the industry?
Gary Griffin: I have been in the industry since 1984. I started out as an IC product engineer and then went into the ATE interface industry where I spent 20 years. The last 10 years have been in the product development industry where we get to see and create many really interesting products for large companies as well as for individuals and small business concerns. I am very passionate about this industry and I love the verity that comes with it. When I get to see the face of the client when they are presented with a working prototype, it is priceless to me.
Shaughnessy: Tell us about Fast Interconnect. You have a very interesting business model, with 200 independent engineers.
Griffin: Yes, this is a model that I put together. It was, as they say, a midnight revelation that this was the type of model that was missing in this industry. Personally, I have had the unfortunate experience with having to charge quite a bit to develop product, and often this is enough to squash the idea right out of the gate, simply because the costs were just too high. Keep in mind that large companies can handle the cost and indeed expect it, but what about small business and individuals that have this really cool idea and need a way to get it off the ground? There is nothing out there for them. Sure, there are places that tell you that you can design your own PCB and have them fabricated, but these packages are limited and fraught with issues that cannot be overcome unless you are an experienced layout engineer. This does not cover the software integration issues.
Going out and collecting the resources to cover these bases enables Fast Interconnect to offer true solutions to folks at a manageable cost that was previously out of reach. We are all familiar with the World Wide Web and have a basic understanding of how it works. Consider this company the "Internet of Product Development."
Figure 1 is a simple graphic showing how our business model works. I have spoken to many people about this business model and without exception, I have been told that this is a novel way to do this kind of business, and no one has ever heard of such a thing.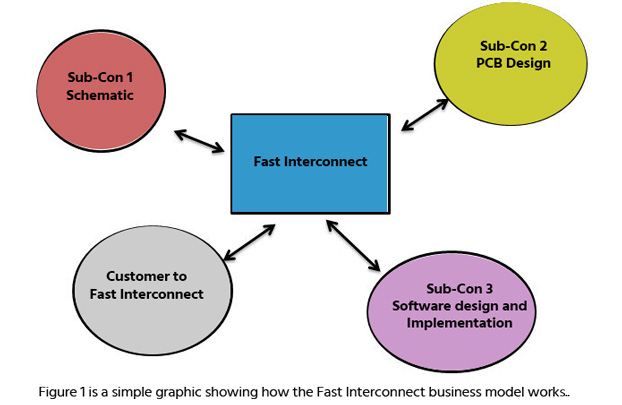 Shaughnessy: So, I understand Fast Interconnect is co-owned by a woman? We don't see women starting companies very often in this industry.
Griffin: Yes, Ana Rosique is the business brains behind this enterprise. She has a lot of experience with start-ups and her business acumen is outstanding.
Shaughnessy: You all offer quite a bit more than PCB design. What would you consider to be the sweet spot for Fast Interconnect?
Griffin: Our knowledge in product development, manufacturing, assembly and signal integrity ensures the right quality and timely deliveries. All stages are process-oriented and controlled; the expertise from each field is put together to develop each and every process which in turn empowers us to deliver better and faster. Particularly, our PCB designs are done under the motto of "Get it right at the first version."
Our knowledge and the latest tools in signal and power integrity help us to simulate the PCB design data; based on these results, the design will be optimized before getting into fabrication, which helps eradicate unwanted fab cycles during product development. This helps us to stay ahead, particularly when we are handling high-frequency signals in our designs, which is becoming a more common requirement nowadays. If there is just a PCB design to be done, our process is astoundingly fast and has high customer value.
Shaughnessy: Talk a little bit about your product development services.Page 1 of 2
---
Suggested Items
09/20/2023 | I-Connect007 Editorial Team
Panasonic's Darren Hitchcock spoke with the I-Connect007 Editorial Team on the complexities of moving toward ultra HDI manufacturing. As we learn in this conversation, the number of shifting constraints relative to traditional PCB fabrication is quite large and can sometimes conflict with each other.
09/19/2023 | Anaya Vardya -- Column: Standard of Excellence
In my last column, I discussed cutting-edge innovations in printed circuit board technology, focusing on innovative trends in ultra HDI, embedded passives and components, green PCBs, and advanced substrate materials. This month, I'm following up with the products these new PCB technologies are destined for. Why do we need all these new technologies?
09/18/2023 | ViTrox
ViTrox, which aims to be the world's most trusted technology company, is excited to announce that our trusted Sales Channel Partner (SCP) in Mexico, SMTo Engineering, S.A. de C.V., will be participating in SMTA Guadalajara Expo & Tech Forum. They will be exhibiting in Booth #911 from the 25th  to the 26th of October 2023,  at the Expo Guadalajara in Jalisco, Mexico.
09/18/2023 | Intel
Intel announced one of the industry's first glass substrates for next-generation advanced packaging, planned for the latter part of this decade.
09/18/2023 | Aidan Salvi -- Column: Facing the Future
I have been in and around circuit boards most of my life. I started 20 years ago in my family's PCB shop, leaving after a couple of years to start my own software company. About a year ago, I returned to the family business, and the first thing I noticed was that nothing had really changed. We were doing the same things in the same way as the day I left. After talking to several experts in the industry, I realized it was worse than that: The manufacturing of PCBs had not changed in 70 years.