Books

Featured Books

design007 Magazine

Latest Issues

Current Issue

Simplification

On the subject of simplification, our expert contributors explain how to design PCBs without making them complex and over-constrained—whatever the level of technology. In addition, we discuss the effect your decisions and tradeoffs have on design complexity.

The Standards of Design

Our expert contributors discuss how PCB designers can utilize standards to save time and money, not to mention frustration. We also spotlight the newly updated version of the IPC Checklist, a handy guide that illustrates which standards cover which topics, from front-end design through assembly.

Rigid-flex: Designing in 3D

In this month's issue, our expert contributors share their best tips, tricks and techniques for designing rigid-flex circuits. If you're a rigid board designer considering moving into the 3D world of rigid-flex, this issue is just what the doctor ordered!

Columns

Latest Columns

||| MENU
New Cadence Allegro Enhances Flex and Rigid-Flex Capabilities
May 4, 2016 | Cadence Design Systems, Inc.
Estimated reading time: 3 minutes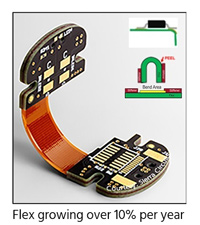 Cadence Design Systems has unveiled the Allegro 17.2-2016 portfolio, which enables a more predictable and shorter design cycle. The portfolio features comprehensive in-design inter-layer checking technology that minimizes design-check-redesign iterations and a new dynamic concurrent team design capability that accelerates product creation time by up to 50 percent. Utilizing material inlay fabrication techniques, these new capabilities can reduce material costs by up to 25 percent. In addition, embedded Sigrity technology now ensures critical signals meet performance criteria and power integrity (PI) for PCB designers addressing power delivery and IR-drop issues efficiently, eliminating time-consuming iterations with PI experts.
The Allegro portfolio includes key advancements that minimize design iterations and lower overall cost for flex and rigid-flex designs commonly used in automotive, consumer electronics, computing, communications, mobile and wearable applications. These capabilities include:
Rigid-Flex design enhancements that give designers the ability to specify multiple rigid and flex stack-ups in the same database. This stack-up-by-zone feature can also be used in rigid designs to create material inlay regions leveraging a mix of expensive and inexpensive materials, enabling reduction of material cost by up to 25 percent.
Unique and comprehensive in-design inter-layer checks for flex and rigid-flex that saves manual effort and ensures all rules for advance flex designs are adhered to, avoiding many design-check-redesign iterations.
PI for PCB designers that leverages Allegro and Sigrity technologies to provide faster, more reliable access to IR-drop analysis results, enabling PCB designers to efficiently meet power delivery network (PDN) design requirements.
Interoperable Allegro and Sigrity technologies that provide an easy to use environment, which shortens design and verification time.  This is achieved by avoiding unnecessary physical prototype iterations through improved route channel utilization using tabbed routing, new in-design backdrilling rules and efficient sharing of custom return path via structures optimized with Sigrity technology.
New Native 3D engine that streamlines the system design process and provides improved visualization and collision detection to avoid unnecessary MCAD/ECAD iterations.
The Allegro portfolio now provides synchronous team design capability, which can shorten design time by up to 50 percent for dense designs and increase efficiency by enabling the team to design synchronously. This feature enables PCB designers to achieve maximum productivity by allowing up to five PCB designers to conduct real-time, concurrent PCB design work within the same design database, shortening time to route a dense design by up to 80 percent.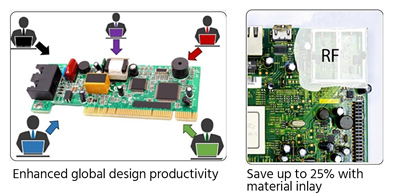 "Due to the nature of our business, flex designs are extremely critical to many of our products, specifically in the mobile and automotive space. The breadth and the depth of enhancements have the ability to significantly improve our PCB design productivity in designing for space-constrained applications," said Greg Bodi, director of System Engineering PCB Layout, Nvidia. "The new inter-layer check capability provides comprehensive in-design, real-time checks, which will save us significant time currently spent doing manual checks after layout is completed on advance flex and rigid-flex designs."     

"The latest Allegro release provides many productivity and ease of use improvements," said Dave Elder, PCB Engineering manager at Tait Communications. "In-design inter-layer checks for flex and rigid-flex design is comprehensive and extensible, which can save us 20 to 25 percent time for rigid-flex designs. This will also allow us to retire some homegrown solutions we put in place."

"The new Allegro platform addresses many challenges faced by PCB designers on a daily basis," said Saugat Sen, vice president of R&D, PCB and IC Packaging Group at Cadence. "We continue to provide market-leading solutions with Allegro's extensive Rigid/Flex capabilities coupled with industry-leading power aware Sigrity SI/PI technology to reduce design cycle time for our customers' compact, high-performance products."

About Cadence 
Cadence enables global electronic design innovation and plays an essential role in the creation of today's integrated circuits and electronics. Customers use Cadence software, hardware, IP and services to design and verify advanced semiconductors, consumer electronics, networking and telecommunications equipment, and computer systems. The company is headquartered in San Jose, Calif., with sales offices, design centers and research facilities around the world to serve the global electronics industry. More information about the company, its products and its services is available at www.cadence.com.
---
Suggested Items
11/29/2023 | Siemens
Siemens Digital Industries Software set the benchmark for innovation in the field of engineering simulation with the launch of two groundbreaking solutions - HEEDS™ AI Simulation Predictor software and Simcenter™ Reduced Order Modeling software.
11/29/2023 | Anaya Vardya -- Column: Standard of Excellence
To sustain a standard of excellence, it's equally important to look at both what we're doing today as well as what we'll do in the future. In other words, plan ahead. In that spirit, I thought it would be prudent to peek into the future and talk about what a printed circuit board fabrication facility with a "standard of excellence" will look like five years from now.
11/21/2023 | iNEMI
iNEMI Packaging Tech Topic Series Webinar, LSI/PKG/PCB Co-Design to Support 3D-IC/Chiplet Design will be held on November 28, 2023, by guest speaker Kazunari Koga, Zuken Inc.
11/16/2023 | Keysight Technologies, Inc.
Keysight Technologies, Inc. expanded the simulation capabilities in its Electronic Design Automation (EDA) software suite to include electro-thermal simulation for the Tower Semiconductor SiGe Power Amplifier (PA) process.
11/16/2023 | John Watson -- Column: Elementary, Mr. Watson
William of Ockham was a significant figure in medieval philosophy who lived from 1285 to 1347 and was an English Franciscan friar, philosopher, and theologian. William of Ockham is most famously known for formulating the principle of Occam's Razor, also known as the principle of parsimony. In simple terms, Occam's Razor is a problem-solving rule suggesting that when you have multiple possible explanations, the simplest one is usually the best. The most straightforward solution that fits all the facts without adding extra assumptions or complications.