Books

Featured Books

design007 Magazine

Latest Issues

Current Issue

Rigid-flex: Designing in 3D

In this month's issue, our expert contributors share their best tips, tricks and techniques for designing rigid-flex circuits. If you're a rigid board designer considering moving into the 3D world of rigid-flex, this issue is just what the doctor ordered!

Simulation, Analysis, and AI

Getting today's designs "right the first time" is critical, especially with costly advanced PCBs. Simulation and analysis software tools can help you in the fight to eliminate respins. They're not magical, but they can predict the future of your design.

Advanced, Complex & Emerging Designs

This month, our contributors focus on designing PCBs with advanced, complex and emerging technologies. We investigate design strategies for boards that are on the cutting edge of technology, or crazily complex, or so new that designers are still writing the rules as they go.

Columns

Latest Columns

||| MENU
From the CAM Shop: Tight Tolerance Design Tips
July 8, 2016 | Mark Thompson, CID, Prototron Circuits
Estimated reading time: 2 minutes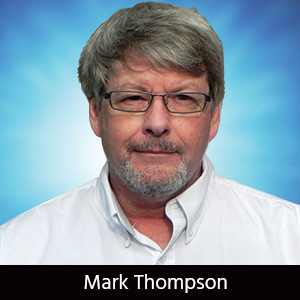 After you finish your design, it winds up in the hands of people like Mark Thompson, the man who runs the CAM department at Prototron Circuits in Redmond, Washington. He sees CAD data firsthand, and often has to address errors and inconsistencies in PCB designs. For this issue, we asked Mark to discuss the today's tight tolerances, some of the problems they can cause PCB designers, and what designers can do when dealing with shrinking features.
Andy Shaughnessy: What are the tightest tolerances you are currently building?
Mark Thompson: First off, that is a great question. We have long said in fabrication if you added up all the accumulative tolerances a fab shop has to deal with the part would be physically impossible to build. Having said that, unusual process tolerances CAN be achieved, such as plated holes with a +/-.002" tolerance for press-fit devices. One fab shop may say that the best they can do for plated holes and slots/cutouts would be +/-.003" but often we can do +/-.002". How is that possible, you ask? For one thing, we can tell the CAM system to select a tool that is +.004-.000". This selects a tool that works best for a +/-.002" final tolerance.
Another typical tolerance issue is with controlled impedance. Many fabricators ask for +/-15% tolerance for traces thinner than .0035". This is not uncommon considering that just 10% = less than half a mil of total accumulated deviation throughout the fabrication process. The good news is that most fabricators use a field solver for the impedances, which means they can adjust for process variables like plate, etch, mask thickness, etc. And ultimately this means that even in situations where a fabricator may ask for +/-15%, they may incur as little as 5% deviation if they have good process control. I guess I would end by saying if the customer has some unusual tolerances they need to achieve. I recommend speak with your chosen fabricator to make sure they can be met.
Shaughnessy: What are the most challenging issues fabricators face regarding fine spaces, traces, and pitch?
Thompson: Another great question. There are many. First and foremost is the chosen copper weight vs. trace and space. Many times this comes down to what a fabricator has to do for compensations for the process. In this case, we are talking about etch compensations.
Let's say you have a .1 mm trace and space design and you desire 3 oz. finish. The general rule of thumb is that for every half ounce of starting copper, we do a half-mil etch compensation. For three ounces we would need a .003" etch comp, and if the space is .00393" (.1 mm) we would be left with a .00093", space which is way outside of most folks' capabilities.
To read this entire article, which appeared in the June 2016 issue of The PCB Design Magazine, click here.
---
Suggested Items
09/20/2023 | I-Connect007 Editorial Team
Panasonic's Darren Hitchcock spoke with the I-Connect007 Editorial Team on the complexities of moving toward ultra HDI manufacturing. As we learn in this conversation, the number of shifting constraints relative to traditional PCB fabrication is quite large and can sometimes conflict with each other.
09/14/2023 | MKS' Atotech
MKS' Atotech, a leading surface finishing brand of MKS Instruments, will participate in the upcoming IPCA Expo at Bangalore International Exhibition Centre (BIEC) and showcase its latest PCB manufacturing solutions from September 13 – 15.
09/14/2023 | Vern Solberg -- Column: Designer's Notebook
Flexible circuit applications can be as basic as furnishing electrical interconnect between two conventional circuit board assemblies, or to prove a platform for placing and interconnecting electronic components. During the planning and pre-design phase of the flexible circuit, there will be several material and process related questions that need to be addressed. Most flexible circuit fabricators welcome the opportunity to discuss their customers' flexible circuit objectives prior to beginning the actual design process.
09/14/2023 | John Watson -- Column: Elementary, Mr. Watson
Electronics are continually evolving, driven by innovations in printed circuit board technology. Flexible PCBs have emerged as a revolutionary force, reshaping the PCB industry and influencing the design and functionality of countless electronic devices. Some believe that flexible PCBs are a relatively newer technology, but as we will see, that is not true. Since I'm an instructor, here's a short history lesson on how we got here and what we can expect.
09/11/2023 | PRNewswire
Can digital and/or high throughput manufacturing be applied to circuit boards? Can stretchable electronics be produced without sacrificing processing capabilities?