Books

Featured Books

design007 Magazine

Latest Issues

Current Issue

Rigid-flex: Designing in 3D

In this month's issue, our expert contributors share their best tips, tricks and techniques for designing rigid-flex circuits. If you're a rigid board designer considering moving into the 3D world of rigid-flex, this issue is just what the doctor ordered!

Simulation, Analysis, and AI

Getting today's designs "right the first time" is critical, especially with costly advanced PCBs. Simulation and analysis software tools can help you in the fight to eliminate respins. They're not magical, but they can predict the future of your design.

Advanced, Complex & Emerging Designs

This month, our contributors focus on designing PCBs with advanced, complex and emerging technologies. We investigate design strategies for boards that are on the cutting edge of technology, or crazily complex, or so new that designers are still writing the rules as they go.

Columns

Latest Columns

||| MENU
Lightning Speed Laminates: Smaller Circuits--Material Properties and Thermal Issues
August 29, 2016 | John Coonrod, Rogers Corporation
Estimated reading time: 2 minutes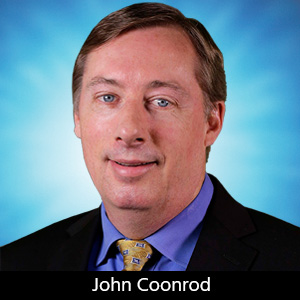 Many PCB applications experience thermal cycling as part of their normal end-use operation. Some PCB assemblies used in outdoor enclosures may see changes from 75–160°F in a single day, and over the course of several months, the temperature swing can be much greater. If the circuit design is optimized at room temperature around 75°F, then at 160°F, the electrical performance can be very different depending on the design and the circuit material used.
Some RF PCB designs may be more sensitive to thermal changes than others. For example, designs with small circuit features can be more sensitive to performance change due to thermal issues as compared to circuits with larger features. Since high-frequency circuits have small wavelengths, the circuit features are also small. Also, with mmWave applications, a thinner circuit is needed in order to have proper wave propagation properties. Lastly, if a circuit has features which are tightly coupled, where a small space must be maintained between circuit features, that design can be more problematic for consistent electrical performance within a varying temperature environment.
Coefficient of thermal expansion (CTE) is typically considered for PCB reliability, but it can also have an impact on circuit performance for applications exposed to varying temperatures. Due to CTE, a circuit will change physical dimensions when the temperature changes. If the circuit has small features or tightly coupled features, the physical change of the circuit dimensions can cause a shift in electrical performance.
Another material property which further complicates designing for significant temperature variation is temperature coefficient of dielectric constant (TCDk). The TCDk is a property that all materials have and is a measure of how much the material will change dielectric constant (Dk) with a change in temperature. One example: If a circuit is using a material with a high TCDk, such as 400 ppm/°C, the dielectric constant of the material will change 0.020 with a 46°C change in temperature. This temperature change is equivalent to the temperature range previously mentioned from 75°F, then at 160°F. The Dk change will impact the impedance, phase response and other circuit attributes. This impact would be in addition to the impact of the physical dimensional change of small circuit features which would occur over the temperature range if the circuit was designed for mmWave applications.
There are also issues associated with circuit attenuation or RF losses, due to thermal changes. The analog of the TCDk to dissipation factor is the temperature coefficient of dissipation factor (TCDf). Again, every material has this property and it is a measure of how much the dissipation factor (Df) will change with a change in temperature. An RF circuit using a material with a high TCDf will have more RF losses with an increase in operating temperature.
To  read this article, which appeared in the August 2016 issue of The PCB Design Magazine, click here.
---
Suggested Items
09/20/2023 | I-Connect007 Editorial Team
Panasonic's Darren Hitchcock spoke with the I-Connect007 Editorial Team on the complexities of moving toward ultra HDI manufacturing. As we learn in this conversation, the number of shifting constraints relative to traditional PCB fabrication is quite large and can sometimes conflict with each other.
09/19/2023 | Anaya Vardya -- Column: Standard of Excellence
In my last column, I discussed cutting-edge innovations in printed circuit board technology, focusing on innovative trends in ultra HDI, embedded passives and components, green PCBs, and advanced substrate materials. This month, I'm following up with the products these new PCB technologies are destined for. Why do we need all these new technologies?
09/18/2023 | ViTrox
ViTrox, which aims to be the world's most trusted technology company, is excited to announce that our trusted Sales Channel Partner (SCP) in Mexico, SMTo Engineering, S.A. de C.V., will be participating in SMTA Guadalajara Expo & Tech Forum. They will be exhibiting in Booth #911 from the 25th  to the 26th of October 2023,  at the Expo Guadalajara in Jalisco, Mexico.
09/18/2023 | Intel
Intel announced one of the industry's first glass substrates for next-generation advanced packaging, planned for the latter part of this decade.
09/18/2023 | Aidan Salvi -- Column: Facing the Future
I have been in and around circuit boards most of my life. I started 20 years ago in my family's PCB shop, leaving after a couple of years to start my own software company. About a year ago, I returned to the family business, and the first thing I noticed was that nothing had really changed. We were doing the same things in the same way as the day I left. After talking to several experts in the industry, I realized it was worse than that: The manufacturing of PCBs had not changed in 70 years.