Books

Featured Books

design007 Magazine

Latest Issues

Current Issue

Simplification

On the subject of simplification, our expert contributors explain how to design PCBs without making them complex and over-constrained—whatever the level of technology. In addition, we discuss the effect your decisions and tradeoffs have on design complexity.

The Standards of Design

Our expert contributors discuss how PCB designers can utilize standards to save time and money, not to mention frustration. We also spotlight the newly updated version of the IPC Checklist, a handy guide that illustrates which standards cover which topics, from front-end design through assembly.

Rigid-flex: Designing in 3D

In this month's issue, our expert contributors share their best tips, tricks and techniques for designing rigid-flex circuits. If you're a rigid board designer considering moving into the 3D world of rigid-flex, this issue is just what the doctor ordered!

Columns

Latest Columns

||| MENU
What is Ultra HDI?
September 22, 2023 | Happy Holden, I-Connect007
Estimated reading time: Less than a minute
Ever since high-density interconnect (HDI) was created in 1982 by Hewlett-Packard to package its first 32-bit computer powered by a single chip, it has continued to evolve and provide the solutions for miniaturized products. The leading edge of HDI technology became the process used for organic flip-chip packaging for the semiconductor industry. The two distinct markets—IC substrates and product-system integration—are now colliding and utilizing the same ultra-HDI manufacturing processes (Figure 1).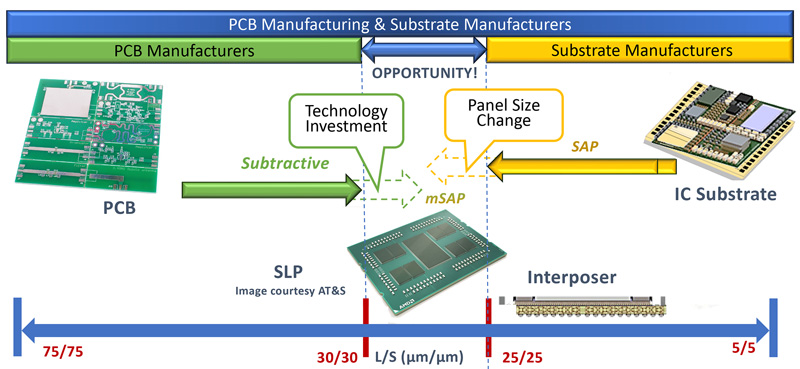 Introduction
These two markets have different characteristics as well as specifications. The middle ground is currently occupied by the very high-density PCBs called substrate-like PCBs (SLPs).
The differences lie in that IC packaging is for components of unspecified final application while an HDI PCB is the result of a system-integrated product. But time and evolution have introduced a semiconductor component system integration strategy which the IEEE now calls heterogeneous integration.
Reference:
Inspired by IEEE Heterogeneous Integration Roadmap, Chapter 2, pp 10.
Continue reading this article in the September 2023 issue of PCB007 Magazine.
---
Suggested Items
10/26/2023 | Anaya Vardya, American Standard Circuits
Ultra high-density interconnect (UHDI) is a term used in the electronics industry to describe a cutting-edge technology that pushes the limits of fabrication capabilities for printed circuit boards (PCBs) and semiconductor devices. UHDI represents an advancement in miniaturization and integration, allowing for the creation of electronic components and systems with extremely high levels of functionality in a smaller footprint.
10/02/2023 | ACB
With this approval ACB can now deliver 2+N+2 HDI circuits (up to 20 layers) for onboard space applications with the highest reliability level.
09/18/2023 | I-Connect007 Editorial Team
New demands on PCB fabrication, namely advanced packaging, ultra high density interconnect (UHDI), and new specialty materials, are converging, changing the landscape of our business. Is it time to start paying close attention to this convergence?
02/13/2023 | Don Ball -- Column: The Chemical Connection
The November issue of PCB007 included a fair amount of discussion on the growing need for ultra-high density interconnects (UHDI). UHDI is an area replete with manufacturing challenges due not only to the feature sizes this technology requires (< 50 micron or < 2 mils), but also the lack of familiarity U.S. manufacturers have with this technology. In an interview with Calumet's Todd Brassard and Meredith LaBeau, they stated that the U.S. is roughly 30 years behind the curve in manufacturing UHDI, which is likely the result of companies offshoring UHDI manufacturing for many years. How can we catch back up?
12/21/2022 | Nolan Johnson, I-Connect007
Candor Industries is a PCB fabricator investing in UHDI fabrication capabilities in Canada. To support advanced packaging, as well as the current pace of IC process shrinks, PCB fabrication capabilities must shrink to keep up. Sunny Patel, Candor's technical sales manager, brings us up to speed on what Candor has learned in their journey to add UHDI. What we gain from this interview is that, while certainly not insignificant, the stretch to add UHDI may be not as far as one might think.