Books

Featured Books

pcb007 Magazine

Latest Issues

Current Issue

The Registration Sweet Spot

Registration is underrated and underappreciated. The key is to ensure proper registration from layer to layer across the entire printed circuit board. It's a holistic process requiring anticipation, prediction, precise attention at each step, and detailed data tracking and monitoring.

High-reliability Fabrication

In this month's issue, our expert contributors discuss the latest in technologies, trends, complexities and resources regarding high-reliability fabrication.

Finding Ultra

New demands on PCB fabrication, namely advanced packaging, ultra high density interconnect (UHDI), and new specialty materials, are converging, changing the landscape of our business. Is it time to start paying close attention to this convergence?

Columns

Latest Columns

||| MENU
Estimated reading time: 8 minutes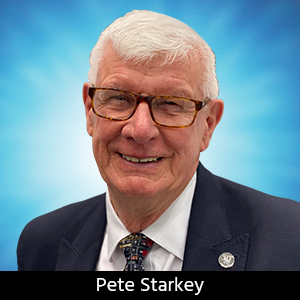 Connect:
Contact Columnist Form
Please register or login to your my I-Connect007 account to send a message to this columnist.
February 8, 2017
EuroTech: Raw Materials Supply Chain—Critical Challenges Facing the PCB Industry
In response to growing concern from members about cost increases and potential availability restrictions affecting copper-clad laminate and prepreg supplies, the EIPC 2017 Winter Conference in Salzburg included a special panel discussion on critical issues facing the raw materials supply chain for the PCB industry worldwide, particularly the availability of copper foil as a consequence of rapidly increasing demand from the manufacturers of lithium batteries for electric vehicles. 
Recognised in his own right as a leading specialist in laminate technology, manufacture and supply, EIPC Chairman Alun Morgan moderated an energetic and highly informative analysis of the circumstances surrounding the current and anticipated state of the PCB laminate market. On his panel were Andreas Folge from Technolam, Karl Stollenwerk from Isola and Thomas Michels from Ventec, and a notable member of the audience was Francois Bottazzi from Circuit Foil. 
Caption: Panelists, left to right: Karl Stollenwerk, President, Europe at Isola Group; Andreas Folge, Managing Director of Technolam; Thomas Michels, Managing Director Europe, Ventec International Group. 
Morgan recognised a combination of global, regional and national issues. Clearly the present discussion concerned Europe in the first instance, where there was only one copper foil manufacturer remaining and no glass weavers left, nor any base resin producers. And in the UK, recent currency issues subsequent to the Brexit vote had resulted in a double-digit price disadvantage on imported materials. 
The primary question he put to the panel concerned security of supply. What was their prognosis? Could the industry get future supply of raw materials for PCB production?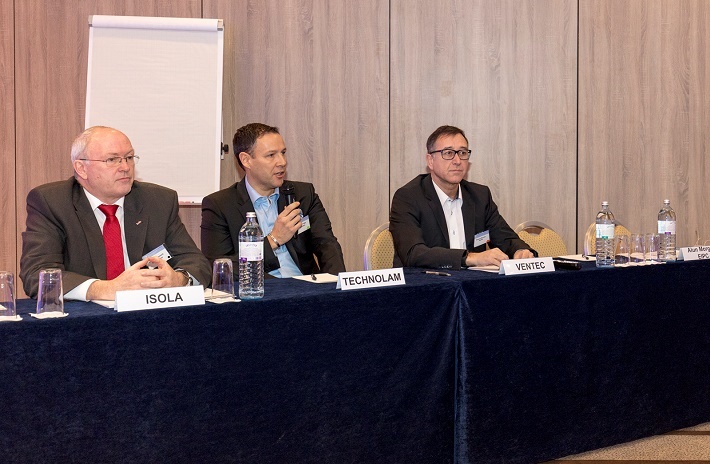 Speaking from the perspective of one of the two remaining European laminators, Karl Stollenwerk emphasised the reality that the market for laminate in Europe was not growing, a fact to be clearly understood before considering the European PCB industry in a world context. Morgan made the point that European production over the last few years has been stable, and they agreed that a careful and pragmatic approach could see it maintained at the present level, whereas a panic reaction to the current supply chain situation could result in a collapse of the system. Stollenwerk commented that in 2000, the market was 21 million square metres of laminates in Europe, with six million in the UK alone. Currently the whole European market was only about 5.6 million square metres. And whereas in 1987 there were 23 laminate manufacturers with plants in Europe, there were presently only two. 
From Technolam's position as an exclusive distribution partner for NAN YA laminates, Andreas Folge could observe the situation from a different angle. The key issue of the moment was copper foil supply—already the limiting factor in Asia. NAN YA was one of only three copper-clad laminate manufacturers world-wide who produced its own copper foil. Everyone else relied upon the goodwill of the existing copper foil suppliers, who saw the battery industry as commercially more attractive, with lower production costs and better prices. Some Chinese laminators had substantially extended their Chinese New Year shutdown as a consequence of foil supply problems. 
Thomas Michels, with responsibility for the European business of a global laminate company with its manufacturing base in China, agreed about the copper foil situation. Price was no longer the primary issue, and the question was whether it could be supplied or not. Battery copper consumption would increase dramatically over the years and some additional foil manufacturing capacity was expected to come on-stream in late 2017 or early 2018, but in the meantime, there would be shortages. Laminators were already on allocation for copper foil, and lead-time had increased from two to three weeks to three months. Regarding the choice of foil thicknesses, the allocation was based on tonnage, whereas the laminators were producing in square metres, and heavy foils were charged at a premium on top of an already high price. 
He was also concerned about the future availability of glass cloth, with glass furnaces being shut down and the prospect of limited availability of 7628, 2116 and 2113 fabrics. Why were the glass furnaces being shut down? The official explanation was that for necessary routine maintenance, cold repairs were required every five to seven years. The fact that three major furnaces were affected in the same year might be more than coincidence, but the outcome was that the laminators were struggling to buy glass. 
Morgan asked Francois Bottazzi, representing the only remaining foil producer in Europe, for his opinions on the market. Bottazzi agreed that there was a big demand for battery foil in China and that several Asian foil suppliers had decided to switch their production to battery foil, which was creating tension. In Europe, the market was not growing, and remained at a steady level. Circuit Foil had a capacity of about 820 tons per month and intended to continue to sell 30% of its production in Europe. The company did not manufacture substantial quantities of battery foil, and had no plans to increase battery foil production. Bottazzi countered arguments that, because Circuit Foil was now Korean-owned it could be directed to make its production available to the parent company, with an assurance that Circuit Foil had not been bought with that intention, and that it would continue to support the European market. The company's strategy was to concentrate on special foils, 50% of its production being for low-loss high-frequency applications. And there was an incentive to remain in the thick foil business because it saw growth in that sector. It was difficult to increase foil production capacity, because the only two major suppliers of drums for electrodepositing the foil were in Japan, with a waiting list of 12−18 months. 
On the question of how foil manufacturing capacity could keep up with demand, Andreas Folge did a simple arithmetical exercise based on facts and some reasonable assumptions, to present a meaningful scenario: He conservatively estimated that one million electric vehicles would be produced each year, each requiring about 25 kilograms of copper foil, amounting to about 25,000 tons per year. Considering the electrodeposition drums, only about 25 drums per month could realistically be manufactured and installed world-wide, of which 15 would be required for purposes of repair and refurbishment. So the maximum capacity expansion would be 10 drums per month. If each drum can produce one ton of copper foil per day, then 10 drums would produce 300 tons of foil per month. Suppose 10 drums were installed in January, they would produce 300 tons. In February, there would be an additional 10 drums, which would produce another 300 tons. There would already be 600 tons from the drums that were installed in January, plus the 300 tons from February, making 900 tons produced world-wide as additional output. If this procedure was continued for one year, it would amount to 23,600 tons per year capacity expansion. Based on his estimates, the increased demand from electric vehicles would consume the whole capacity expansion of copper foil, and any delay in drum supply would inevitably result in a shortage. Therefore, the copper foil supply situation was unlikely to improve during the next twelve months. He further commented that OEM contracts settled in Q4 2016 did not take full account of the cost increases and allocation wave which is now bearing down on European producers and felt that if manufacturers cannot roll it over there is high risk to weaken our industry further. 
Reflecting upon the ups and downs, mainly downs, of the industry during his many years in laminate manufacture, Karl Stollenwerk considered some background facts which were familiar to all present, and against that background asked what could be done to keep the European industry alive. The last glass furnace in Europe had closed in 1996, so since that time Europe had no glass yarn production. Currently there were three weavers left in Europe, but none able to serve the electronics market. Indeed, Isola had to take the decision to sell its fabrics business a year ago because it was not economical to continue, so there was no longer any glass cloth production in Europe. Two years ago, there had been two manufacturers of copper foil in Europe. Since then Gould had ceased production and Circuit Foil had been taken over by Doosan. And as he had said earlier, the number of European laminators had declined from 23 in 1987 to just two today. 
At previous conferences, Stollenwerk had emphasised the need to protect the supply chain. Referring to the current situation, he was inclined to take a long-term view in deciding whether to continue to fight to maintain a European supply chain. In the context of the world laminate market, Europe was no longer a major player, representing less than 5%. But he was confident that, by working closely together in the right way, the industry could still do good business. For the short term, there would be issues, but in the longer term the world market would react with investment in new capacity, although this would not necessarily benefit Europe. The dollar-euro exchange rate had an additional negative influence. "We had capacity in Europe, but we were not able to keep the supply chain busy enough or healthy enough to run that capacity at a profit. So we must consider not just getting supplies when they are needed, but keeping the supply chain healthy. And if we don't have a healthy supply chain for our raw materials, it's very difficult. And here we must be very careful. Maybe it's a good thing that we are only 5% of the world market; the volume is not here, so maybe we have a chance, and we will now see just how good our supply chain really is. In 2000, we had crisis supply chain issues, but at least then we had a supply chain in Europe. Now we are having a crisis again, but we don't have the same supply chain to fill those gaps." 
Alun Morgan commented that the situation in 2000–2001 was complicated by PCB manufacturers stockpiling materials, which had a huge effect on the rest of the market, and then when the market fell, that inventory was worth nothing. Thomas Michels appealed to PCB fabricators not to attempt to stockpile, which would only make the current situation worse, but to work closely with their suppliers to forecast their requirements to keep the supply chain open. Morgan agreed the importance of encouraging the supply chain to work together, and emphasised the role of EIPC in facilitating cooperation and promoting electronics in Europe. 
Pete Starkey is technical editor with I-Connect007.