Books

Featured Books

pcb007 Magazine

Latest Issues

Current Issue

The Registration Sweet Spot

Registration is underrated and underappreciated. The key is to ensure proper registration from layer to layer across the entire printed circuit board. It's a holistic process requiring anticipation, prediction, precise attention at each step, and detailed data tracking and monitoring.

High-reliability Fabrication

In this month's issue, our expert contributors discuss the latest in technologies, trends, complexities and resources regarding high-reliability fabrication.

Finding Ultra

New demands on PCB fabrication, namely advanced packaging, ultra high density interconnect (UHDI), and new specialty materials, are converging, changing the landscape of our business. Is it time to start paying close attention to this convergence?

Columns

Latest Columns

||| MENU
Estimated reading time: 9 minutes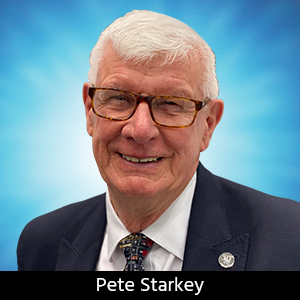 Connect:
Contact Columnist Form
Please register or login to your my I-Connect007 account to send a message to this columnist.
March 21, 2017
Reporting on the Institute of Circuit Technology Spring Seminar
There has long been debate over the exact location of the geographical centre of England, but the village of Meriden has traditionally laid claim to the title, and it offered an appropriate Midlands venue for the Institute of Circuit Technology 2017 Spring Seminar, which followed the Annual General Meeting of the Institute.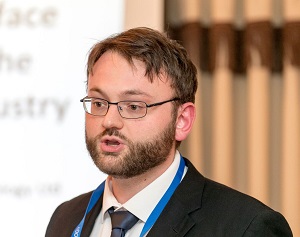 Introduced by ICT Treasurer Chris Wall, the seminar programme commenced with a presentation from Dr. Tom Jones, Research Associate at Heriot-Watt University, who discussed the results of a research project carried out jointly with Merlin Circuit Technology to investigate how copper electrodeposition in via interconnects could be enhanced by megasound acoustic agitation. 
It had been demonstrated that, with megasonic-assisted plating, higher-aspect ratio via holes could be incorporated in high-layer-count multilayer builds, simplifying the construction and   reducing the number of bonding and drilling operations required. In his 26-layer example, bonding operations had been reduced from six to four, and drilling operations from ten to six. 
Megasonic agitation enabled higher limiting currents to be achieved, by reducing the Nernst diffusion layer thickness from the 600-micron to the 0.6-micron level, and gave greatly improved solution circulation within small holes, as Dr. Jones illustrated with high-speed video of microbubbles penetrating into a high-aspect-ratio 40-micron through-hole. He showed a series of examples produced on his experimental set-up at Merlin PCB Technology, comparing the effects of no agitation, conventional air and panel agitation, and megasonic agitation, using for purposes of demonstration a conventional non-filling copper chemistry and both simple DC and reverse-pulse rectification. The megasonically agitated examples showing substantial improvements in throwing power. 
But although megasonic plating assistance gave some clear benefits inside via holes, it could lead to some interesting but potentially undesirable surface effects. Dr Jones explained how surface acoustic waves induced unwanted variations in plated copper topography, in the form of ridges on surfaces and ringlets around holes, with a pitch related to the wavelength of the megasonic agitation. The thickness variations had been shown to correspond with changes in grain structure resulting from alternate concentration and depletion of additives. These resonance effects could be overcome by acoustic modulation techniques, although the impact on plating enhancements had not yet been investigated.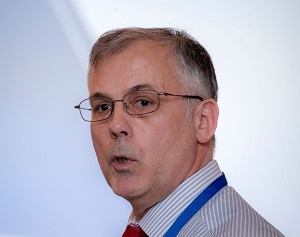 There have been many presentations at ICT seminars related to the rapidly accelerating adoption of LED lighting in automotive, industrial, municipal and domestic applications, but these have generally concerned substrates and materials, with an emphasis on efficiency and thermal management. LED devices sold in Europe carry a "CE" marking—what does it signify, and what are the supplier's responsibilities and obligations? LED expert Peter Dobromylski, Technical Sales Manager of LUX-TSI, unravelled the mysteries of CE marking compliance for LED lighting products. 
He explained that "CE," an abbreviation of Conformité Européene, was introduced in the 93/68/EEC Directive in 1993, as the basis for demonstrating that a product met minimum standards of safety and performance, ensuring protection of the end user and expected performance and reliability in normal use. 
Quality of lighting, particularly in the workplace, was extremely important for the wellbeing and performance of the workforce, and Dobromylski described the effect of light on the circadian rhythm, a natural cycle regulating many physiological processes. He demonstrated the difference in the "flicker effect" between two nominally similar LED light bulbs, the "bad" example showing a distinct stroboscopic effect when a pencil was waved in front of it. The human eye had evolved to respond to natural light with a spectral peak at 555 nm, but LED light had an additional peak at about 460nm, which was not visible and presented a photobiological hazard that required to be assessed during the CE certification process, and labelled for eye safety when a Risk Group 2 hazard was determined to exist. 
For LED products for use in general lighting applications the route for CE marking was through self-certification, and involved a process of identifying the applicable directives, the conformity assessment and the relevant standards, ensuring that the product complied, identifying whether independent assessment was required, maintaining the technical document file, preparing the document of conformity, affixing the CE mark and suppling instructions. 
Key directives were the Low Voltage Directive (LVD) - 2014/35/EU, the Electro-Magnetic Compatibility (EMC) Directive - 2014/30/EU, the Restriction of Hazardous Substances (ROHS) Directive - 2011/65/EC and the Eco Design Directive (ERP) - 2009/125/EC. Applicable standards were: Safety - IEC 62560 (Lamps), IEC 60598 (Luminaires), IEC 62031 (LED Modules) and IEC 61347 (Drivers, Ballasts and Gear). Photobiological - IEC 62471/62778 (LED Packages, LED Modules, Lamps and Luminaires). Electro Magnetic Effects (EMC/F) - IEC/EN 62493 (Lamps and Luminaires), CISPR 15 ed8.0 (2013-05), IEC 61547 ed2.0 (2009-06), IEC 61000-3-2 ed4.0 (2014-02), IEC 61000-3-3 ed3.0 (2013-05). 
Once the manufacturer was confident that the product met all the requirements, "Is it safe? Will it do the job? Will it deliver the savings I expect over life?" he could declare the conformance and apply the CE mark. It was stressed, however, that the self-certification process was not rigorously policed!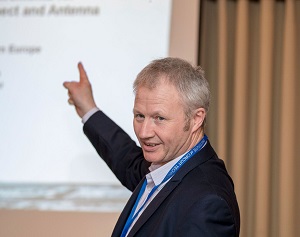 Jim Francey, Sales Manager Northern Europe for Optiprint AG, announced that a significant opportunity existed to use PCB technology as an alternative to systems based on low-temperature co-fired ceramic in future 5G cellular mobile communication networks, where it was it was expected that millimetre-wave radio architectures would be employed to ease "spectrum congestion" in current 4G and earlier configurations. 
With reference to Optiprint's collaboration in the FP7 MiWaveS project, he discussed the technology needed to satisfy interconnect and antenna requirements related to the use of PCB for access-point and wireless backhaul to provide mobile access up to 5 Gbps peak and 250 Mbps of typical data rate per user. The use of millimetre-wave radios and directive antennas in short-distance links would result in a reduced emitted power requirement, more efficient transmitter implementation and a better efficiency of the spectrum usage, as well as reducing people's exposure to microwave radiation. 
Organic, as opposed to ceramic, substrates offered an attractive solution for millimetre-wave hardware interconnect and antennae, with mature PCB fabrication and assembly technologies and numerous fabricators and assemblers, although from a PCB manufacturing perspective the effective distribution and propagation of signals in millimetre wavelengths placed critical demands on the choice and thickness of substrates and the dimensional and positional accuracy of PCB features: "It's all about managing losses and maintaining consistency" and "Most of the loss in millimetre-wave is in the conductor" 
Liquid crystal polymer had been recognised as a technology-enabling substrate, not only for its low-loss characteristics but because it was available both as thin non-reinforced laminates with low-profile copper, and as bond-plies for thermoplastic fusion bonding at 290°C. But laser-based metrology was necessary to quantify material movement at multiple process stages and maintain critical layer-to layer registration. Likewise, LDI was the essential imaging technique. 
Microstrip, stripline and co-planar waveguide transmission line technologies were all deployed in millimetre-wave PCB design, but increasingly designers were using substrate integrated waveguide (SIW) technology, which had the benefits of lower losses and component performance approaching that of conventional air-filled waveguides, with the additional advantages of low radiation leakage and interference. 
Francey showed examples of beam-switching Rotman Lens antennae which at 1GHz would be huge but were economically attractive at millimetre-wave frequencies, typically 75 mm across, with the advantage of being planar and unobtrusive rather than in the form of a horn.
Component packaging technology was evolving to meet the needs of the millimetre-wave industry, and the embedded wafer-level ball grid array (eWLB) was now available for frequencies up to 86GHz. Flip-chipping of monolithic microwave integrated circuits (MMIC) was another promising technology for high performance millimetre-wave interconnects. For some MMIC devices like very high power amplifiers, designers had no option but to use bare-die, mounted in laser-machined recesses and gold-wire or gold-ribbon bonded, to minimise losses and inductance. Silver-based, rather than nickel-based conductor finishes were preferred to minimise losses: autocatalytic silver immersion gold gave good results and was wire-bondable. 
In his summary, Francey reminded delegates that PCB technology was a viable and cost-effective alternative to low-temperature co-fired ceramic, but made it clear that fabricators would require a high level of expertise in thin-core processing and fine-line close-tolerance imaging and etching, together with the capability to manage variable material movement. He listed the facilities he considered essential for success: off-contact metrology, clean-room conditions, liquid resist with laser direct imaging, laser machining, automatic alignment systems for drilling, milling and routing, controlled-depth drilling and milling, and plasma treatment, together with the right systems to test and inspect. Above all, a culture for working with small-form, high-precision components.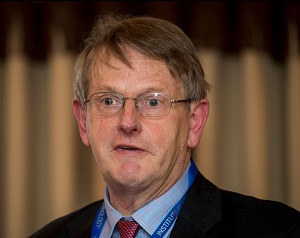 Promising that this would be the final wrap-up of the MACFEST project, Professor Martin Goosey summarised the outcome of the Innovate UK supported project to develop new PCB solderable finishes deposited from ionic liquids, which had followed-on from the European Commission funded ASPIS project. 
MACFEST had been a two-year project that concluded at the end of 2016. Novel metal coating processes had been developed and the deposits evaluated as solderable finishes. Ionic liquid chemistries had been used to deposit good quality palladium and gold coatings onto conventional electroless nickel and the results had been very promising with good solderability and performance comparable to that of coatings deposited from aqueous chemistries. 
The coatings developed in the MACFEST project also had the potential to reduce environmental impacts through the elimination of cyanide-based aqueous chemistries and to reduce the amount of palladium consumed, whilst meeting the requirements of the industry and current IPC standards and eliminating known reliability issues with nickel-palladium-gold coatings, for example black pad, brittle joints and void formation. Professor Goosey was currently looking at other funding routes to take the project forward. The initial project was a relatively low Technology-Readiness-Level research project with much of the fundamental work done by the University of Leicester. There was a need to move towards larger scale trials in a working PCB fabricator environment. He was considering applying for Horizon 2020 funding as and when an appropriate call was available.  
He reiterated the benefits of ICT's Engagement in R&D Projects–a way for the ICT to be directly involved with the development of new technology, with benefits for members in gaining access to new developments and information, as well as being a source of additional income for the Institute.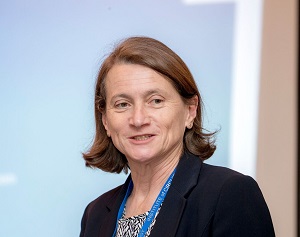 Market analyst and ICT Council member Francesca Stern rounded off the proceedings with her review of the UK PCB industry for 2016 and outlook for 2017. 
Total UK PCB production in 2016 was £122M (slightly down on 2015 although imports had increased), categorised by technology: Multilayer 34%, HDI 17%, D/S PTH 17%, Rigid-Flex 13%, IMS 4%, Flex 3%, and by market sector: Industrial/Instrumentation 40%, Military and Government 15%, Civil Aerospace 12%, Communications 8%, Automotive 4.8%, Space 3.5%, Medical 2.4%. 
The UK market for PCBs in 2016 was £174M, up from £168M in 2105, categorised by sector: Industrial/Instrumentation 40%, Military and Government 15%, Civil Aerospace 10%, Communications 6.3%, Automotive 4.2%, Medical 3.2%, Space 2.7%. 
UK electronics production had been on a growth curve since the end of 2016, and this would likely continue until the end of 2017. By comparison, German year-on-year production had declined slightly but was forecast to return to positive growth during 2017. 
Although the PCB business in the UK is these days a comparatively small and specialised industry, it is characterised by a very special camaraderie and sense of community. The membership of the ICT continues to grow and this seminar proved once more to be not only a platform for sharing knowledge and inspiring future developments, but equally an opportunity to renew acquaintances, make new ones, share industry news and gossip and build the network. As is usual, the network-building continued well into the evening… 
I am grateful to Alun Morgan for kindly allowing me to use his photoraphs. 
Pete Starkey is technical editor with I-Connect007.