Reading time ( words)
I was recently reviewing some metrics on the growth of data and the numbers are astounding! Seagate and IDC collaborated on some research and are forecasting that the world's total stored data will reach 175 zettabytes (ZB) in 2025. Furthermore, thirty percent of the world's data will need real-time processing to support the needs of edge computing.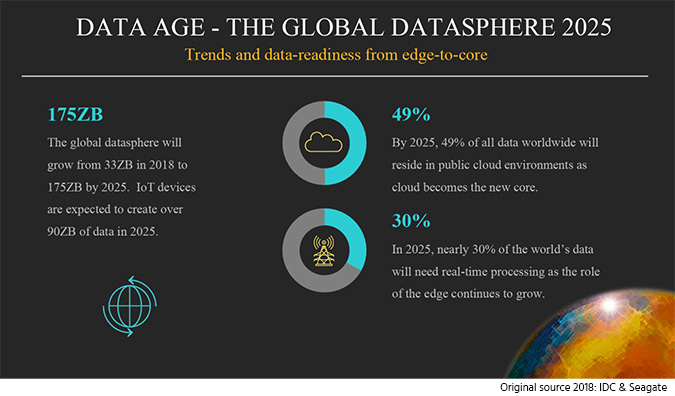 Figure 1: A forecast on the world's data storage by 2025. (Source: www.i-scoop.eu/big-data-action-value-context/data-age-2025-datasphere/)
Any smart system developed to process any part of that data (and even more so for real-time data) must be capable of fast and error-free handling of that data. Electronics systems, whether focusing on a chip, a package, board, or more, are now hyperconnected and operate at such high signal speeds that electromagnetic (EM) effects must be carefully addressed in the design to avoid respins, schedule delays, and cost overruns. The other requirements that come into play are risk and cost minimization through the elimination of respins.
Why Do EM Analysis?
There are two main reasons to do EM analysis: to see if the signals in the design will meet your performance specifications, and to see whether the design has unintended EM interactions in the circuit or system. Since domain-level requirements vary, not all EM solvers are the same.
EM model extraction of your system components is required to do signal and power integrity (SI/PI) analysis. To create a model, an EM solver takes in a physical description of the components, typically the layout. When a connector is involved, it is a mechanical model. Next, an EM solver based on the finite element method (FEM) processes the 3D layout to bring it into a form that can be used in the analysis phase, typically through a process called "meshing." The 3D geometry of the connector and planar conductors are meshed into many tiny 3D elements called tetrahedral. The EM field around the edges and faces of these tetrahedral elements is then solved using Maxwell's differential equations. In the process, the mesh is adaptively refined, and a model (such as an S-parameter) is produced that can be used in circuit simulation to verify system performance.
Why Is 3DEM Modeling Becoming More Important Now?
Today's 5G, hyperscale computing, aerospace, and automotive system interfaces operate at speeds as high as 112GHz. The SI/PI signoff of such systems requires 3DEM analysis. Along with the speed, the size of these 3D interfaces is also getting bigger and traditional 3DEM solutions in the market have not scaled with it.
When to Do EM Analysis?
Whether you are designing a chip, package, board, or chassis, you want to see how good your current system design is. This is typically an iterative process:
EM model extraction
Review analysis results
Tweak the design of components
Repeat the process with re-simulation
To validate the design in the shortest time possible requires high-performance EM analysis in an integrated chip-package-board design environment. In addition, eliminate as many manual tasks as possible. Ideally, you will want to spend less time analyzing and more time optimizing your design. You do not want to be tied up managing design file formats and getting your 3D design geometry ready for EM analysis. Once the analysis is complete, annotate the results back into your design environment instantly for optimization.
Today's advanced systems require cross-fabric multiphysics EM solvers. While 3D full-wave EM solvers can operate across multiple fabrics like chip, package, board, and chassis, one also needs hybrid solvers (2.5D solvers) during the early phases of the design cycle for faster turnaround time at the expense of some accuracy loss. These hybrid solvers are built to operate within the domain (fabric) and some are built for specific applications. At the chip level, using foundry-certified EM solvers and process design kits (PDKs) are your best choice. At the package and board level, various hybrid solvers need to be deployed during early design stages for the EM model extraction of power delivery networks (PDNs) and signal buses. These cross-fabric EM models then need to be assembled at the system level, preferably automatically, and analyzed for impedance, cross-coupling, reflection, crosstalk, IR drop, and thermal stress. As the system design gets closer to completion, these hybrid models are replaced with more accurate models generated with 3DEM solvers. A true 3DEM analysis solution delivering gold standard accuracy—equal to measured values—is essential for signoff and avoiding system respins.
A key takeaway is the fact that building this next generation of cross-fabric systems (chip(s) + package + board) requires cross-fabric 3DEM modeling of components and interfaces. They also need to be complemented with hybrid solvers that are integrated inside a design platform to enable analysis, optimization, and signoff.
Conclusion
With the amount and speed of data increasing across the globe, scalable, high-performance EM solutions delivering the highest accuracy are critical for bringing better system designs to market while keeping design respins to a minimum.
Suketu Desai is senior director of product engineering, Multiphysics System Analysis Group, Cadence Design Systems, Inc.
Share
Print
Suggested Items
02/02/2021 | Andy Shaughnessy, Design007 Magazine
I recently spoke with Al Neves, founder and CTO of Wild River Technology, about the release of their new ISI-56 loss modeling platform. Al explains why it was so critical that this tool meets the stringent requirements of the IEEE P370 specification (which he helped develop), and why he believes this is currently the best tool for SerDes testing and characterization.
12/02/2020 | I-Connect007 Editorial Team
Andy Shaughnessy and Happy Holden speak with Stephen Chavez, a staff engineer with an aerospace company and chairman of the Printed Circuit Engineering Association (PCEA), about designing vias for greater reliability. They also address several areas where they can look to improve reliability, a variety of steps that designers should take to help ensure more robust vias, and some testing and educational resources that PCB designers and design engineers should be aware of.
08/28/2020 | Andy Shaughnessy, Design007 Magazine
This week, we have quite a potpourri for you. There's good news about the PCB market. And as this year continues to surprise us at every turn, companies are discovering the true nature of their leaders. Todd Kolmodin has a great column about bosses and leaders and why the two words are not synonymous. Not to be outdone, columnist Barry Olney found a way to explain the wavelength of electromagnetic energy by using a chocolate bar and a microwave oven. We also have great articles by Sagi Reuven and Pete Starkey.