Books

Featured Books

design007 Magazine

Latest Issues

Current Issue

Odd Geometries

In this issue, we discuss some of the challenges, pitfalls and mitigations to consider when designing non-standard board geometries. We share strategies for designing odd-shaped PCBs, including manufacturing trade-offs and considerations required for different segments and perspectives.

Simplification

On the subject of simplification, our expert contributors explain how to design PCBs without making them complex and over-constrained—whatever the level of technology. In addition, we discuss the effect your decisions and tradeoffs have on design complexity.

The Standards of Design

Our expert contributors discuss how PCB designers can utilize standards to save time and money, not to mention frustration. We also spotlight the newly updated version of the IPC Checklist, a handy guide that illustrates which standards cover which topics, from front-end design through assembly.

Columns

Latest Columns

||| MENU
Estimated reading time: 6 minutes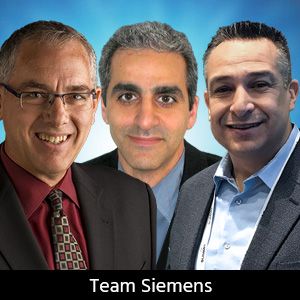 June 14, 2022
Digital Transformation: Supply Chain Resilience, Part 1—The Supply Chain Problem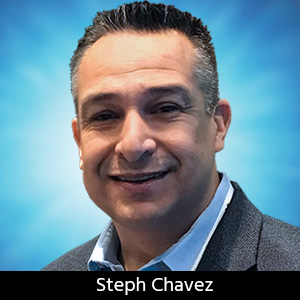 In part one of this two-part series on supply chain resilience, I'll first address the problem being witnessed throughout the industry regarding supply chain disruptions and its negative effects.
For more than two years, supply chain issues have headlined the news, identifying a worldwide vulnerability magnified by the global pandemic. This vulnerability had been problematic long before the pandemic, quietly growing, and ignored until the pandemic hit with full force. Then, this sleeping dog raised its ugly head and now present worries in today's headlines. From our local grocery and department stores to our local auto dealerships, empty shelves and empty car lots have been the negative effect of sporadic supplies causing serious consequences and disruptions as we struggle to emerge from this pandemic.
Within the electronics industry specifically, supply chain issues have become a major factor that need to be addressed. It is one of the most concerning issues at hand as companies look for ways to move forward and get products to market as quickly as possible. Unfortunately, the cost of doing business is higher than ever and increasing, and is influenced by a global electronics value chain already facing rapidly dynamic market forces that are being amplified by the pandemic and global chip shortages.



Figure 1: Today's rapid dynamic forces.
The simultaneous collisions of today's rapid dynamic forces have created the perfect storm in the electronics industry. Sadly, there is no immediate end in sight, nor is there any temporary relief in the near future. If anything, there is real potential for matters to get worse, especially as an indirect result of the global economic turmoil arising from the war between Russia and Ukraine.
With all these external issues already making matters difficult, and observing many companies operate today, we see a very complex, spiderweb-like network of informal processes that add even more challenges within the enterprise, across functional silos, disparate systems, and fragmented cross-functional decision-making processes. Based on my recent experience as a principal engineer of PCB design at a leading mil/aero company over the past 12 years, I can attest to this complex network of communication and functions inherent to larger corporations that are typically a conglomerate of absorbed smaller companies spread across the globe.



Figure 2: Challenges within the enterprise, across functional silos, disparate systems, and fragmented cross-functional decision-making processes.
Two recent surveys1 found that 81% of respondents reported that commodity availability has forced expensive spot buys, while 91% observed that sourcing issues have caused delays in product launches. In the same surveys, 79% of the respondents stated that collaboration issues have caused delays in new product introductions, while 63% expressed that the numbers of BOM iterations have increased significantly. More recently, Goldman Sachs forecast an average 20% shortfall in computer chips, which is expected to last through 2022.


As we dive deeper into the problem specifically regarding today's design and sourcing processes, it's clear that supply chain resilience is not inherent in these processes. Therefore, many design organizations are highly vulnerable to supply-chain volatility since the engineering and sourcing hand off is highly linear and not built with resilience in mind. Designs are seeing multiple cycles of BOM review and analysis of alternatives resulting in re-design events and/or outright extensions of schedules.
On a recent project I worked on, it seemed that at every daily project meeting, there was always something new to address regarding supply-chain issues. Whether the lack of available components meant that the EE had to stop his or her current activities and go back and manually research potential alternate parts not existent in the master library, submit a new library part request, create new circuitry, design a new section of the circuitry, or whether it forced me (the PCB layout designer) to redo a section of the board layout, the iterations and delays became extremely frustrating for the entire design team. The ripple effect of these supply-chain issues felt by the design team was painful and led to about 12 churn layout process loops. In my three decades of experience, I have never seen supply chain issues this bad. Talk about feeling the pain. It was brutal.


Figure 4: High-level view of the general design and sourcing process.
According to a survey published by Lifecycle Insights in April 2022, the negative impacts from supply chain disruption on these linear processes are significant and can be detrimental to a company's overall success. Whether it is due to increases in the average time engineers spend replacing components or the extra time it takes to update board designs after replacing an electronic component, availability, lifecycle, and compliance issues continue to lead to longer schedules and budget overruns. The metrics captured in industry surveys and from anecdotal evidence speak for themselves.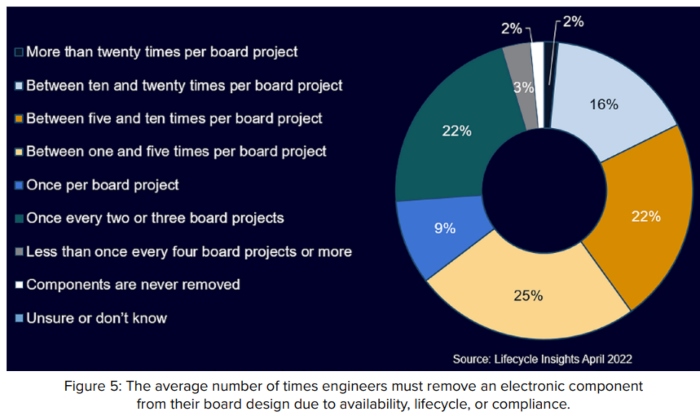 In the current state, operations combined with today's sourcing chaos in the supply chain, engineering teams are finding it harder and harder to be successful. From the perspective of many engineering teams, there are four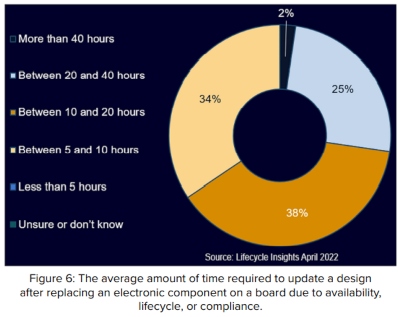 key areas where supply chain disruptions have impacted their projects, with the net result being delays, high costs, and greater risks. The four key areas are best known part, BOM validation, validation of alternates, and risk management.
Supply chain instability is further compounded by other factors amplified by the pandemic: the rise of counterfeit parts impacting trust in the component supply chain, differing geopolitical interests resulting from globalization, labor disruptions arising across all industries, and increasing demands to design for environmental sustainability.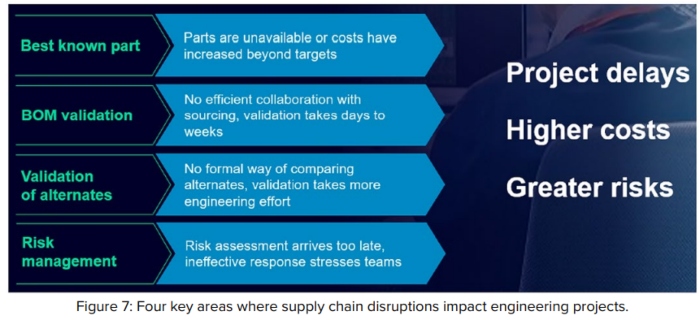 All this volatility highlights the dependency electronic systems companies have on the other members of the ecosystem they rely on to bring a successful product to market. These include component suppliers, product engineers, and product manufacturers. The reality is, before the pandemic, although we understood the value of integrating this ecosystem, recent events have clearly demonstrated its fragility and the critical need to bridge the chasms that result in lost innovation, budget hits, and time-to-market delays.
We see the electronics value chain as ripe for a digital transformation, given the persistent chasms that stifle innovation and product development execution. If the uncertainty of the pandemic demonstrated how companies employ digital transformation to move forward and excel, it's a relevant proof point to what's possible and to how new operational paradigms can be adopted quickly.
So, what can companies, and you, do about "The Problem?" In part two of this series, I'll share some of the promising and effective solutions that are key to supply chain resilience. This three-phased approach will shift supply chain resilience to the point of design and allow companies to optimize not only their systems design process but also every link to the stakeholders in the global electronics value chain. By uniting this value chain with the engineer's desktop, system design companies will see higher levels of digital transformation and the greater profitability that will result as they are empowered to realize tomorrow's designs today.
References
The Dimensional Research, 2020 State of Electronics Sourcing Decision-Makers Survey; and Lifecycle Insights, 2021 NPI and Sourcing study.
Lifecycle Insights, April 2022.
This column originally appeared in the June 2022 issue of Design007 Magazine.
Additional content from Siemens Digital Industries Software:?