Books

Featured Books

pcb007 Magazine

Latest Issues

Current Issue

The Registration Sweet Spot

Registration is underrated and underappreciated. The key is to ensure proper registration from layer to layer across the entire printed circuit board. It's a holistic process requiring anticipation, prediction, precise attention at each step, and detailed data tracking and monitoring.

High-reliability Fabrication

In this month's issue, our expert contributors discuss the latest in technologies, trends, complexities and resources regarding high-reliability fabrication.

Finding Ultra

New demands on PCB fabrication, namely advanced packaging, ultra high density interconnect (UHDI), and new specialty materials, are converging, changing the landscape of our business. Is it time to start paying close attention to this convergence?

Columns

Latest Columns

||| MENU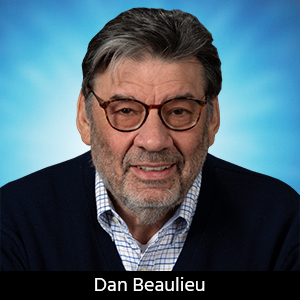 It's Only Common Sense
Column from: Dan Beaulieu
Dan Beaulieu has over 35 years of experience in the printed circuit board industry. He is considered one of the industry's top marketing and sales experts, as well as perhaps the strongest and most focused strategist in the industry. His main focus is helping the companies he works with to achieve their fullest potential
Mr. Beaulieu is also a well-known industry writer and columnist writing sales and marketing columns including contributing to Printed Circuit Design and Manufacture, U.S. Tech, Printed Circuit News and The ERA Representer. He is best known for his work with I-Connect007 for whom he has contributed numerous interviews both print and video with some of the industry's most renown leaders. He is also the author of the popular weekly column It's Only Common Sense for which he has written over 400 columns and counting.
Since co-founding D.B.Management Group, Mr. Beaulieu has worked personally with numerous companies among them PCB Fabricators: Prototron Circuits, Murrietta Circuits, American Standard Circuits, Sierra Circuits and over 100 others, as well as peripheral companies such as: The Gardien Group, Taiyo America and RBP Chemicals.
December 04, 2023
Effective problem solving is a crucial skill in both personal and professional life. Whether you're dealing with a complex business challenge or a personal dilemma, a systematic approach can help you find viable solutions. The way you act as a company is determined by the way you solve problems. True leaders are defined by the way they solve problems. As I've said many times, great long-lasting customer relationships are forged by the way they come together as a team to solve problems.
---
November 27, 2023
Being the best is never easy. When you study the life of elite athletes, for example, you will find a list of characteristics that typically puts plain old hard work at the top. These athletes work harder than anyone else. They're the first ones there in the morning and the last to leave at the end of the day. They literally live and breathe what they are doing. They don't allow themselves any breaks, excuses, or cop outs. They are, as we say, all in.
---
November 20, 2023
No matter how you look at it, everything is about customer service—great customer service. If you think about your own experiences, you'll realize it's about how those you are dealing with or buying from— whether it's a car, your internet service provider, or your landscaper—it's all about how they make you feel. You can have the greatest product in the world, but if you don't deliver a great customer experience, it won't matter.
---
November 13, 2023
We have spent a great deal of time listing all the things that great salespeople should be doing. Now it's time to reverse that and learn through the mistakes of others. So, I sat down this week and listed some of the more common and, dare I say, damaging mistakes that salespeople make.
---
November 06, 2023
How much time do you spend thinking about why a customer buys something? I mean, are you really studying customers, trying to determine why they buy (in general) and why they buy (from you)? What drives the decision for a customer to choose one product or supplier over another? I have found that we often spend so much time focused on our own products, services, and pitch that we lose sight of the most important focus: the customers. They are the ones making the decisions and, in the end, it's their opinion that matters most. With that in mind here are some of the more obvious drivers as to why a customer will choose one product, service, company over another:
---
October 30, 2023
Great leaders make things happen, inspire others to follow their mission, and don't force people to do things. Great leaders don't create "followers," but rather they develop mini-leaders who exponentially push the common vision to their followers, thereby creating more mini-leaders. Now, everyone in the organization has their collective eyes on the prize. In this way, true leaders accomplish great things. Here are some characteristics to look for in great leaders.
---
October 23, 2023
We've been pretty serious lately, delving into ways to improve our sales process, make our companies better, and drive our customers to genuinely love us. It's time to loosen that proverbial tie and talk about some fun marketing stuff. I did my homework this week and went digging for marketing stories that were not only entertaining but, strangely enough, worked. These are great examples of how thinking out of the box not only worked but changed marketing forever.
---
October 16, 2023
Don't fall so in love with your marketing, your sales pitch, your product, or even your company that you forget the most important thing—your customer. You can think that your advertising is really cool, but it doesn't matter. It also doesn't even matter if you have the very best product on the market today. In the end, all that matters is what your customers think. Emphasize and prioritize your customers' needs over your own. Be completely customer focused. Fall in love with your customer. If you want to succeed in sales, this has to be your number one goal.
---
October 09, 2023
I have spent the past few weeks taking calls from salespeople who are more than a little discouraged. They're wondering what's going on, why they aren't getting appointments and making sales. We all know it is hard right now. Everyone seems to be looking for answers about why they can't make their numbers. So, let's go positive for a few minutes. Let's just take a deep breath and think about what it is that makes a great salesperson.
---
October 02, 2023
A few weeks ago, I wrote a column about how to manage a slowdown in sales. Since then, many of you have called me and said that things are still not getting better, so I'm happy to talk about this issue again. In my previous column, I listed some things you could do to improve your situation. Please go back and read it. But with so many still in a quagmire, I have gone back to the proverbial drawing board to come up with some new ideas and suggestions.
---
September 25, 2023
I'm reading Walter Isaacson's biography of Elon Musk and it's great because you get an in-depth description of what the richest man in the world is really like. It's worth the time, and I strongly recommend it. Believe me, I'll be doing a book review once I'm finished. In almost every meeting, especially when Musk feels that his workers are getting off track, he will recite what he calls "The Algorithm." Most of his workers know it so well they sometimes mouth the words along with him. Here's how it goes.
---
September 18, 2023
Often, standing still and doing nothing is the most dangerous tactic you can take. Most companies who get themselves in a jam did it because they didn't do anything. They saw their impending doom but were too frozen in their fear of uncertainty to do anything about it. Transitioning from a mindset of absolute certainty to one focused on accomplishment and growth can be a powerful, but necessary shift. To help you with changing that mindset, here are 12 things to consider.
---
September 11, 2023
Just counting clicks on your website as an indication of the success of your marketing and advertising campaigns means you don't really have a good handle on what true marketing really is. In fact, taking a narrow view of a campaign by focusing a proverbial microscope lens on just one aspect of the program is a very poor indicator of what a campaign is delivering. Marketing is a true mosaic. It has many facets that contribute to a fully holistic marketing effort. It must include advertising, as well as messaging, branding, content creation and distribution, SEO, social media, and even guerilla marketing.
---
September 04, 2023
For a long-term synergistic relationship, an actual partnership with your customer, it is much better to "sell the company" than just the product. By selling your company's culture, you get your customers to love doing business with you. It's the very best way to develop relationships. Selling your company's culture, partnerships, and chemistry rather than just the product itself is a strategic approach that can foster long-term relationships and brand loyalty. Of course, it also minimizes the risk of competitors invading the account. The important thing is to create and highlight this kind of culture and promote it to your customer base. Here are some things to consider.
---
August 28, 2023
Leaving a stellar voicemail message is one of the greatest secrets in sales and can be one of a salesperson's biggest challenges. Whenever I am working with salespeople on their cold calling to generate leads, this question inevitably comes up: "What is the best message I can leave to make sure the customer calls me back?"
---
August 21, 2023
It seems that suddenly the salespeople I work with can't do anything. Our calls and meetings are filled with negative statements like, "I can't get appointments," "No one answers the phone," "Everyone I used to know and work with is gone," "Nobody wants to see suppliers," and "Some companies don't even give their purchasing people phones." (That last statement seems a little hard to believe.) If you're a salesperson who's stuck in a funk, read on. I have 12 ideas to get things moving again.
---
August 14, 2023
The best salespeople use the best techniques they've learned over the years. Some of them are original, others are learned. Sometimes they are handed down over the years from one generation to another. Some are interesting, while others are a bit hokey, to say the least. Here are 10 of my favorite "creative" sales tactics. Have they worked for you?
---
August 07, 2023
The key to successful salespeople is they go deep. They go beyond the transactional, normal steps. Great salespeople have that certain "je ne sais quoi." Customers love them for it. They can't wait for them to visit. They hope they'll be asked to have lunch with them. Customers can't wait to introduce them to the rest of their team. In short, customers are proud to call them their friends.
---
July 31, 2023
We've all experienced it, suffered through it, and even cursed it: It's the way companies choose to answer the phone (if they do at all). This is why Best Buy, for example, will go out of business. I called one time to make an appointment with the Geek Squad. I did this because I had learned the hard way: After driving 20 miles to the nearest store and waiting for 20 minutes in line at the Geek counter, I was told that there was nothing they could do because I hadn't made an appointment. So, I made an appointment for the following week. I now knew the rules and was ready to abide by them—if I wanted to earn the privilege of doing business with Best Buy.
---
July 24, 2023
Well, I heard it again this week: The fingernail-on-the-blackboard noise of a salesperson telling me, "I am long past finding new customers; I'm now a relationship manager." Are you kidding me? Really, if these were the old days, you'd have your straw boater and sample valise taken away and you'd be thrown off the train before it got to River City! Nope, sorry, Mr. and Mrs. Relationship Manager—salespeople not only sell or manage relationships; they also have to find the customers. They must come up with new target accounts. In simplest terms, they have to generate leads. They have to find people who might want to buy their wares.
---
July 17, 2023
Someone asked me again the other day what it takes to be a great salesperson and, once again, I gave them a litany of my old standbys. But after thinking about it, I realized I should've dug a little deeper. My answers were trite, old, used, and tired. It was time for a new list.
---
July 10, 2023
There is no winging it in sales. You must plan, do your homework, know what you're doing, and why you are doing it. Preparation is key. Sales is all about preparation and hard work. Success in sales—or anything in life—only comes to those who work hard. Your mantra must be, "The harder I work the luckier I get." Here are 12 steps to score gold on your sales call.
---
July 03, 2023
Let's talk about the all-important sales call. Now, I can hear you saying, "No, please, not that." Well, stop groaning, you need this review. It was just the other day when, during some one-on-one meetings with a company's sales reps, that I realized it was time to review in my column this most important part of the entire sales process.
---
June 26, 2023
Years ago, I compiled a list of the "Famous 50 Reasons Why It Won't Work." It started as tongue-in-cheek but since then it has become less of a joke and more of a wake-up call when people tell me why they can't take action or solve a problem facing them at the moment, and how they come up with unique and creative reasons why it won't work. What they are really saying is they don't want to take action. It scares them because they don't know what will happen, so instead they imagine all the terrible things that could happen. They sit there, frozen, waiting for their business to die. In short, it's corporate suicide by inaction.
---
June 19, 2023
It's the fourth and final installment of my series about the problems between sales and principals. I've laid out the problems from both sides, talking about how each has valid arguments but neither feels like they can catch a break. You might wonder, "Who's right?" Well, I'm here to say that neither one is right or wrong, but after watching this partnership (of lack, thereof) play out for many years, I'm offering some solutions to the issue.
---
June 12, 2023
If you have been following this column for the past few weeks, you know that we have been talking about the relationship (or lack thereof) between independent sales reps and their principals. Since I started this series, I have received many comments from readers enforcing the points I've made. Some of these comments come from the reps themselves who have found themselves facing the situations, challenges, and issues that I have described.
---
June 05, 2023
As I continue my series on closing the gap between independent sales reps and their principals, I thought the next step would be to talk about what reps are looking for in an ideal rep-principal partnership. I talk to a lot of sales reps, and they frequently tell me they tend to be treated as outsiders by the companies they represent. Once they bring in the accounts and the company's team takes over, they seem to be forgotten. Over time, as the relationship between the inside sales team and the customer matures the sales rep is left out.
---
May 29, 2023
What's wrong with the reps? What's wrong with the principals? How will we fix this problem between the two? This is part two of my continuing series on the issue between the two sides. The questions I posed are ones I get on a quite regular basis from my PCB shop owners and leaders. Both parties must give a little to make it work and I have some ideas. There are definite steps we can take not only to alleviate this problem but go a long way to solving it. Over the next three weeks, I will closely study the points of division in the rep-principal relationship and discuss some sound ways to overcome this adversarial relationship.
---
May 22, 2023
It's time to address the elephant in the room: What will we do about sales reps? Having sales reps in our business—as in all other industries—is not working. Not only that, but the situation is also getting worse. The gap between reps and their principals is so large that it's hard to believe we can close it. I have been on both sides of this issue and for the next few weeks, I will attempt to solve the rep-principal problem. Fasten your seat belts; it's going to be a bumpy ride.
---
May 15, 2023
Please don't believe that all website experts can tell your story. They can't. Yes, they know all about developing intuitive or easy-to-navigate sites, and you're smart to follow your web designer's expert advice on, say, color tone and graphics. But that's as far as it goes. They are technicians or IT experts, not necessarily marketing people who should be overseeing your company's branding and storytelling.
---
May 08, 2023
I like to watch TV and I have found there is much to be learned from it. Some of my columns have focused on what I've watched, from the management skills of Tony Soprano to the business skills of Walter White in "Breaking Bad," and the real business shows of "Shark Tank," "The Profit," "The Deed," "The Pitch," and the tear-jerking "Undercover Boss." Here are eight things I learned from the dashing Don Draper on "Mad Men."
---
May 01, 2023
Many say this is the worst of times. Do you believe it's true? Many are scared of a recession and spread that fear as widely as possible because they don't know what will happen to our economy and their businesses. Frankly, I don't believe it. What I do believe is that people like to say things like this because it somehow makes them feel better. Personally, it's a poor justification for their lack of success. What I really don't like is when we blame it all on that special group called Millennials.
---
April 24, 2023
As I always say, great salespeople find a way to succeed. They take advantage of weaker competitors who are busy coming up with creative but mostly fictional reasons for not making their sales—tantamount to not doing their job. Successful salespeople use their substantial creative juices to find innovative ways to sell successfully in all conditions. They keep their heads about them and show grace under pressure. But enough about them. I've come up with a list of 20 reasons (excuses, in my book) for why you're not getting sales. I wonder if any of these sound familiar?
---
April 17, 2023
Even the nation's largest corporations make horrible product decisions at times. They're true blunders. Dan Beaulieu shares two classic examples, and both shed light on the importance of knowing your customers well. Where did you fare in the burger wars?
---
April 10, 2023
Do you really believe in your product? Do you feel you are doing your customers a favor by getting them to use your products and services? You will be a magnificent salesperson if you truly believe that you have the very best products that money can buy. I am always amazed when I hear the reasons salespeople say they aren't succeeding. The number one barrier? Price. Here's how to work around it.
---
April 03, 2023
You work hard in sales. You do everything you can to make your numbers, just like you've always done. You develop a strong lead generation plan by finding and targeting the right accounts. If you score those accounts, you make your forecast. In other words, you do what you've been taught to do. It's all good, solid work. Nothing extraordinary. But what if you were guaranteed a $1 million bonus if you hit your forecast this year? How would you do things differently?
---
March 27, 2023
When you just can't make any headway with a customer, have exhausted all your own resources and ideas, and don't feel that you have another move left in you, it's time to call for help. Time to send the flares up and signal SOS.
---
March 20, 2023
Sometimes your back is against the wall, and for whatever reason, you just have to win this business. You do all you can, pull out all the stops, eat your pride, and remain laser-focused. Sometimes, when failure is not an option, you dig deep and do whatever it takes to succeed. We've all faced this situation at one time or another. I once was forced and under pressure to do whatever I could to win a contract. In my case, the future of the company and all 100 people who worked there was at stake.
---
March 13, 2023
Our customers will buy what they want, not what we want to sell. That's kind of a pain, isn't it? No matter how great our product is, how compelling our sales pitch, or how absolutely convinced we are about the product, if they don't want it, they won't buy it. So many of us spend too much time trying to convince our customers to buy what we're selling and not enough time listening to what they want. We all do it. It's a bad habit we need to break.
---
March 06, 2023
If you are in sales and don't treat your job with intensity, passion, and seriousness, you'll never succeed. This is how you make your living, after all, and in some ways, it is what defines at least one facet of who you are. You owe it to your company to give 100% and you owe it to yourself to give 150%; it takes great effort to be great. Here are some of the things I say when I am coaching a salesperson who is looking to get out of a rut of their own making.
---
February 27, 2023
Are you stuck in those sales doldrums, the bane of even the best salespeople? Everything has come to a standstill, you're not even hearing from your good customers nor getting answers on quotes that looked so promising and imminent just last week. You're sitting there wondering, "What's next? How will I get out of this rut?" Now what? What will you do next? How will you kick start your day and get out of this rut? No worries. Here are five things you can do today to get things moving again.
---
February 20, 2023
I recently talked to a board shop owner who entertained a customer visit from a large military OEM. In the group were four young engineers who had never been in a PCB shop before. As they toured the facility, they were actually stunned at the amount of equipment, people, and process steps it takes to build a printed circuit. I'm tired of PCB fabricators taking a back seat in the supply chain. As the true "makers," it's time we stood up and let our voice be heard.
---
February 13, 2023
Some of you will not like this column, but it needs to be said. With all due respect, listen up, and read this with an open mind. I've been talking to company owners over the past six months, and they all say essentially the same thing: "People just don't want to work anymore." The reasons for this vary. Workers are spoiled and lazy because "the government gave them too much money," or "their generation was raised badly," or "they're spoiled and expect too much."
---
February 06, 2023
Every now and then I feel the urge to write about the great art of not just hearing, but true and active listening. About once a year, I feel like it needs to be brought up and discussed—maybe for your benefit or mine. This is one of those things that I need to work on. I often get so enthusiastic when talking to someone that I end up talking too much, or interrupting the speaker, or talking over them. This is my problem. It's a case of "teacher teach thyself." But especially as I attend both virtual and live meetings, I am reminded repeatedly of the importance—and skill—of listening.
---
January 30, 2023
Sales managers, have you ever heard one of your salespeople say something like: "If we only had (whatever it is your company doesn't have), I could double my forecast?" How about, "If we only had the spec or qualification, we could double our sales? Everyone is asking for it now." Or maybe, "Once we have that new laser drill, I am going to bring in a ton of business." These "what if" scenarios sound promising, but let's be honest, these are excuses.
---
January 23, 2023
Marketing works. Even when you think it doesn't. So, if you've been to a trade show recently (and if you haven't, it's time to start booking the next event), don't let your marketing stop now that you've boarded a plane and come home. When a companry, maybe the first time, really starts thinking about their customers, then it's time to put together a marketing plan. You bring the customer to the table, and you start considering the following questions.
---
January 16, 2023
There are many challenges and opportunities when it comes to making a new hire. In the scenarios I have laid out over the past several weeks, we have detailed the process of searching, recruiting, interviewing, selecting, and negotiating. We've also talked about taking a formal new hire through an orientation and training program, which includes assigning them to a mentor. Congratulations, they are now a full-fledged member of your team. But now comes the greatest challenge of all. How do you retain this new team member for the long haul? How do you keep them learning, growing, and contributing for years to come?
---
January 09, 2023
For the past several weeks, I have been writing about the process for finding and hiring the right candidate. Now that you have spent so much time and effort in that process, and you've made the hire, the next step is to make sure they have a proper orientation to both your company and the wider industry. The sample training program I propose below is, of course, focused on the electronics manufacturing industry, but it can be applicable to all employees.
---
January 02, 2023
The transition to a remote workplace has been one of the few positive outcomes of the COVID-19 pandemic. For those who still cannot get their head around allowing some of their employees to work remotely—you're limiting yourself. Requiring all employees to show up in person for work prevents your company from truly hiring the best. Of course, there are line workers who cannot work remotely, and that's fine; but for those positions that can function remotely—and frankly, that's most of your office staff, including customer service, designers, methodizers, and CAM—they can and should work remotely.
---
December 26, 2022
So, you've planned, searched, vetted, interviewed, and you've finally found the right candidate—the perfect person for the position. Now it's time to make an attractive offer and negotiate the details of the compensation package with this stellar candidate. If you have done your homework properly, you already know what it will take to convince this person to join your company.
---
December 19, 2022
In thinking about the best way to hire good and talent individuals, I went to my library and found a copy of Tom Peters' book, "The Professional Service Firm50," published over 20 years ago in 1999. Even in these unprecedented times, I have to say: Tom Peters still has it. Flipping through the book again, I was struck by how spot-on his advice still is and, for a moment, I thought that he had foreseen our future talent shortage all those years ago. But I came to realize that he didn't need to know the challenges we'd be facing in 2023—good advice is timeless.
---
December 12, 2022
Looking for the right people for your company is very similar to the way your sales team approaches building sales—especially now, when the competition for good people is so intense. This is a smart way to consider your search tactics. In some ways, the search team is faced with an even harder task than a sales team because it's currently harder to find a good hire than a new customer. There are far more potential customers than candidates right now.
---
December 05, 2022
You've done everything right so far in your organization's ongoing search for a new top line recruit. You've created an ideal candidate profile, so you know exactly what you want, and you've leveraged your network to spread the word. Great news: All your hard work has paid off. You've managed to find not just one, but several good potential candidates for the position. As you review your options, you see there's one candidate you're particularly excited about, and now it's time to start taking a good, hard look at them. Dan Beaulieu has five tips for success.
---
November 28, 2022
Dan Beaulieu continues his series about searching for and hiring the perfect candidate. This time he focuses on starting your job search. He says, "You've created your ideal candidate profile and you know exactly who you are looking for. To many, that is half the battle, since it is so much easier to search for someone when you know, tangibly and holistically, the qualifications you really need to take your business to the next level. Now it's time to start your search. Here are my fundamental and timely tips for transforming your next job search."
---
November 21, 2022
Continuing our series on finding and hiring the best people for the future of your company, today we will talk about the ideal candidate for the position you're trying to fill. Just like in sales, where we develop the ideal customer profile, we know to who our ideal candidate is. As the saying goes, "How will you find what you want if you don't even know what you want?" The best way to find the perfect candidate for the position you want to fill (and for your company) is to create a description of that ideal candidate. This means really thinking about what attributes you want in the person you are going to hire.
---
November 14, 2022
In this new series, Dan Beaulieu will address one of the biggest challenges facing companies today: finding and retaining a qualified workforce. Dan speaks with companies all around the country and this what they all talk about. Remember the time when we had so many potential candidates to choose from? Well, we all know it's not like that now. But you can still build a dream team. It just takes a little more thought. In this first installment, Dan addresses thinking creatively and with the future in mind.
---
November 06, 2022
Here we are again, getting ready to plan for a new year. If your company has been doing great this year, this is an opportunity to review what worked and why you have been succeeding in 2022. You can build on that by adding a few more tactics and adjusting that strategy so next year is as good as this one. If things didn't go so great for you, it's a great opportunity to start over, to turn that proverbial page and have a fresh start. Learn what worked and throw out what didn't work—after learning from it, of course.
---
October 31, 2022
Some things really make sense, but let's face it, some things really don't (even when they're supposed to). In this week's column, Dan Beaulieu—an avid reader of customer service books that highlight when things don't work so well and the solutions for them—shares a few of the annoyances in today's technology that just don't seem to be the commonsense approach. Isn't customer service supposed to be about service? But some of these things we all deal with may not be as good as we want them to be. How does your list compare to Dan's?
---
October 24, 2022
Many times, we can be too close to the problem to see it. It's the old "forest for the trees" predicament. When this occurs it's time to step back and do a full evaluation of the situation. It's time to take a clear and unadulterated look at you and your company. There is nothing wrong with doing this kind of exercise, and I recommend it happens on a regular basis. In the end, no matter how bleak things may look, it will help get your company on the right path.
---
October 17, 2022
In today's company culture, it's all about caring, compassion, and communications. If you can create a great company culture, you will create a great company. But how much do your employees actually know about your company? Dan Beaulieu starts by asking some great questions about your vision, strategy, ideal customer, and mission. When your employees know more, they feel more invested, and that pays off in your bottom line.
---
October 10, 2022
There is an ever-growing shortage of experienced professionals in our field. Whether it's PCB design, fabrication, or assembly, finding the right seasoned professionals is a serious problem. Actually, it's more than a problem because there just are not as many industry professionals as there used to be. Many have changed careers but the most significant reason for this lack of talented people is that so many are aging out and retiring, and only a very few are following in their footsteps. Here are three ways to do the seemingly impossible.
---
October 02, 2022
True leaders must be compassionate. They must understand the needs of their employees and their customers. Compassion and empathy are the new barometer with which we measure the effectiveness of today's leader. Microsoft CEO Satya Nadella said it best: "Our core business is connected with a customer's needs, and we will not be able to satisfy them if we don't have a deep sense of empathy." When I started in this business, I grew accustomed to bosses yelling descriptive and colorful things they would do to us if we screwed up. Many of those had to do with keeping our rear end from burning, or chewing it out and giving us a new one. That might have worked then but it certainly would not work now. It would get you fired.
---
September 26, 2022
How will life be at the end of this decade? How are our lives becoming? These thoughts have been on my mind after recently reading "2029: Guide to the Future" by futurist Oleg Tumarkin. In the book, he predicts life just a few short years away. Interestingly, he wrote this book in 2018. This is pre-COVID, but even more curious is that most of the changes he predicted are already happening, with many exacerbated by the pandemic. Actually, the onset of the COVID-19 pandemic served as a strong impetus for moving things forward much more rapidly. Here are some of Tumarkin's predictions (keeping in mind that he was thinking 10 years ahead).
---
September 19, 2022
I once heard a motivational speaker share the most common excuses salespeople make for their lack of success. His routine followed the days of the week and started like this: You can never sell on Monday, people are just getting back to work, and they don't want to be bothered with talking to a salesperson. They will get aggravated if you try to reach them on Monday. Don't ever try to sell on Tuesday because that's the day they claim most companies have their operations meetings, and they're too busy with meetings to meet with outsiders. And so forth. But are these reasons really valid? As you can imagine, Dan Beaulieu has a completely different perspective.
---
September 12, 2022
Let's face it, it's much too easy to blame the sales team for lack of sales. So often I hear frustrations from the operations team, blaming the sales team for the lack of adequate bookings. Ironically, if the sales team increases their bookings, the company leadership will say that their sales team just got lucky and that they didn't have much to do with it. So, let me see if I understand this: The salespeople are fully responsible when the numbers are down, but they are not responsible when the numbers are up? How does that work?
---
September 05, 2022
Most of us in business are still trying to avoid failure; we will do anything to not fail. Which means, of course, that we will stand still, and we will not try anything unless we know it's a sure-fire win. We refuse to make choices that possibly lead to failure. We insist on doing the same thing over and over and yet expect a different outcome. Wait a minute, what is that called again? Oh yeah, insanity. It's time we break out of that tired idea that "you just succeed and get A's or else" mentality that was pounded into our heads. It's time to get moving with new, fresh, and innovative ideas that probably will fail at first.
---
August 29, 2022
I just reread "The Go-Giver: A Little Story About a Powerful Business Idea." Full disclosure, this was the third time I've read this book and going forward, I plan to read it annually. It's a short 150 pages (my kind of book), but it is extremely powerful. This book, authored by Bob Burg and John David Mann, doesn't really follow the way a true "how to" business book usually does. Rather it is a parable, a story with a strong message about the power of giving. Now, before you quickly hide your wallet, that's not the kind of giving this book describes. It is more about giving of yourself, being generous with others, and how it will help you succeed in business.
---
August 22, 2022
Relax, this is not what you think. This is about getting so close to your customers that you have a clear and concise understanding of what they need from a great supplier. You see, I am often asked for tips and ideas on how to create customers for life. Too often, we feel as if all that matters to our customers is price—and sometimes delivery. But is that all you have? Is that all you are to your customers? A blob of vendors delivering the same product, all doing "pretty good?" Is our success based on who buys the best lunches or belongs to the best country clubs?
---
August 15, 2022
In any company, the front office does not have a monopoly on brains and ideas, but for some reason we think that once someone crosses the line into the front office, they are the only ones who can think. Too many times, we want people to just "shut up and do their job." Often, managers of companies do not care enough to ask the people on the lines their opinion on how things should work. No matter what a manager's previous job was, too many think they are now the self-proclaimed expert on anything and everything. This is errant thinking and only hurts you in the end.
---
August 08, 2022
Have you thought about a prosperous future? Most of the companies I know have led "lives of desperation," to quote my fellow New Englander Henry David Thoreau. Most of the time they are more concerned about making payroll than buying a new piece of equipment, more worried about pesky quality issues than sitting down to plan and strategize about the future.
---
August 01, 2022
Do these names mean anything to you: Marc Bulger, Chad Pennington, Tee Martin, and Giovanni Carmazzi? To refresh your memory, they were the four quarterbacks who were chosen before Tom Brady was drafted by the New England Patriots. On paper they looked better than Brady in every way. The NFL said they would be much better quarterbacks than Brady, who was one round away from selling insurance. Now, how many Super Bowl rings do these four players have? Nada. And I'll let you remember how many Brady has. Tom Brady is a winner, an extraordinary winner. Here's how to build extraordinary winners in your business.
---
July 25, 2022
For the past week I put my business books on the shelf in favor of books about kindness. These books are chock full of acts of kindness as witnessed by real people. They run the gambit from paying for the next person's coffee at the Dunkin' drive-through to donating a kidney. From mowing an old woman's lawn to leaving a hundred-dollar tip for a cup of coffee, to even buying someone a house. Actually, this is all pretty inspiring stuff. And reading these books about how people are helping people does make one think—about customer service.
---
July 18, 2022
Write a eulogy for my company? Really? Yes, and here's why. After reading "Brand Scaling Culture" by Ron Lovett, the idea has stuck with me. I thought, if my company died or disappeared one day, what would my customers say? Would they be sad? Would they be disappointed? Would they miss me? Did they think I was already dead? Would they be able to go on without me? How devastating would be the loss of my company to them? As you assess these ideas, here are more thoughts about how to keep your own company alive and well.
---
July 11, 2022
Do you know exactly what you do and what your capabilities are? Most importantly, do you have a good handle on what you cannot do? This is key to your success. You must be real and authentic. You cannot "sell" what you cannot do. Sounds simple, doesn't it? But we all know that it's not. There are times where it makes perfect sense to stay in your own lane and do what you do best. Most of the time this is obvious. If you are a low volume, high mix PCB fab house, then stick to that. If you are a box build PCBA company, stay with that. In each case, changing lanes will take much more time, energy, and expense than you can afford.
---
July 04, 2022
Certainly, getting in front of customers is never easy. The past two pandemic years have made that even more difficult as salespeople have not been able to use their usual methods to sell. Instead, they have had to resort to email, and social media, including LinkedIn, Facebook, Instagram, and even Twitter to get their sales message in front of the right customers. But there is one thing that has not changed, the use of which has become more prevalent in the past few years—the mail. Not just the U.S. mail but FedEx and UPS as well. It turns out, the way we send things has not changed, or not changed much anyway.
---
June 27, 2022
I do not pretend to know more about millennials than you do. In fact, I am not a fan of those self-nominated "millennial whisperers." You know the ones who like to show you how hip and young-thinking they are because they are the only ones who how millennials think, the only ones who can translate that thinking for you. I dislike stereotypes, and I really dislike categorizing human beings and tossing them all in the same pot. Here, then, are two misconceptions about millennials, and how to embrace their truth.
---
June 20, 2022
Jack Welch was a false prophet who worshiped at the altar of capitalism. There I've said it, and I feel good about that because it's exactly what I have thought for many years but was afraid to say. I just read a new book, "The Man who Broke Capitalism: How Jack Welch Gutted the Heartland and Crushed the Soul of Corporate America—and How to Undo His Legacy." Author David Gelles supports my theory and takes Welch's career apart as expertly as old "Neutron Jack" took apart GE and left it an unsustainable disaster.
---
June 13, 2022
This is our time. Some domestic PCB fab houses feel they got the short end of the stick for the past 30 plus years, believe their customers have sold them out to the cheap labor companies (and took their technology with them.), their time has come. For those who have been harmed by the sometimes less than stellar support from the IPC, and who feel abandoned by suppliers more interested in selling to Asia than to them, this is their time. This is for fabricators who, feeling shortchanged because even American proprietary business had been shipped to Asia by less than genuine PCBA customers, sensed that they were about to be washed down the drain of oblivion while no one cared.
---
June 06, 2022
No matter what anyone tells you, business is not hard. Being a good businessperson is not hard. Being a person who is respected and even esteemed is not that difficult. Being someone who others turn to in their time of need is easy. Being that person who is respected, even when others don't always agree with that they say or do is something that everyone can afford. It does not cost a lot of money to be a good guy.
---
May 30, 2022
It's a shame to waste a good failure. Surprisingly enough, you can tell how great companies are by how many failures they experience. This is based on the idea that if you're not failing, you're not doing enough. In fact, you're probably standing still and stagnating, which is the closest thing to death a company does—short of actually dying, that is. In fact: If you do not grow, you will die. If you do not try, you will not grow…and you will die. That's all there is to it.
---
May 23, 2022
Last week, I discussed why PCB and PCBA need a better deal. This week, I will discuss some ideas and suggestions of what that better deal—that better contract—should look like to make sure it is a win for both the principal and the rep. Improving the contract one issue at a time looks like this.
---
May 16, 2022
I am sure you have noticed how difficult it is to find good reps today when it comes to selling PCBs and PCBAs. That is not to say there are no good reps out there but rather than there are not many reps who are dying to represent our companies. Being in the rep finding and managing business for many years, I have had a front seat view of this dilemma.
---
May 09, 2022
How self-aware of being a good leader are you? Are you sure of yourself? Do you lead with confidence and courage? Can you make those hard decisions when they need to be made? Do you believe in yourself as a leader? And do others believe in you? These are all questions that should go through a leader's mind every day, and frankly, if they don't, they might not be that great a leader.
---
May 02, 2022
Social media has been here for over 12 years now. Those of you who said it was a passing fad were wrong. It is not going away anytime soon. The way we market our companies is changing in ways that many of us are not familiar with. Marketing managers need to be doing more, be adept, and be proficient regarding the ins and outs of true, viable, accountable, and effective social media.
---
April 25, 2022
That's right, you Deadheads, it's time to not only appreciate their music but appreciate the marketing lessons that you can learn from them. This is not a joke, far from it. I'm deadly serious, these lessons come from the book Marketing Lessons from the Grateful Dead: What Every Business Can Learn from the Most Iconic Band in History, by David Meerman Scott and Brian Halligan.
---
April 17, 2022
One of the great things about being a manager (and not just a sales manager) is the opportunity to mentor, challenge, educate, lead, and most importantly, inspire the members of your team to do things they did not think they could do. You can help them achieve a level of accomplishment they did not realize they could.
---
April 11, 2022
There is an evolution in sales, especially with those who are doing the selling. It is no secret that many of our sales professionals are aging out: retiring or moving to that great golf course in the sky. As they exit the premises so do some age-old practices.
---
April 03, 2022
The gap between employee and employer in business is now considered one of the biggest challenges we face today. Our hiring base is vastly different from what it always was; this is not the greatest generation or even the boomer generation. We must adapt if we want to meet our workforce requirements. Today's younger workforce is better educated, smarter, and more confident than we ever were. But they have something that neither my generation nor my father's generation had—they have choices. They can decide where they are going to spend their time.
---
March 28, 2022
Nothing new here, but it bears repeating anyway. As we know, the biggest challenge facing any business today, no matter the industry, is the lack of good, qualified people. An even bigger challenge than that is finding people to lead those we already have on board.
---
March 21, 2022
I have always felt one of a leader's most important characteristics is being able to embrace change. Someone who not only anticipates change, but looks forward to it, will always have a distinct advantage over those who hate change. Change is inevitable. Not only should you get used to it but look forward to it with an open mind.
---
March 14, 2022
Full disclosure: The ideas in this column are based on a book on leadership by Liz Wiseman titled "Multipliers: How Great Leaders Make Everyone Smarter." It's a new update from the version that was published over 10 years ago, so it's been totally validated for our times. To be honest, I casually picked up this book thinking, "Another book on leadership…ho hum." But once I started going through it, I realized that this book is important in a way that other leadership books are not.
---
March 07, 2022
We want things to be as easy as possible. Online streaming, buying, and everything else has created a buyer's expectation that is higher than it has ever been. I have read several articles where the writers are truly amazed that the streaming networks like Hulu and Amazon Prime have started showing only two episodes of their favorite show, from the "Marvelous Mrs. Maisel" to "The Dropout," the story of Elizabeth Holmes, and then metering out the rest of the season with one or two episodes a week. We are throwing things at our TVs and chanting the old MTV slogan, "I want it now!" We don't want to wait for anything anymore. We live in an instant gratification world.
---
February 28, 2022
I'm about to blow your mind. From "The Future of Sales" by John Asher, here is the new scenario for sales as we exit the COVID era. Some of these changes are because of a worldwide pandemic, but most of them were about to occur anyway; the pandemic simply served to accelerate them much sooner than we were prepared for.
---
February 21, 2022
Are you making an impact at your job, your career, and your life? No matter how hard you work, or how much dedication and work ethic you have, if you don't develop a strategy to be impactful, it will all be for nothing. Being impactful means making a difference. It means being able to move forward, to progress in your career and whatever project you are working on.
---
February 13, 2022
Company owners can tell you what their company does; they can do that all night long. They can also tell how they do it, and who they do it for. But they can seldom tell you why they do it. Apple wants to change the world. That higher purpose is what makes it great. When he started years ago, Steve Jobs wanted to make a "dent in the universe." As he famously asked John Scully when he recruited him, "John, do you want to sell sugared water all your life, or do you want to change the world?"
---
February 07, 2022
You know it's coming. In fact, in many cases, it has hit already. Our PCB and PCBA companies are going to have to raise their prices this year. It is not a matter of greed; they are not trying to gouge you or take advantage of you. That's not it at all. It is simply a matter of fact that prices must go up if these companies are going to stay in business.
---
January 31, 2022
Did you spend last week in San Diego attending the IPC APEX EXPO? If so, you made a lot of good contacts, you talked to a lot of people, spent time with potential customers trying to convince them to buy your goods and services, and with the right vendors checking out their products and goods trying to figure out what equipment and services would be good for your company.
---
January 24, 2022
Let's say it all together: "This year's IPC APEX EXPO will be like no other." Of course! This year is like no other, and it's not even like last year's show, which was really like no other. So, let's just get over that and adjust. Success comes to those who choose to adapt, and like everything else in this life, success is an option—and a viable one at that.
---
January 17, 2022
I have a feeling you aren't going to like what I'm about to say, especially if you are in sales. But this is a basic sales and marketing column and at least once a year I am obligated (by law, I think) to do a column on the most hated, dreaded, and feared duty of all sales tactics, the mark of a good salesperson: the cold call.
---
January 10, 2022
I like to make resolutions. In fact, I am serious about making and trying to keep them. I find that resolutions can be goals that you promise yourself you will make and then, to be true to yourself, you keep those promises. This year, I've made up my list of resolutions, and while they probably aren't what you think, you'll agree it's a pretty good list.
---
January 03, 2022
If you have not figured this out yet, you'd better get on board and do it fast. If you have been known to treat your people poorly and get away with it, you are about to get a rude awakening, and I mean a really rude awakening. It's a new ball game out there. The choice of whether to come to work for you is like something we have probably not seen in our lifetimes.
---
December 27, 2021
There is an expression, "Whoever tries the most stuff wins. Whoever fails at the most stuff wins." This appeals to me because I really hate playing it safe and not trying something instead of risking failure. If you look at all the great ones—the innovators, the creators, the developers, the people who have made significant changes in the world—they were all risk-takers, and probably all a little crazy. And there are the others who will never get there. Speaking of great ones, don't forget the famous words of Wayne Gretzky, who said, "I never made a shot I didn't take."
---
December 20, 2021
Charles Dickens' "A Christmas Carol" is one of the best and most original business books you can read. It's full of valuable lessons that apply to all facets of business, even today, more than 180 years after it was written. This time of the year you can watch any version you like, from the 1938 Reginal Owen version to the 1951 Alastair Sim version to Disney, the Muppets and Mr. Magoo. Even Bill Murray has his own version. Given that, I'll go on the assumption you know the story. Except you've probably never thought about it as a business story.
---
December 13, 2021
What do Brad Pitt, Anna Kendrick, Gillian Anderson, Britney Spears, Matthew Perry, Mayim Balik, Mark Hamill, Chris Pratt, Daniel Radcliffe, Robert Pattinson, and David Duchovny all have in common? Think about that for a minute (or a million years) and you will never get it. Okay, give in? They are all AFOLs. No, not awful (my spell checker is working) they are all AFOLs—Adult Fans of LEGO! You'd be surprised how many AFOLs there are in the world. I can add my name to this list, and here's why.
---
December 13, 2021
While other people are watching "The Voice" or "Game of Thrones," I am always watching business shows. Call me a nerd, but it's a passion. One of my favorites is "The Profit," where serial entrepreneur Marcus Lemonis invest his own money into businesses that need his help. I love this show because he deals with companies, mostly small and family owned, as he shows their challenges and how he helps solve them. It is an ultimately relatable, common-sense approach to problem solving.
---
November 29, 2021
A friend of mine was disappointed recently when he went to trade show and met one of his customers. As they talked it became evident to my friend that his long-time customer had no idea that his company did flex and rigid flex boards. Talking even further, this customer had no idea that my friend's company did metal-backed boards either. Alt this customer knew about my friends' company is what they did for him—simple six- and eight-layer epoxy boards. But customers are not interested in hearing your message–or any other message­–until they are ready to listen to that message.
---
November 22, 2021
Get ready to enter a new year; it's less than five weeks away. If you haven't started working on your planning for 2022 you are almost too late. And since I have been in the industry before dust, I know for a fact that most of you have not even thought about it yet, never mind started your prep. So, as always, I'm trying to be helpful in any way that I can. Here is a short checklist of things that you can do so your planning for next year is done by the end of the month.
---
November 15, 2021
I think this has been the fastest year in history. People tell me it's because I'm getting old, and that's true; but come on, I'm not that old. It feels like we just turned the page on 2019 to 2020, never mind 2020 to 2021. Heck, it feels like only last week we were all worried about Y2K and what that was going to do to our world. That was over 20 years ago.
---
November 08, 2021
A survey I read recently said that 76% of the companies they polled admitted that it is now easier than ever to switch vendors. Yikes! And I believe it. I know that our own industry has become very dynamic. Now, more than ever, our customers are open to making changes. The bad news is that this puts us in jeopardy of losing our own customers; but the good news is that it gives all of us the opportunity to attract and gain new customers as well. It's the wild west out there when it comes to customer acquisition.
---
November 01, 2021
The supply chain as we know it today is filled with missing links that are frankly screwing everything up. Why don't we sit down and think about this for a minute? We can overcome many of these delays by actually working together by performing some of these actions concurrently rather than consecutively.
---
October 25, 2021
Our goal should be to become so treasured by our customers that when their new accountant shows up and says your customer is paying too much for your products, your customer is so enamored with your work that they tell the accountant, "Shut up and mind your own business," then list all the reasons they will never move away from you.
---
October 18, 2021
In most instances, we are on pin and needles because our customer relationships are so fragile that they can be taken away in an instant with just the slash of a price from a competitor. Pretty scary huh? Dan Beaulieu has a solution.
---
October 11, 2021
"It's not fair, they are all working together, they all help each other out, you don't know who owns what, and their government really owns them and gives them all kinds of funding to take over the entire global PCB market!" So, why can't we? Dan Beaulieu looks at a higher form of cooperation.
---
October 04, 2021
We should always remember that no matter what job a person has in our company, that person is important, and chances are that person is the most important person to his or her family.
---
September 27, 2021
In the early 1970s, I was a program coordinator for Maine Electronics, a division of Rockwell International. As I got to know more about the job, the product, and the company, I fell in love. Rockwell was building important products, from the Minuteman missile to the F-111 fighter, the Viking; later, we were a prime for the Space Shuttle. I fell in love with the work.
---
September 20, 2021
Last week's column, "Let's Get Off Death Row," woke up a few people. I heard from a number of people, and for the most part the response was positive. They let me know that my words made them feel better and made them believe that there is hope for the North American PCB industry. But I also painted myself into a corner as readers asked: What do we do now? What's the next step?
---
September 13, 2021
For at least 20 years, the American PCB industry has been sounding its death knell. There has been an overriding feeling that it is over and now it is only a matter of time. All I hear is the mournful wailing of the injustices that we have been dealt. It makes me feel that the only thing left on the horizon is the actual funeral and then it will be over and done with. Is this really the way we are going to go out? With a proverbial whimper rather than an American bang?
---
September 06, 2021
Let me start by saying I'm a big fan of ITAR. I believe that we should have protection for defense and aerospace products being built by American companies and American citizens. It is good for the PCB and PCBA industry. I don't like the idea of these mission-critical products being built elsewhere.
---
August 30, 2021
With COVID's Delta variant rearing its ugly head, and mask and social distancing making a comeback, many of us are feeling "COVID fatigue." This is especially true of our salespeople who have had enough. They are tired of not visiting customers, of not being to talk to them face to face, and most of all not being to engage in real live productive conversations.
---
August 20, 2021
Are you serious about your marketing? Are you ready to be all in? Are you prepared to go the distance? These are all questions you should ask yourself before you engage in a marketing program. You should realize that marketing is not an overnight endeavor, but rather a commitment to time, energy, passion and capital investment.
---
August 15, 2021
Everyone hates being sold to. Of course, people want things. If they are in the business of buying and using PCBs, for example, they need to buy them. But they want to feel they are in control. They want to "decide" on their own, (or so they think) without someone chattering in their ear about how great their particular boards are.
---
August 09, 2021
Watching the Olympics that past few days, I can't help but be impressed with the amount of passion and dedication that these athletes have for their sport. This made me realize that those who are the best at what they do are all in, all the time. Great artists and writer are all in, all the time. How dedicated are you?
---
August 02, 2021
The salesperson has been working on getting that live meeting for weeks. Finally, she gets in front of the customer. By now the customer is either enchanted, curious, or just sick and tired of hearing from her and intends to end the barrage once and for all and get rid of this person. Which buyer is she going to meet. Sounds pretty scary, doesn't it?
---
July 26, 2021
If you are in sales, you must make it a priority to provide the means for others to find you. Leave your full name and phone number on a message. And be sure your social media profiles, especially Linked In, are up to date. Dan Beaulieu explains why.
---
July 19, 2021
As I sat in the back seat of my Uber the other day looking at the smart phone the driver was using to find my destination, I could not help but marvel at all the changes that have occurred in the world during the past 45 years.
---
July 05, 2021
For the past three weeks we have been discussing the rep-principal relationship and how it needs to be improved for the future. After looking at the issue from both sides, I now offer some compromises.
---
June 28, 2021
In my last column, I discussed what the principals want from the rep-principal relationship; now it's the reps' turn. It might not seem fair or practical, but it symbolizes a chasm of difference.
---
June 21, 2021
Dan Beaulieu continues his insightful series on solving the growing problem between sales reps and their principals. In this week's installment, he lays out the expectations of the principals, based on his 40 years of experience in the industry.
---
June 14, 2021
Overall, the sales rep-principal relationship is not working the way it used to. In fact, it is archaic to the point of being unworkable. Let's look at this issue from both sides now and examine why it just doesn't work.
---
June 07, 2021
There's never been a better time to pick up new domestic customers, but be wise in how you approach them. No one likes to be "sold" to. There is a better way.
---
May 31, 2021
Remember the Coke vs. Pepsi challenge? What did it say about brand loyalty, and how can you relate that to your own company today? Dan Beaulieu explores the concept.
---
May 24, 2021
Columnist Dan Beaulieu shares three things you should not be afraid to talk about when it comes to promoting your business.
---
May 17, 2021
Don't let silly company policies get in the way of serving your customers. Columnist Dan Beaulieu has a lot to say on this topic.
---
May 10, 2021
What does hiring a workforce mean in this new generation? How is this generation different from—and similar to—the workforce of the past? Dan Beaulieu has more.
---
May 03, 2021
There's good news and bad news in the PCB and PCBA industry. Sales are up, but we face challenges. Now, it's up to the sales team to really step it up. Columnist Dan Beaulieu explains.
---
April 26, 2021
A great salesperson has built relationships over the years—good, solid trusting relationships based on the value she brings to her customers. Sure, it's nice to see them once in a while, but if you have developed a true relationship with your customers, they will not only take your calls; they will look forward to taking them. Heck, if you have made yourself as valuable to them as you should have, they'll call you.
---
April 30, 2021
So, your company got its act together. They bought the right equipment, increased their technology to the highest level—the cutting, nay, the bleeding-edge level. All the right players are in place. You are now poised to be among the best, most elite of the PCB companies in the world. Now what do you do? How do you market a company like yours? How do you sell the best?
---
April 19, 2021
When workers see who is using their end product their productivity increases by 10%. In all aspects of life, people will always feel gratified to the point of pride when they see how they have contributed to the good of the world.
---
April 12, 2021
This is the story of how smart people (maybe with the help of gullible people), turned something we all have in our own homes for almost free and in unlimited amounts it into one of the most sought-after products in the world. It sells for prices higher than oil and gasoline. That product is, of course, water.
---
April 05, 2021
Most of us feel that the worst thing about being in sales is the rejection. The fact that someone does not want what we have to sell. It can be very hurtful. Rejection can also lead to feelings of insecurity and finally to a complete lack of confidence. But it doesn't have to be that way.
---
March 29, 2021
We are entering a time when employees will be able to choose where they want to work. This means that the old ways are not going to work anymore. The old ways of managing by intimidation just won't be tolerated. Leaders must find a new way to manage their employees. And all I can say is that it's about time.
---
March 22, 2021
When do you decide it's not worth calling that prospect for the umpteenth time? It depends on the prospect. If you know for sure that you have exactly what a specific prospect needs, then you will never stop calling on them. This isn't to say that you call them twice a week for the next 18 months, but you want to make sure that you have some sort of sequence or cadence to your calls and touches.
---
March 15, 2021
If you're often impressed with a new idea and say to yourself, "I should have thought of that," then I agree with you. We all should be spending a lot more time thinking about what we can do better in our companies. How we can do better for our customers, our employees, and in our own lives?
---
March 01, 2021
The winds of globalism seem to be blowing in our direction, and I see indicators that we can bring at least a significant portion of the PCB market back to America in the next few years. That is, if we stick together and do things right.
---
February 22, 2021
Dan Beaulieu has seen too much of the history-making life of the printed circuit board to ever allow anyone to dare call that technology a commodity. Read on for details.
---
February 15, 2021
A company's purpose is different than a company's mission. Understanding the difference, as well as your true purpose, will provide guidance as you move your company forward.
---
February 08, 2021
As a person who grew up at a time when Burger King was telling me that I could "Have it my way," and that the customer (especially if it's me) is always right, now comes this new trend in marketing called "antagonizing." You heard that right; some companies are literally antagonizing some this customers to create a greater loyalty base of their other customers.
---
February 01, 2021
One would think that with unemployment the way it is these days, people would be storming our doors. But that is simply not the case. There are a number of reasons for this.
---
January 25, 2021
You've heard of a baker's dozen or the free chocolate chip cookies at Double Tree by Hilton. It all comes back to the concept of lagniappe. Here's how you can incorporate this concept for your customers.
---
January 18, 2021
We spend much more time, money and effort on attaining new customers than on retaining the ones we have already. Dan Beaulieu takes a closer look at the problem.
---
January 11, 2021
Goals serve to help with your own workload as well as your company strategy. They help give direction to daily life. But, word of warning; They can also serve up a huge guilt trip when you realize they aren't getting done as quickly as you want them to.
---
January 04, 2021
As the world comes back to life this year, there's an acute awareness that we will need to find more employees. Finding and hiring the right people has become a critical issue for most companies in our industry. I know of some companies with 20 to 30 job openings and they are not having much luck filling them. There is an increasingly high demand for the right people, in all positions.
---
December 28, 2020
Other year-in-review scripters are listing all the reasons why this was a horrible, terribly no-good year. It would be easy to do the same. Dan Beaulieu follows his mother's advice to look on the bright side. He lists 10 ways to see a silver lining in 2021.
---
December 21, 2020
Why is it that some people have done so well working remotely? Dan Beaulieu believes this warrants further study for a number of reasons, not the least being that it so much easier to hire people remotely, than it is having to hire locally.
---
December 14, 2020
In many ways marketing to your current customers is the most important form of marketing you can do. To emphasize this point, here are seven reasons why you have to market to your own customers.
---
December 07, 2020
As we do every year on the Wednesday evening before Thanksgiving, my family gathers to watch the old classic "Planes, Trains, and Automobiles," starring Steve Martin and John Candy. Just like we do every year, we all end up shouting ideas and suggestions at the characters, encouraging better choices. This movie came out in the late '80s, and it is stunning to realize today how many things have changed since then. Most notably, there have been changes in terms of technology, services, and travel. Just think if they'd had cellphones. Their lives would have been so much easier.
---
November 30, 2020
There is no mistaking the fact that Jeff Bezos is a smart guy. After reading the book "Invent & Wander: The Collected Writings of Jeff Bezos"—which, you can find on Amazon, of course—Dan Beaulieu shares eight key takeaways.
---
November 23, 2020
For a number of reasons, the U.S. and other countries around the world are entering into the second round of shutdowns, which promises to be more severe than the last time. As we approach this new chapter of shutdowns, Dan Beaulieu shares eight positives to consider.
---
November 15, 2020
Great companies always pay attention to details. Dan Beaulieu shares how Seth Godin recently wrote a book titled "The Practice: Shipping Creative Work" and describes the importance and impact of receptionists.
---
November 09, 2020
Continuing his series on leadership, Dan Beaulieu looks at what truly successful leaders are doing and saying when it comes to hiring great people. What kind of people do they hire? What qualities do they look for? And how do they match prospective candidates to their company's needs?
---
November 02, 2020
Continuing his series about leadership this week, Dan Beaulieu details a story he read in the book "212° The Extra Degree: Extraordinary Results Begin With One Small Change" by Sam Parker and Mac Anderson, as well as some examples of the power of leaders and teams from the NBA and five things that great leaders always do.
---
October 26, 2020
More people than ever are calling Dan Beaulieu for advice on how to spend their days. But things are not normal right now, and people—especially salespeople—need some advice on how to spend their days. Here, he shares seven lead generation steps you can take today that will make you a great salesperson tomorrow.
---
October 19, 2020
For those of you who hate Tom Brady, hold your nose because I'm going to talk about him in this column—not so much Tom Brady the Patriot or Buc but the paragon of leadership. From the book "12 Lessons in Business Leadership: Insights From the Championship Career of Tom Brady," Dan Beaulieu shares examples of Tom Brady's leadership and how these lessons could be applied to sales teams in the electronics manufacturing industry.
---
October 12, 2020
For years, one of the most difficult relationships in the business has been that between the independent sales representative and the principal, the company for which they sell. However, the rep-principal relationship of 2020 is much more of a partnership than ever. Dan Beaulieu shares three reasons why these new partnerships are working.
---
October 05, 2020
Have you thought deeply about autonomous vehicles and what they will mean to all of us? They will change the world in ways we have not even thought of yet. Dan Beaulieu explores automotive and aerospace technologies of the future and their impacts.
---
September 28, 2020
It's a new day out there. For years, we have been urging companies to establish their own brand identity that will make them stand out from the rest of the pack. But now it's time for individuals to brand themselves, especially salespeople. Dan Beaulieu shares nine ways to make the "brand called you" is the best one in your own market space.
---
September 21, 2020
Even Santa Claus has his own book of leadership lessons. From Eric Harvey's book "The Leadership Secrets of Santa Claus: How to Get Big Things Done in Your Workshop All Year Long," here are nine tips on being a good leader.
---
September 14, 2020
Besides all the hardships that we have faced this year, there will come many changes in not only the way we lead our life but also the way we do business. Here, Dan Beaulieu shares seven things sales leaders must do going forward.
---
September 07, 2020
Creativity is in high demand. Dan Beaulieu shares highlights from John Maxwell's book "How Successful People Think," including five reasons to become more creative, 10 questions to stimulate creative thinking, and numerous quotes from influential people on creativity.
---
August 31, 2020
In these non-travel, non-face-to-face selling times, you need to find ways to get in front of customers and make sure you create innovative ways to get your company's name out there. Dan Beaulieu shares five ideas to most effectively spend your marketing dollars.
---
August 24, 2020
There has never been a better or more important time to market, yet many people still stick to their beliefs that marketing doesn't work for their companies. Dan Beaulieu shares 10 of the more prevalent, and sometimes creative, reasons that people will use for why they don't need to market their company.
---
August 17, 2020
There is an old saying that goes, "People don't fail; they just quit trying." Dan Beaulieu explains how to ask for the sale, what to do when a customer says, "No," and how to move customers toward, "Yes."
---
August 10, 2020
Operating without a forecast is like playing a basketball game without a scoreboard or setting out on a trip without a map or GPS. How are you going to get there if you don't know where you're going? Dan Beaulieu advocates for developing a solid forecast.
---
August 03, 2020
"This is the time to have the strength not only to endure but also to find ways to thrive in these unprecedented times." Dan Beaulieu shares three things we can all be doing to make these abnormal times as normal and productive as we can with the situation at hand.
---
July 27, 2020
During the COVID-19 pandemic, many have had more meetings than ever. Dan Beaulieu describes how to manage and run a successful meeting, whether it's live and in-person or on your computer, by sharing 16 guidelines.
---
July 20, 2020
One of the more interesting side effects of the COVID-19 pandemic has been that companies are not spending the money they had originally budgeted for sales and marketing. Dan Beaulieu shares eight creative ways to make those marketing dollars work for you.
---
July 13, 2020
We all know that behind every great company is a great story. Dan Beaulieu shares highlights from a book by his favorite marketing guru, Seth Godin, called "All Marketers Are Liars."
---
July 06, 2020
Dan Beaulieu's columns often cover branding, social media, and marketing, but there is still so much confusion about what marketing is. In this column, Dan clears the air by describing what marketing is not.
---
June 29, 2020
Getting your customer to brag about your company and your services is the best form of advertising. Dan Beaulieu shares guidelines for getting your customers to "sell" your company to other companies.
---
June 22, 2020
Find your mind stalling when you'd rather think about warm weather and summer vacations? Dan Beaulieu shares nine suggestions for revving up your motivation to get the work done.
---
June 15, 2020
Many salespeople have different takes on what they should do during this crisis, as well as the approach they should take in reaching out to customers. Dan Beaulieu shares some of the things he has heard come out of the mouths of salespeople, both successful and not so successful.
---
June 08, 2020
There are ways to leave effective and productive messages that will get end results. From the book The Pocket Sales Mentor: Proven Sales Strategies at Your Fingertips by Gerhard Gschwandtner, Dan Beaulieu shares tips on how to leave great voicemails and get customers to call you back.
---
June 01, 2020
It may not happen today or tomorrow, but salespeople all going to be out there again, hopefully, sooner than later. Dan Beaulieu shares seven tips for preparing to re-enter the world of face-to-face sales.
---
May 25, 2020
As the world opens up, so will many opportunities. Dan Beaulieu describes some of these changes he sees, as well as how salespeople will have to be in front of the right people at the right time as the demand for innovative products explodes.
---
May 18, 2020
The second half of the year 2020 (2020.5) is in the very near future. In the next few months, what will life be like in our factories and offices? Dan Beaulieu discusses changes in today's workplaces, as well as some of the good things to come out of working remotely.
---
May 11, 2020
After eight weeks of lockdown and the world being scary, challenging, and unpredictable, it's time for a break. Dan Beaulieu shares some of the places he wants to go and things he wants to do when this pandemic is finally over.
---
May 04, 2020
From the book Create the Future + The Innovation Handbook: Tactics for Disruptive Thinking, author Jeremy Gutsche wrote, "Innovation is about creating an idea that fulfills an unmet need, and often, people need urgency to spot those needs." Dan Beaulieu encourages people and companies to be true innovators during this time.
---
April 27, 2020
There has never been a better time to sit down and read important books about your business and your craft of sales and marketing. Dan Beaulieu shares highlights of the Ignite Reads series of books that you can dive into right now: "Spark impact in just one hour!"
---
April 20, 2020
As the COVID-19 pandemic continues, and many of us are locked into our houses, PCB and PCBA companies and their support companies are being deemed as essential and remain open. Dan Beaulieu shares how to utilize news flashes to stay in touch with customers.
---
April 13, 2020
With things being what they are, we all need to be more intentional in what we do—especially those of us in sales. Many salespeople know how to operate effectively on the road and work out of their car but don't know how to work from home. For the sake of your sanity (and your family's), Dan Beaulieu shares five tips for working from home.
---
April 06, 2020
Over the past few weeks, Dan Beaulieu has been writing about how to maintain business as usual in these unusual times, including how to market your company, make sales calls, and sell your products while you're not able to physically meet with your customers. After doing some research and visioning, here are eight ways life will look different after the COVID-19 outbreak in the U.S.
---
March 30, 2020
Difficult times tend to force people to find greatness in themselves, and we are in one of those situations where we are all facing challenges. To those in sales and marketing, many of us working from home, and we need to do our job and keep things moving forward by being creative, innovative, and persistent enough to stay in front of customers. Dan Beaulieu shares eight ways to do this.
---
March 23, 2020
Yes, things are hard right now, but we have to move forward and try to conduct business as usual if we are going to survive. Mark my words, no matter how bleak things are right now, or how impossible it seems to be able to do business, people are going to find ways to not only survive but thrive. Dan Beaulieu shares three ways to "think different," work in the world as it is today, and make money while doing so.
---
March 16, 2020
We have heard all the bad things about the coronavirus and the COVID-19 outbreak, but it's up to us to come up with ways to operate our companies in these hard times and conduct business even while there are still concerns. Dan Beaulieu shares seven things that your company can do.
---
March 09, 2020
Salespeople need to sell, but some salespeople have also been known to do anything except be in front of customers, selling. From his many years of sales management and consulting, Dan Beaulieu shares 25 reasons a salesperson may give on why they cannot get in front of customers.
---
March 02, 2020
We are all in the business of providing solutions to problems that our customers have. All businesses started because someone saw a need and decided to fulfill it, which is the very definition of a business. Thus, we are all solution providers or solution meisters! Dan Beaulieu shares three examples of being a true solutions meister.
---
February 24, 2020
We all assume that the way to become a great sales manager, or any manager for that matter, is by holding your people accountable. But what if it takes more than that? Dan Beaulieu shares a secret of management and explains how important it is to build a great team through inspiration.
---
February 10, 2020
Oh, that dreaded word "change." Great fortunes have been made in times of great change by those who were flexible enough to adapt. Dan Beaulieu shares six ways that you can inspire change in your own organization from a book by Mac Anderson and Tom Feltenstein.
---
February 03, 2020
Getting your customers to brag about your company, products, and services is the best form of advertising out there. The trick is getting your customers to do it. Dan Beaulieu shares his 10-step plan for getting customers to brag about you to the point of helping you grow your business.
---
January 27, 2020
With IPC APEX EXPO 2020 one week away, Dan Beaulieu emphasizes how this show presents an opportunity to get together with everyone in the industry and get a quick overview of what's going on out there. No matter what your year has been like—good or bad—and no matter what your specific business is—PCB design, fabrication, or assembly, or you're a customer or a vendor to these industries—Dan urges all of you to attend.
---
January 20, 2020
One study stated that 48% of all customers feel that the most critical time for a company to gain their loyalty is based on the first order. Dan Beaulieu shares 12 tips to make sure you wow the customer based on your first order with a company that has the chance to become a multi-million-dollar account.
---
January 13, 2020
While opening presents during the recent holiday season, Dan Beaulieu started to count the number of printed circuits inside each gift. For 12 people, he counted 65 PCBs in the that were exchanged. Dan further explains projections for the global PCB market and asks if manufacturers are ready to meet the need for advanced PCBs with ever-increasing technology.
---
January 06, 2020
Are you ready to make some noise in 2020? Dan Beaulieu shares 10 signs that you're a disruptive innovator from Mark DeYmaz, author of "Disruption," as well as how to apply these ideas to entrepreneurship and changing the industry.
---
December 29, 2019
Even if you didn't do your homework last year, it's not too late to set yourself up for success—all you need are two days of planning and a lot of hard work to make 2020 the best year ever. Dan Beaulieu shares 10 surefire steps to help you be successful in 2020.
---
December 23, 2019
In the spirit of the holidays and the new year, Dan Beaulieu shares his 50 holiday wishes for salespeople, starting with, "May your products be great and on time."
---
December 16, 2019
It all comes down to a simple rule, which we sometimes tend to forget. The key to consistent customer service is to treat your customers as you want to be treated. And that rule applies to everyone in the company, from the owner to the customer service people.
---
December 09, 2019
As you can probably tell by the tone of some of Dan Beaulieu's recent columns, he is on a journey to discover the best customer service ideas he can find. Beaulieu shares highlights from Amaze Every Customer Every Time: 52 Tools for Delivering the Most Amazing Customer Service on the Planet by Shep Hyken.
---
December 02, 2019
If you were not familiar with the term "friction" when you read the title of this column, you will understand soon. Dan Beaulieu explains what friction is and how to avoid it based on the book Run Frictionless: How to Free a Founder From the Sales Role by Anthony Coundouris.
---
November 25, 2019
Based on The Power of WOW: How to Electrify Your Work and Your Life by Putting Service First, written by members of the Zappos team, Dan Beaulieu shares the company's Oath of Employment, which highlights outstanding customer service.
---
November 18, 2019
After sharing a story from "Be Amazing or Go Home: Seven Customer Service Habits That Create Confidence With Everyone" by Shep Hyken, Dan Beaulieu advises readers to advise anyone who is serious about customer service to read this book and asks how you treat your customers once they're no longer prospects.
---
November 11, 2019
I have helped a lot of companies develop their brand, and I believe the best way to get started is to find their story. It's always there; you just have to find it. It reminds me of the Michelangelo anecdote that claims he was fond of essentially saying, when faced with a huge block of marble, "There is a beautiful statue in there; it's just my job to find it." The same applies to a company's story. Here are some of the questions I ask the companies I work with.
---
November 04, 2019
The first thing you have to do is make sure that you do have a great reputation. It makes no sense to brand yourself if you can't deliver the goods. So, just like a company that has to make sure that it delivers the best overall value to its customers, as a salesperson, you have to deliver the best overall value in what you do.
---
October 28, 2019
A sales manager should do everything they can to focus on their sales team. They should perform at maximum proficiency at all times and ensure that they are focused on all the right things. It is recommended that good sales managers spend 90% of their time with their sales team doing three things: have one-on-one meetings with individual salespeople, lead team sales meetings, and take part in "ride-alongs."
---
October 21, 2019
Preparing great content involves creating an ideal reader profile, establishing what they find valuable to customize the content, and figuring out what excites them. Once you have done that, it is important to increase your readership by sharing your content.
---
October 14, 2019
One of the most important aspects of my business is helping companies with their relationships with reps. Certainly, it's no secret that the rep-principal relationship is one of the most challenging that industry professionals face.
---
October 07, 2019
It's a new world, and the modern salesperson has to keep up or get run over; that's just the way it is. Dan Beaulieu shares five steps that every great, modern-day salesperson—from age 24 to 74—should be doing to be successful today.
---
September 30, 2019
We all love wonderful customer service stories. Stories of human kindness and great customer service are everywhere. In a way, customer service is where humanity supersedes business as usual.
---
September 23, 2019
Do away with everything you thought you knew about sales. Start working on what you need to know about sales from this list, and you will be on your way to becoming the world's greatest salesperson. And since salespeople are now the hottest commodity on the market today, envision how well you will do and how rich you will become!
---
September 24, 2019
CA Design of Santa Rosa, California, is one of the country's leading—and the most interesting—independent design service bureaus that I know. Owners Bob Chandler and his partner Robin Reynolds have worked together for many years, preaching the "gospel of Bob," which is based on the theory that all PCB designers need to be properly trained. Part of that training has to include a complete understanding of the process of creating PCBs. I caught up with CTO Bob Chandler about design, training, and what we have to do to improve the designer/fabricator relationship.
---
September 16, 2019
We all love innovation, but we are terrified at the thought of being innovators. We fear failure so much that we would rather do nothing than fail. But what would happen if you did the thing that scared you anyway?
---
September 09, 2019
It has been a while since I talked about Trade Adjustment Assistance (TAA), so I thought it would be a great time to remind everyone of what it is and what it can do for you. If you're U.S.-based, have been hurt by offshoring, and your business has been in decline in the past few years, then this column is for you.
---
September 02, 2019
From one of my favorite little books (I love books!), Minute Motivators for Leaders by Stan Toler, here are 10 great characteristics of true leaders. Please take these to heart and use them every day not just with your sales team, but with all of your employees.
---
August 26, 2019
The biggest problem most of my clients face today is a shortage of good people. From the book "Help Them Grow or Watch Them Go: Career Conversations Organizations Need and Employees Want" by Beverly Kaye and Julie Winkle Giulioni, here are seven of the most pertinent bits of advice to consider.
---
August 19, 2019
How can you tell if someone will be a great salesperson? What characteristics should you look for in potential candidates? Is there a way to guarantee that he or she will work out for you in the end? Here are five tips, including suggested interview questions, to ensure that you hire the best salespeople for your company.
---
August 12, 2019
We are all human, and we sell to humans. For your product or service to be successful, you are going to have to make it appealing to the people in charge of buying it. Please put real stories in your advertising, websites, and columns. Your stories should demonstrate to people what your product or service can do for them, where it can take them, and how it will make them feel.
---
August 05, 2019
Someone talking about how good you are is much more powerful than you saying how good you are. Similarly, a customer praising your products is much more credible than you telling people how good your products are. Here are six characteristics you need to be referable.
---
July 29, 2019
I just finished reading Jeffrey Gitomer's Sales Manifesto: Imperative Actions You Need to Take and Master to Dominate Your Competition and Win for Yourself...For the Next Decade, and I loved it. In fact, I was so inspired by the book that I read it twice. Not only that, I just ordered a box full of copies to give out to some of my clients' salespeople.
---
July 22, 2019
The world is getting flatter every year, month, week, day, and hour as we get closer to one another and seek ways to do business. This, from some of the world's leading economists: no matter what politicians try to do, at best, they can only re-channel global commerce; and commerce, just like water, will eventually find the path of least resistance.
---
July 15, 2019
It has happened to all of us. It's part of doing business. No matter how hard you try, somewhere along the way, you lose a customer. These lost customers are what my friend Bruce appropriately dubbed "the orphans." Here are five tips for rescuing orphans.
---
July 08, 2019
Some people go to the beach excited about their summer reading. When Dan Beaulieu goes to the beach (yeah, right!), his summer reading involves much more useful, and for him, fun (believe it or not) business books on customer service, business strategy, and my personal favorites, advertising, and marketing. Here are some of the best!
---
July 01, 2019
I have a list of what I think are great ideas that could make my clients great, but no matter how much I try, I cannot get any of them to try out my ideas. So, heck with it. I'm going to just give them away to all of you free of charge.
---
June 24, 2019
In this new world order of being buried by not only traditional advertising on television and print but also by social media, emails, Twitter, Instagram, YouTube, etc., it has become more important that you find a way to make your company distinctive.
---
June 17, 2019
The best way to represent yourself and your company as a true expert is to produce and publish valuable content about your products through content marketing. The key word is valuable. The content has to be unbiased (it cannot be a flagrant sales pitch selling your specific product). Rather, it should be general information and best practice advice on your product.
---
June 10, 2019
Everybody loves daring and creative advertising, but no one seems to have the courage to do it themselves. We all talk about the cool ads we see on television and billboards that grab our attention. But when it comes to our own advertising, we settle for the same old safe advertising that makes us feel good but does nothing for our brand our message.
---
June 03, 2019
Why don't you like to cold call? I am assuming that you don't like to call people because most of you have told me you hate it, but why? It's because of fear: fear of rejection, fear of bothering people, fear of making a pest of ourselves, fear that we can't do it right, and fear that we will mess it up.
---
May 27, 2019
There are times you will get discouraged, and it will seem like you are losing business or losing a battle to someone who is cheating, but you will always prevail in the end. As my kind mentor, the late, great Lou Cardillo told me one day when I had lost a significant amount of business to another company whose CEO has taken the buyer of that business and his wife to a nice jaunt in the Caribbean, "Hang in there, Danny. Remember that cream always rises to the top."
---
May 20, 2019
In last week's column, I talked about getting prospects to call you, and I cited a case study by Bruce Johnston, my associate LinkedIn expert. This week, Bruce discusses how he got prospects to want to talk to his client—a metal fabricator on the west coast of Canada, 2,500 miles away from his home in Toronto. He did this by using the connective magic of LinkedIn's Sales Navigator.
---
May 13, 2019
While many used to talk about the problem of getting prospects to answer the phone, there were always some good salespeople who did not have an issue and could be counted on to successfully make phone calls. But today, it's harder than ever. I've known salespeople who have become so discouraged that they quit the business or quit being salespeople, and went into another field because it was too hard.
---
May 06, 2019
The best way to become great at anything is to learn everything you can from anywhere that you can. I have been fortunate enough to have had a number of mentors in my career—people who took the time to teach me, foster me, and help me move forward.
---
April 29, 2019
It's a new world out there, and what worked in sales for years just doesn't cut it anymore. The old sales techniques on the golf course, at the bar, and through friendships over common sense in business are things of the past. Looking for salespeople today includes an entirely new set of guidelines.
---
April 22, 2019
Last week, I talked about how to follow up on valuable leads to make sure that you turn them into gold. Everything focused on making contact and getting a first face-to-face meeting with your target customer, which is a huge and important step.
---
April 15, 2019
Companies spend a lot of money obtaining leads for their sales teams; they buy directories, use social media, attend trade shows, and buy marketing materials. The smart companies write and publish I-Connect007 eBooks, such as the "The Printed Circuit Designer's Guide to…" series. All of these lead-generation methods can work, but finding leads is only the first step.
---
April 08, 2019
Dan Beaulieu argues that cold-calling is a lot harder today, but it is not dead. Don't despair. Here are seven tips for cold-calling success:
---
April 01, 2019
Back in the dark ages when I started in this business, management styles were a bit different, shall we say. As a young employee at Maine Electronics—a Rockwell International board house primarily focused on Rockwell's products, such as the Minuteman missile program, the F-111 fighter, the B-1 bomber, and the Space Shuttle—delivery dates were more than critical. They were all that mattered.
---
March 25, 2019
As I travel around the country, I often get asked, "What makes a successful salesperson?" Some people tell me they think it is much more difficult to sell today than it has ever been. Others tell me about customers who won't answer the phone or make appointments, and wants to keep them at arm's length because the last thing they want is "to be sold to."
---
March 18, 2019
Let me tell you about my good friend Marty Petersen. He was one of the most intriguing people I have ever met and had the pleasure to work with. Marty was always all in, whatever task he undertook. When I met him, he was handling the purchasing for us at Automated Systems, the PCB shop we both worked at just outside of Milwaukee.
---
March 11, 2019
A few years ago, Midwest Express was swallowed up and ruined by Frontier Airlines, and their caring service for customers was lost forever as well as the warm chocolate chip cookies. The only thing left of this airline is their example. If you want your company to be admired and loved by your customers, take a page out of the Midwest Express playbook and care about your customers; if you do, you will keep them for life.
---
March 04, 2019
There is a theory that goes, "Look at the way a person dresses today, and you can tell when they went to high school." Try it out, and you'll see that it's true most of the time. Khakis and button-down oxford cloth shirts? Pre-hippie days in the '60s.
---
February 25, 2019
Today, all of us are working diligently on getting more young people involved in our industry. And many of those people are going to be involved in sales.
---
February 18, 2019
While listening to the radio as I drove to the airport last Sunday, an ad came on for smoke and carbon monoxide alarms. I was only half listening and not really paying attention since it was not exactly a captivating subject. In fact, I was a little irritated because I always get irritated when I think about smoke alarms.
---
February 11, 2019
Sometimes, you just get lucky, or you're in the right place at the right time. Being successful in sales takes a lot of hard work, dedication, and downright stubbornness. It also takes preparation and long work hours because nothing good simply falls into your lap. Or does it?
---
February 04, 2019
These are only a few of the tricks you can use to reinvent yourself so that you will continue to be a good, effective salesperson for a long time to come. But heed my words, or you will find yourself standing next to the patron saint of has-been salespeople, Willy Loman, and nobody wants that.
---
January 28, 2019
Young people today are more tech-savvy, focused, educated, and possibly more passionate about things that they find interesting and important than we ever were. So, let's invite them in and show them what we do. Give them a taste of what it's like to work on products that matter and are changing the world both today and into the future.
---
January 21, 2019
With IPC APEX EXPO 2019 coming up next week, I thought it would be a good idea to talk about some of my ideas for helping visitors who are not exhibiting but are attending the show.
---
January 14, 2019
If only we could invent something that would stop hunger and poverty, give us world peace, or stop us from being so angry with each other all the time—something we desperately need and could use right now. That would be something, wouldn't it? It's only common sense.
---
January 07, 2019
One year ends, and another begins. We're turning over a new page. It's refreshing and brings a feeling of renewal. Throw out all of those old calendars and planners, and open up the new ones. There is a whole new year ahead of us filled with the hope, anticipation, and excitement that always comes with a new beginning.
---
December 31, 2018
As the great economist Thomas Friedman continues to advise us, commerce dictates the flow of the world economy, and there is nothing that governments—particularly politicians—can do about it. Like water, commerce always rises to its own level. And yes, as will be demonstrated by what happens to the PCB industry, the world is indeed getting flatter.
---
December 24, 2018
As 2018 ends and the new year is almost upon us, we should all do a little soul searching and self-evaluation; a tune-up to make sure that we still have "it." We should strive to find the "it factor" that makes us great salespeople, causes us to wake up every morning ready to go and make those sales, and drives us to be successful even when we don't feel like it.
---
December 17, 2018
Last week, we talked about the bad guys. This week, we are going to talk about the leadership secrets of the big guy himself—Santa Claus. After all, it is the season to be jolly. These leadership tips come from a neat little book I just read by Eric Harvey title, The Leadership Secrets of Santa Claus: How to Get Big Things Done in Your Workshop All Year Long.
---
December 10, 2018
Over the years, we have turned to many business experts, reading their words and stealing their ideas. We have talked about Peters, Godin, Tracy, and a few other business experts, and we have benefitted from all of them. Now, I thought it would be interesting to delve into the dark side to see how the bad guys got things done. How have the most evil people who ever lived managed to get so far before the forces of good finally stopped them?
---
December 03, 2018
As salespeople, one of the things that we spend a great deal of time doing is trying to interpret what the customer is telling us. We all can hear the customer and what they are saying, but so often, we don't know what they mean.
---
November 26, 2018
It's the season to give thanks, and one of the things I am most thankful for this year is that Seth Godin has a new book out. Full disclosure—I am an unabashed fan of Godin.
---
November 19, 2018
The world and business have changed, and so has the way we lead. It is no longer enough to assume the role of leadership as just being in charge and telling people what to do.
---
November 12, 2018
Simply put, getting reps to sell PCBs is getting harder all the time. Too many have been burned, the competition is stiff, performance is not up to par, etc. There are a million reasons not to sell boards.
---
November 12, 2018
As we near 2019 and the upcoming trade show season, Dan Beaulieu discusses some of the best ways to get the most use from your hard-earned trade show spending.
---
October 29, 2018
Dan Beaulieu worked with well over 100 PCB shops over my 20 years as a sales and marketing consultant. Some have been well run, while others have not been.
---
October 22, 2018
Have you ever wondered what it takes to get to the top of a Google page? Why do some companies always seem to have all the business they need even without any outside salespeople? It seems to be some kind of black magic. How do they do it? Read on.
---
October 15, 2018
If you meet a salesperson who says or goes even three of these things, run for the hills because I guarantee that they are not going to work out. They might not be the worst salesperson in the world, but they won't be one of the best.
---
October 08, 2018
The year 2019 is just around the corner, and smart companies are already deep into their strategic planning for the upcoming new year. As we start preparing our companies, it becomes crucial to examine trends that the new year will bring and develop our strategies around these trends. If you're not already planning for the new year, then get with it. It's October, for heaven's sake, and "time's a wastin'!"
---
October 01, 2018
Do you know how PCBs are built or how to buy them? Do you know the difference between a great PCB supplier and a mediocre or lousy one? Does your company hate buying PCBs and dealing with PCB shops, equating them to dealing with your local DMV, or worse yet, the IRS? If this sounds familiar, then I have news for you—it could very well be your fault.
---
September 24, 2018
Don't you love getting advice from greybeards like me? I bet you can't wait to hear our war stories about the good old days, right? I'm sure you sit and listen politely until we turn our backs—then your eyes nearly roll out of your head. I've been there too.
---
September 17, 2018
Owners and sales managers should be motivators. Even if you don't have a great sales team at first, it is your responsibility to make your sales team successful. Here are a few tips on how you can create the best sales team in the world:
---
September 10, 2018
Just about any plan you come up with as a team will work if you all have the passion, enthusiasm, and persistence to carry it out. Any plan can become a great plan with proper, dedicated implementation.
---
September 03, 2018
Everyone upsells. It's the best way to increase your margins. The famous, "Do you want fries with that?" line is a classic upsell. Super-sizing is upselling. That maintenance plan on your washer and dryer is upselling. That rust coating on your car is upselling.
---
August 27, 2018
In my last column, I discussed future technological advancements—most of which came from an excellent book by Mark Penn, Microtrends Squared: The New Small Forces Driving Today's Big Disruptions.
---
August 20, 2018
It's that time again—time for a peek into the future. The following ideas come from an excellent book by Mark Penn called Microtrends Squared: The New Small Forces Driving Today's Big Disruptions.
---
August 13, 2018
There are many ways to run a company, as well as develop its direction and strategy. Some say the best way to start a business is to find a need and fill it. This is true, especially if you have the right solution to the right problem.
---
August 06, 2018
Have you ever had the driver in front of you at the toll booth pay your toll or the person ahead of you in the fast food line pay for your order? Has your neighbor ever cleared the snow on your sidewalk or driveway? Has the mechanic servicing your car ever filled up your tires with air?
---
July 30, 2018
There are educational and worthwhile business shows that you can learn from by turning on your TV or at least clicking your remote in the right direction. Television is here to stay—try it sometime.
---
July 23, 2018
I know I have said this before, but I hate the idea that some people consider the printed circuit board a commodity, that this electronic component is nothing more than a "green plastic card," a simple platform for the almighty components.
---
July 16, 2018
There is never a shortage of dumb sayings that people use. In fact, no matter what is going on in our business—good or bad, up or down, scary or comforting—there is always somebody somewhere who will say something dumb about something. I'm not even talking about the current political atmosphere where a collection of dumb sayings people use would fill an encyclopedia.
---
July 09, 2018
I read a book the other day that said that you have to make at least eleven contacts with a company before they become a customer. Eleven contacts? No wonder so many people don't make it in sales. Eleven contacts is about eight more tries than most people I know attempt before they get discouraged and move on.
---
July 02, 2018
Raise the perceived value so high that our customers will feel guilty even haggling about the price. To do this, you must love your products—love them as much as my dad, the Coke man, loved his.
---
June 25, 2018
I was reading an article about the future recently and realized that the future is here right now. We are living in an age where the things we once only dreamt about are now here. We have devices that literally run our houses and allow us to check on them from thousands of miles away, such as turning off the lights in our living room in Montana while enjoying a fine meal in a restaurant in New York City.
---
June 18, 2018
Remember when it was fun? Yes, the good old days always seem whole lot better than they probably really were, at least in the rear-view mirror. But, looking back from these too-serious times we live in today, they probably were a lot better than we even remember.
---
June 11, 2018
Laurene Powel Jobs, wife of Apple Co-Founder and CEO Steve Jobs, was once quoted describing how her husband and legendary designer Jony Ive would spend hours discussing corners. Yes, that's right—corners.
---
June 04, 2018
During a normal commercial flight, a pilot only touches the controls of the plane for less than three minutes. The rest of the time, the computer called "autopilot" is actually flying the plane—yes, including landing the plane. Pilots have to undergo periodic training so they will not forget how to fly. How many phone numbers, including your own, do you know by heart? Or do you use smartphone settings to remember them for you?
---
May 28, 2018
Of all the challenges we face in the PCB industry today, the most challenging is staffing. It is getting nearly impossible to find good people. This is especially true for engineers, quality people, and management. Most of the good ones have either retired, changed careers, or gone to work for our suppliers. Some have even gone to work for our customers.
---
May 21, 2018
I've been concentrating on listening lately. I mean really listening, not doing what I usually do, which is to wait for the person I'm talking with to finish talking so that I can tell them all the great thoughts I was formulating while they were talking. It's not easy to listen.
---
May 14, 2018
There is a huge grocery store in Ohio called Jungle Jim's International Market. From what I hear this is the most interesting grocery store in the world! And that store has the best restrooms in the world. They pride themselves on their clean restrooms.
---
May 07, 2018
I love it! A good friend of mine sent me this article he received in an email from the law firm of Williams Mullins. Read it and weep, ITAR offenders! Law-abiding companies, rejoice.
---
April 30, 2018
A few years ago, I worked with a client that won and then lost 30 customers all in the span of 10 months. They had bought the customer base of a company that was going out of business.
---
April 23, 2018
Board shops are continually criticized for asking too many questions, often losing orders because they asked too many questions. But fabricators often have no other choice, because they receive incorrect or incomplete design data. Back when OEMs had their own in-house board shops, designers all knew how a board was built. But many PCB designers have no idea how a board is built, because they have never set foot in a board shop. If your fabricator calls with a question or three, take the call, and maybe take a tour of the facility too.
---
April 16, 2018
Experts estimate that we spend hundreds, if not thousands of dollars acquiring new customers. When you think of all the money we spend on marketing, advertising, trade shows, websites, salespeople, and their travel and other expenses, you know these experts are right.
---
April 09, 2018
We spend a great deal of time talking about how to handle poor-performing salespeople—those who are not making their numbers. Those who just can't seem to get out there and visit customers, those who just cannot seem to be able to get an appointment or close a sale.
---
April 02, 2018
Do you have what it takes to be the kind of leader who can inspire his troops to follow him through hell? Or are you the kind of leader who couldn't get his people to follow him across the street to a free buffet?
---
March 26, 2018
"Listen up or lose out" is not only the title of this column, it's also the title of a great new book I just came across, and also the best advice that you can give anyone no matter what their field of business. And, of course, it is especially cogent advice for those in sales.
---
March 19, 2018
A friend of mine got me thinking the other day when he asked me what I thought the North American PCB industry would look like five years from now. That's an intriguing question, isn't it? I decided to really think about this for a few days.
---
March 15, 2018
If you buy into the golden rule, "Do unto others as you would have them do unto you," then just about everyone you deal with is your customer, which means that you should treat them as such. Let's look at our business and talk about who our customer really is.
---
March 12, 2018
If only our customers understood us; oh, what a wonderful world that would be! We have spent a great deal of time in this column talking about the perfect salesperson, and the perfect fabricator and the perfect customer service person, so I thought it would be interesting—and only fair—to write about the perfect customer.
---
March 08, 2018
There is no doubt that kindness is always the best way to go. It makes the people around you feel better and it makes you feel better, and maybe even healthier as well. Try looking for the best in people you work with, you deal with, you play with. If you look for the best you will find it.
---
February 26, 2018
It's time to head down to sunny San Diego to seek your fame and fortune at IPC APEX EXPO 2018. Without a doubt you are investing a great deal of time and money and you want to get as much from your investment as possible. Whether you are an exhibitor or just walking the show, here are 10 tips on how to get as much bang for that proverbial buck as possible.
---
February 19, 2018
It used to be funny when one of our fellow salespeople said, "I don't know how to 'Twit' or 'Tweet' or 'Twitter,' or whatever these kids are doing these days." But if you still think that's funny, you're wrong. If you're in sales and you're still ignorant about social media, you're out of touch—and you're leaving money on the table.
---
February 12, 2018
Remember when Steve Jobs came back to save Apple from the brink of disaster, and the first thing he did was launch an ad campaign that featured people who changed the world by thinking differently? He used the slogan "Think different" and the ad featured famous people from Bob Dylan to Albert Einstein to John Lennon and many others, all of them bright, passionate, creative, and most importantly, fearless pioneers.
---
February 05, 2018
Do you ever think about changing the world? Do you ever think about being the best you can be…the best in the business? This kind of thinking represents the way champions think. These are the people who are destined to greatness, who don't wait for luck to hit them in the head, but rather work as hard as they can. If luck meets up with them along the way, then all the better. Instilling greatness in everything we do doesn't happen by accident; it's intentional.
---
January 29, 2018
Those of us who have spent our lives in sales sometimes forget who really matters. As we pursue those elusive orders or solve problems, meet challenges, and soothe angry customers, it is easy for us to forget those who are really doing the work—the ones who are back at the shop, sweating it out so that all of us on the team can make a living.
---
January 18, 2018
There is an old axiom that goes like this: "Behind every messed-up company is a messed-up leader." The real version is somewhat more graphic, but this is a G-rated publication and I respect that; you never know when a six-year-old might want to read this column.
---
January 07, 2018
Everything you do in a company is all a version of customer service—all of it! Just like everyone in your company is a salesperson, everyone in your company is a customer service representative. From the owner to the person in shipping to the person in plating, it's all about customer service. Any and all actions and interactions represent your company's customer service philosophy, so be very careful and very intentional in everything that you do.
---
January 04, 2018
Are you asking the right questions? When you are face to face with a customer, especially a new prospect, do you have a list of the right questions to ask? Are you like a good lawyer, asking penetrating questions that are not only designed to gather information but also to lead to a conclusion you want to reach?
---
December 25, 2017
Here we are again. The beginning of a brand-spanking new year—2018! Who would have thought we would make it this long? But we did, and the North American PCB business is still alive and kicking.
---
December 26, 2017
How many times have you felt something in your gut that you know to be true, but there is no good way to prove it? You just have a sense, a feeling, an intuition, that you're right, but there is just no way to prove it. So, with that in mind, here are 20 things that I have learned over my too many years in this business, but I can't prove that they're true. I just know they're true.
---
December 12, 2017
Yes, quality is everything, and it is in everything a company does: from the way you answer the phone, to the way you present your quotes, to the way you package your product, to the way your salesperson looks and acts, to everything large, or small, that your company does for the customer.
---
December 11, 2017
With EMS companies, its becomes more important than ever to stand out from the rest of the crowd. So many EMS companies are vying for business that if a company wants to be truly successful, it has to come up with ways to distinguish itself. The question becomes how to do this. With that in mind here are 10 things that EMS companies must do to be truly outstanding.
---
December 04, 2017
Whether you are in the business of board fabrication or board assembly, the fact is that you are not building your own products. You are building your customers' products, which means that you are in the business of helping your customers be successful.
---
November 20, 2017
The good news is that more PCB companies then ever before are finally figuring out that they need some marketing. I have seen this trend rise in the past few years, where once it was a rare EMS or PCB company that did marketing, to now where we are seeing more companies than ever getting involved.
---
November 13, 2017
Two weeks ago, I discussed PCB customers who were not happy with their vendors' performance and last week looked at things from the other side of the issue and why PCB fabricators have a hard time being good and productive suppliers. Both sides had a lot of complaints about the other side and not much good to say. This week, in the interest of seeing a problem and solving it, we are going to talk about what we should do about it.
---
November 06, 2017
I ended last week's column with a group of designers from a high-tech company asking me the ignoble question, "Why do all PCB shops suck?" And, I promised I would not only address that question but also explain why there are two sides to that story.
---
October 29, 2017
I recently received an e-mail from a good friend at a top milaero company. Here's just one snippet: "Why do I have to call and ask, 'Where is my stuff?' If it were just one board shop, I would say good riddance and move on. But it is almost universal among our supplier base that late deliveries only get discovered when we ask. Again, what the heck? With the continued decline of the supplier base, one would think that customer service would get better. So, why not?"
---
October 30, 2017
Everyone is struggling to fill their factories these days, as the fight for more business heats up. In years past, contract manufacturers had a good solid base of customers they could depend on year after year. Many were satisfied to pick up a couple of customers a year as their base remained stable; however, all of that has changed.
---
October 23, 2017
Contract manufacturing is a service, not a product. As CEMs, we are building someone else's product—someone else's baby. Our customers are putting the fate of their companies in our hands. If we build the product incorrectly, our customers will be the ones to pay. They have their name on the product.
---
October 16, 2017
We often focus on North America's shrinking PCB fabricator landscape, which is are now down to less than 200 shops. But there are well over 1,000 contract electronics manufacturers in existence, and they come in all shapes and sizes. Everyone knows about the big guys like Celestica, Flextronics, Sanmina and Plexus.
---
October 02, 2017
Some of you will actually visit potential fab suppliers and perform surveys. This is a good thing sometimes, but there are some shops who look fantastic when you visit them, pass your surveys with flying colors, and then go on to be a disaster when it comes to day-to-day performance. That's because selecting the right board shop goes further than what it looks like on paper, or what it looks like, period. I know some great looking shops that can't perform worth a darn and then some of the ugliest shops you'll ever see that are great performers. Here are five ways to select the right PCB supplier.
---
October 02, 2017
Last week, I talked about how contract manufacturers need sales and marketing. So, being a big proponent of the "putting your money where your mouth is" school of thought, this week I'm going to talk about finding and hiring the right salespeople to sell your services.
---
September 25, 2017
For many years now, too many that I want to count, I have been a real pain in the neck advocating that all board shops need marketing. They need to advertise, send out newsletters, hire, manage, measure, and motivate salespeople. They must also create forecasts and account plans and pay attention to their customers' needs.
---
September 18, 2017
There is no doubt there is a shortage of young people in our business. As we all get older, the challenge of finding young people to replace us is getting more severe. Last week in this column, we talked about finding young people in our own organizations and then nurturing them to become an integral part of our companies.
---
September 08, 2017
The hottest topic on the PCB circuit these days is the lack of young people in our industry. As the rest of us get older, it is finally occurring to us that there is no one following in our footsteps, and there is no one there to fill our shoes, when we decide enough is enough.
---
September 04, 2017
Keep in mind, times are not what they used to be. In the '70s and maybe early '80s, you could just sit tight and the business would come to you. You didn't need to do any marketing; you didn't even need salespeople. Back then, all you needed was to build boards and they would come. North America had more than 80% of the PCB business worldwide and there was no Asia factor. But the world has changed, so get over it, move on, and do something about it.
---
August 28, 2017
Last week, I talked about preparing for 2018 by developing account plans and forecasts. I mentioned that this should be presented, viewed, and discussed by the entire management team at an annual sales meeting that would be held in January of 2018. This week, I'll discuss that annual sales meeting.
---
August 21, 2017
No, I'm not crazy or obsessive. This is really the time you should start preparing for next year. September is just around the corner, and September is when you should start planning for the following year. It's time for you to get your sales team aligned and working on their forecast for 2018.
---
August 14, 2017
Does this sound familiar to you? There is a potential customer you have been chasing for a long time. Now, this guy seems to be a pretty good guy because he is always willing to see you, always happy to have a cup of joe with you, and more than happy to go out to lunch with you, especially if you go to his favorite sushi place.
---
August 07, 2017
We know it's tough getting appointments. It's even tougher getting people to answer the phone; once you do get that appointment or that phone call you run up against a stone wall comprised of people who do not want to be sold. People are not only terrified of sales pitches, they hate them.
---
July 31, 2017
When things get tough, the bold ones will always act. They will forego the feelings of dread, the anxiety about what could go wrong if they took that action. They will not be afraid of the possible dire consequences if they do something different. Bold ones will, instead, analyze the situation and make the move that feels right for them—even if no one in the industry has ever made that move before.
---
July 24, 2017
Last week a friend of mine sent me this excerpt from the Congressional Record. Yes, that congressional record. If this doesn't set your hair on fire, then nothing will.
---
July 17, 2017
One of the greatest responsibilities we have as salespeople is being the voice of the customer. We must strive to always relay the customer's message truthfully and most importantly accurately, because very often the future of the relationship between your company and the customer is in your hands.
---
July 10, 2017
No matter how much your salespeople prefer working on their own, it is not good for the overall company. We should find some ways to get everyone to work together. We are still sales managers and we still manage sales teams. Not individuals.
---
July 03, 2017
Watching the Bloomberg Station last Friday, I caught Charlie Rose interviewing Alibaba's founder and Chairman Jack Ma. What Ma had to say was fascinating, not only for his wisdom, but for his common sense.
---
June 26, 2017
No matter what business you're in, finding and convincing young people to join your sales team is a challenge at best and almost impossible at worst. As the work force ages, so do the number of great salespeople we have; consequently, it is becoming necessary to draw more young people into our honorable profession.The problem is that many of them are put off by a career in sales because they don't know enough about it. So, it is up to us to create an appealing, accurate and truthful picture of a career in sales, and what it can really mean for the right young person.
---
June 19, 2017
To be great leader, you must have courage—the courage to do what needs to be done. The courage to take that giant leap forward when you know the time is right. The courage to fire someone when that person is no longer right for the job. The courage to sacrifice one person for the good of the rest and for the good of the company.
---
June 12, 2017
What good is it to have the best product on the market if your customers hate dealing with you so much that they will not buy it from you? The original Apple Mp3 player, the iPod, was not the best or the first player on the market, but it was the easiest to use and Apple was the easiest company to deal with, not to mention probably the most fun. The following 10 tips will help you develop and implement the best marketing plan for your company
---
June 05, 2017
So often we talk about the obvious tools and tactics needed to be a successful salesperson that we overlook the smaller details that could help us be successful—those that could give us an edge over our competition. They say the devil is in the details, and in sales, this is very true.
---
May 29, 2017
For a salesperson to know critical numbers is a key ingredient to success. I don't understand companies whose salespeople not only are not responsible for their own territory forecasts, but also have no idea what the company's overall forecast is. How can you successfully play any game without knowing what the score is? How can any salesperson, or company for that matter, operate without some very public (intra-company, anyway) goals for the year?
---
May 22, 2017
Imagine that you're the sales manager for a $15 million board shop in the Midwest. Your sales team consists of six direct regional salespeople and five independent sales reps; together they cover the entire U.S. and Canada.
---
May 15, 2017
Albert Einstein once said that being curious is much more important than being smart. If you're curious about something you are going to spend a lot of time and effort finding out everything you can about it. You are going to focus as much as you can on that subject. You are going to read books and magazines, watch documentaries, and go online.
---
May 08, 2017
We have likely all heard the quote attributed to Charles H. Duell, commissioner of the U.S. Patent office, who in 1899 famously said, "Everything that can be invented has been invented." He then recommended that the Patent Office be closed and resigned his position. It has now been proven that he never said that. And a hell of a lot of cool stuff has been invented in the ensuing 118 years.
---
May 01, 2017
Hold on to your hats. Here are some of the dumber things I've heard from people in our industry regarding marketing and sales. Have you or your manager ever uttered any of the following nutty statements?
---
April 24, 2017
The best run companies are run by managers who are not afraid do what they need to do. Conversely, poorly run companies are managed by people who could not make a decision if their lives depended on it. They procrastinate until it's too late, suffering from analysis paralysis, and they fool themselves into thinking that that's actually doing something. Great managers act.
---
April 17, 2017
What do the Boston Red Sox, the New England Patriots, and the Chicago Cubs all have in common? Besides all being winners (and my three favorite teams), they have won by building teams synergistically. By that I mean they build teams by putting the team in front of individual players, which makes the team much stronger.
---
April 10, 2017
Do you ever sit back and wonder what kind of leader you are? Are the people who work for you inspired by you or do they work for you because you are the only game in town? Would they stay with you if a similar company opened across the street? How about if they could earn a dollar more an hour by moving across the street to that new company? Have you inspired them enough that they would follow you through hell, or have you beaten them up so badly that they would not follow you across the room to a free buffet?
---
April 03, 2017
Think about this. Should we be happy if one of the few shops left in this country goes out of business…really? We are already feeling the negative results of the steadily diminishing number of shops in our part of the world.
---
March 27, 2017
Email is a great tool, but it can also be an exploding time bombs if you're not careful. So, with a little help from Seth Godin, author of the book "Whatcha Gonna Do with That Duck? And Other Provocations, 2006-2012," here is a list of what you should consider before sending out that next email:
---
March 20, 2017
Look, I know that we are all busy. Running a board shop, or any business, is much more difficult today than it has ever been. But please take the time to read these five recommendations and spend some designated time implementing them. And if you make it a regular practice to spend time working on these five items, yours will become the outstanding company it truly deserves to be.
---
March 13, 2017
Just think how much time and money you can save by choosing the right salesperson for your sales force. If you take the time to do it right by developing and implementing a hiring process that fully vets the candidate, it will pay off exponentially. Hiring too fast is almost always disastrous. Salespeople are good at selling themselves—because they are salespeople. Combine that with our pride in making fast decisions and it's no wonder that sales managers consider finding and keeping the right salespeople to be one of our biggest challenges.
---
March 06, 2017
So, what is my point? Where am I going with this? It's simply that the success or failure of most board shops in this country is completely in their own control. The real factors they should be concerned with are simple business factors.
---
February 27, 2017
Marketing is important. If you want people to know who you are and what you do, you must market your company. Think about it: if people don't know your name, if they don't know what you do, if they don't know how to reach you, how are you going to get any business?
---
February 13, 2017
So, you're in San Diego attending IPC APEX EXPO. You spent money on a plane ticket, you've spent a fortune on a hotel room and car and everything else it takes for you to spend a week in San Diego.
---
February 06, 2017
Nothing is dumber than getting mad at a customer. What is the point? You must never get mad at your customers. You have to treat them like gold and make sure you are so valuable to them that they will never want to leave you. The trick is figuring out how to do that. How will you make sure that you keep your customers happy today and in the future?
---
January 30, 2017
Building trust with your customers will make them customers for life. No matter what else you do for your customers, you have to build trust. If you can get your customers to trust you, they will stay with you for life, even if you change companies.
---
January 23, 2017
I was talking to a friend the other day about why it seems to be so hard to get PCB salespeople to focus on any aspect of selling, from lead generation to closing a sale. It makes our job as sales consultants particularly daunting since we are in the business of coaching salespeople to success.
---
January 16, 2017
Whether you're selling garage door openers of guidance control systems, medical devices, kitchen appliances, laminate, or printed circuit boards, you must know your product. If you want to be a successful rep you must study the product, understand how it is built, why it is built a certain way, and most importantly, why the product your selling is better than anyone else's.
---
January 09, 2017
Most rep firms don't give any thought to becoming well-known in their territory and in their industry, which is a shame because if you make sure everyone knows what a great rep firm you have, life will become a lot easier. It will be easier to get new customers, partners and, most importantly, principals. In fact, principals will be beating a path to your door.
---
January 03, 2017
When you struck out on your own and started your rep firm, you had to decide just how large you wanted to firm to be. Many people just strike out on their own and have a solo act for a while.
---
December 27, 2016
OK, so now it's your turn. We have talked enough about making sure that as a rep, you make yourself invaluable to your principal. We have gone on ad nauseam about the various ways that reps disappoint the companies they represent. Now we are going to switch gears and put that proverbial shoe on the other foot and talk about when it's time for you to check out, and tell your principal, "Adios, amigo."
---
December 19, 2016
We all know that companies must grow or they will die. The same thing applies to rep firms. You must keep growing your business, adding new customers, and increasing your sales.
---
December 12, 2016
If you're a rep, the best way to be successful is to have your principals love you. Sad as it may seem, I almost never hear principals bragging about having a great rep. In fact, instead, I hear horror story after horror story about how reps aren't doing anything, they are not bringing in the right stuff, they are hard to find when they are being signed and even harder to find after they are signed.
---
December 05, 2016
If you want to stand out as a rep company, you must get your name out there. The good news is that practically zero rep companies ever pay any attention to marketing their companies. This means that any company that invests a little time and money in marketing will stand out, and it's not that hard to do.
---
November 28, 2016
You're tired of working for someone else. You have a bunch of customers who just love you and would probably follow you wherever you go. And you want to sell more than what your company has to offer; you no longer want to be restrained by the limited capabilities of one company. And then there's the money...oh, the money. You want to be a rep. Are you sure? Read on.
---
November 21, 2016
Has there ever been a more nebulous qualification than ITAR? It's one of those topics that everyone has an opinion about, but no one really understands. To some of us it's a game with ever-changing rules, and to others it's simply a hurdle to overcome. And for others, it is something to ignore altogether. Speaking of ignoring it, some large companies have been ignoring ITAR restrictions for years, flying right in the face of the DoD.
---
November 14, 2016
To successfully sell your products and services, you first must figure out who wants them. To do so, you should develop and implement what I call an ideal customer template. This requires an honest evaluation of what you do. You should first understand exactly what it is you're selling, and then analyze who you're selling to right now so you can identify your ideal customers.
---
November 07, 2016
You may have been a director of engineering in your previous position before moving into sales; maybe you're a full-blown technology guru. But the minute you switch over to sales, your credibility is immediately challenged. Tough and unfair as this may seem, it's true. The reason for this is simple: If you have the word "sales" on your card, people assume you are trying to sell them something and will do anything to make that sale. Here are five guidelines for successfully selling high technology.
---
October 31, 2016
Managing a sales team is just like managing a sports team. You strive to put the best team on the field and then manage them to greatness. It means dealing with all the team members as individuals, figuring out how to handle each of them, from the prima donnas to the underachievers and rookies. Then you must bring them together as one cohesive unit that will work together towards one common goal of winning the game, or making forecast.
---
October 24, 2016
Have you been to Best Buy lately? If you have, you've seen a store that is going to go out of business, sooner than later. And it's a shame, because it doesn't have to happen.
---
October 17, 2016
Most people will tune you out when you tell them how great your company is. They will even turn you off if you spend too much time talking about all of the great things your company can do for them. So, how do you get your message across to potential customers? Simple: You get other people to talk about your company.
---
October 10, 2016
If you are selling on price, you will get price-oriented customers. You will get customers who place no value on what you do and how well you do it. All they care about is price, and if that's all you have been talking about, they will think that it's all you care about as well. Not to mention the fact that you will give them the impression that price is all you have. You always have to remember that any customer who gives you an order because of your low price will not be a loyal customer at all.
---
October 03, 2016
In this second of three columns inspired by Matt Hunter's fine book, "High-Profit Prospecting," published by Amacom, we are going to focus on how salespeople like you spend your time. We are going to look at how you can decide whether the people you are talking to are true prospects or just suspects.
---
September 26, 2016
Yes, you must prospect. I know you hate to prospect and you hate to make cold calls, but this is what we have to talk about today, whether you like it or not. Prospecting is the most important thing you will do all day, so get out there and do it!
---
September 19, 2016
When are you fabricators going to get it? Your reps are sick and tired of being screwed by you. Your product is not always great and,frankly, neither is your service. It is not a great privilege to sell your products. And as the market gets tougher, it is that much more difficult to represent you and nearly impossible to make any real money representing you.
---
September 12, 2016
Customers are much more demanding and insistent that we do things their way. And the irony is that they want less direct communication with us than ever before. They want to do everything online, and they won't pick up the phone if you call them. And heaven forbid if you try to visit them in person…they want no part of that. But the customer is always right, and it is your job as a company leader to understand that and make sure everyone in your company understands it as well.
---
September 06, 2016
You have to keep adjusting your marketing message, your ads, your newsletters, and whatever else you are doing to get your message out to the marketplace. What worked last year will probably not work this year. You have to stay ahead of your customers when developing a message that will appeal to them. Keep trying new ideas. Take a risk.
---
August 29, 2016
The Trade Adjustment Assistance for Firms program will give any manufacturing company that has been affected by import competition (and which U.S. PCB company has not?) up to $75,000 in matching funds to any company that applies. But some company owners still give me 50 reasons why they should not apply for this free, legitimate grant.
---
August 22, 2016
My great friend and business associate, Mike Wilson, passed away last week after a short illness. The world will be a little less interesting without Mike. For the 25 years I knew Mike, he was always up to something. Even in the past few years, two or three weeks seldom went by without my phone ringing. Mike would say something like, "There's a guy we have to talk to," or "What do you think about doing this?"
---
August 15, 2016
If you care about the future of your company, do not skip this column! It all boils down to one thing: Our products and services will actually define our companies. Instead of reading our ads about our company's products, people who have used these products will talk about them on social media, thus influencing others to use our products as well.
---
August 08, 2016
You heard me right: The age of reps working months and months on their own dime before they see a cent from their principals is over. We have finally come to this point. Reps are now going to need some sort of compensation before they will even think of signing on with a new principal.
---
August 01, 2016
This column is meant for those customers who need printed circuit boards but don't want to communicate with the PCB shops directly. It's meant for those customers who believe that a PCB is just a thin piece of green plastic that anyone can build.
---
July 25, 2016
Without a doubt, the most challenging part of a sales manager's job is finding the right salespeople to make up your sales team. It's vitally important to find the right people because as a sales manager you live and die with your team.
---
July 18, 2016
To succeed in business today, especially a custom business where you're making products based not on your designs, but the customers' designs, you have to be flexible. You have to listen to what your customers want and what they are going to need tomorrow, and customize your offerings to meet those needs.
---
July 11, 2016
I just read a new book called appropriately enough, The Smartest Places on Earth: Why Rustbelts are the Emerging HOTSPOTS of Global Innovation, by Antoine van Agtmael and Fred Bakker—a book that everyone in business today should pick up and read.
---
July 05, 2016
Guess what, folks? Four or five weeks is not enough time to try out a new salesperson. In fact, six months is nowhere near enough time to try out a new salesperson. It takes much longer than that for the salesperson to just get around his territory and introduce himself to your existing customers, and your company to all of his customers and contacts.
---
June 27, 2016
Sales managers, you have to visit customers. In fact, GMs, presidents, quality managers, and even company owners need to visit customers whenever they get the opportunity. Why are we satisfied to just sit back and have salespeople do customer translations for us? Why are we happy (or often unhappy) with the information that our salespeople bring back from our customers? Why are we settling for communicating through our salespeople? Managers, get out and visit customers, and get to know them on a personal, first-name basis.
---
June 20, 2016
My philosophy is very simple: A good plan implemented and followed to fruition is always better than a great plan abandoned before its time. A good plan has to be given time to work. A good plan is only as good as the commitment and dedication that people are willing to give it. Business, like life, is a marathon—not a sprint.
---
June 13, 2016
There are a number of ways you can motivate your sales team, but the single most important way is to create a mission that is so compelling that it forms a basis for inspiration as well as motivation. It all starts with this. As a manager, you have to create this kind of mission, something that will get the sales team all working toward that same honorable goal.
---
June 06, 2016
Although it has been discussed for years, the time for collaboration is here, for our industry and for all of the world's industries. Smart people are realizing that we are going to have to tear down those silos and start working with each other if we are going to survive, and more importantly, go on to do great things together. We are finally going to have to partner in the true sense of the word. So, what does this mean to our American board shops who are secretive and paranoid about dealing with one another, never mind even considering dealing with multinational companies?
---
May 30, 2016
So we all think we are doing a pretty good job getting to know our customers, right? We think because we know what market they are in and what they build, and have some sort of idea of what they need we are in pretty good shape, right?
---
May 23, 2016
Do you dare to find out how your customers feel about you? As always, it's all about the customers and more importantly, it really gets down to what your customers think about you. I want you to really think about this for a minute or two. What do your customers think about your company? Would they recommend you to someone else who might need your services?
---
May 16, 2016
From the title of this column, you might be saying to yourself, "Thank you, Captain Obvious," but stop and think for a minute. What can you offer that goes way beyond the product itself? What can you offer that will get your customer thinking beyond price issues?
---
May 09, 2016
Remember when things used to work, and services and systems were more efficient and, yes, everything was included as part of the service that we were paying for? Now we live in a world of lousy service, full of inefficiencies and incompetence, and we have to pay a special fee to preclude that incompetence and get the service we used to get.
---
May 02, 2016
I personally know of some companies who have shrunk themselves out of business. They have literally cut costs to the point where there was just nothing left. In fact, one company's owners actually celebrated when their vice president of sales and marketing left, because all they could see was that they were not going to have his expense any longer, and he wasn't that well-paid to begin with!
---
April 25, 2016
Remember when men wore suits to go to work? Not only salespeople, but also owners, managers, and even supervisors, who at least wore shirts and ties. At the risk of getting bombarded with hate mail, I have to say that I miss those days. I miss the professionalism that dressing in a suit and tie evoked. Guys looked like they knew what they were doing. They looked like they were serious about what they did for a living.
---
April 18, 2016
I hate this subject. I don't hate it because I'm scared of it, but rather because it reminds be that most of our customers pride themselves on their ability to find the cheapest products in the world to put into their products, which they also claim are the best in the world.
---
April 11, 2016
The cold hard fact is that the smaller shops are on their own. They have no one to look out for them, no one at all. So those of us working for or with the smaller companies have to stand on our own; we have to stand tall with a never-failing, never-faltering will to do whatever it takes to succeed in this market.
---
April 04, 2016
So, your sales are down now. Your numbers are in the gutter and no matter what you do, you can't seem to get anything going. This week, Dan Beaulieu offers a short plan to get things kick-started when your sales are stuck in neutral.
---
March 28, 2016
This is it, column 500! After 10 years and nearly half a million words, and thousands of opinions, comments, complaints and aggravations, I have finally reached this milestone. Special thanks to Barry, Barb, Andy, and Patty for making this column such a success.
---
March 21, 2016
We all hate calling to complain about a product or service. But what if the person on the other end of the phone is pleasant, accommodating, and helpful? What if that person not only solves your problem with a smile but goes the extra distance to compensate you for your inconvenience? How does that make you feel? Relieved, right? You actually feel pretty happy. Does your own company provide that kind of customer service?
---
March 14, 2016
Stay in touch; you have what they need, they just don't know it yet. An interesting question: When do you stop calling a prospect? Well, it depends on the prospect. If, for example, you have done your homework and you know for sure that you have exactly what he wants, then the answer is never stop calling. Or perhaps don't try to see him every single week. But you want to make sure that you have some sort of lead generation system where you will stay in touch. By the way, "touch" is the operative word here.
---
March 07, 2016
Do you advertise? Do you spend your hard-earned dollars trying to get your name out there, only to feel that you are just throwing your money down a rabbit hole? I bet your ads don't promote anything that will get your customers to take action. Your ads should include a call to action.
---
February 29, 2016
What if your new boss offered you $1 million if you could triple your sales in 12 months? That's right. What if your boss told you that on top of your normal salary and commissions, you could earn a cool million dollars to increase your sales three-fold? What would you do that you're not doing now?
---
February 22, 2016
You can go around telling everyone that your company is great and that you all do great things, but it's not going to mean a thing. Anybody can do that. Instead, let your happy customers do it for you. Yes, having one of your customers tell other potential customers that your company is the best is literally thousands of times more valuable than you saying it yourself.
---
February 15, 2016
Horror stories: We all have them. Like the director of engineering who grew tired of hearing the sales team complain about the company's poor quality and delivery. He yelled, "Why don't you guys just shut up and go sell boards that we can do here?" To which a smartass director of sales responded, "Oh, like overpriced, poor quality boards that are always late." ...You can't make this stuff up.
---
February 08, 2016
I like to use inspirational quotes in my presentations. But there is always someone in the audience who is a non-believer, who refuses to believe that anything can get better; that there is no better way. Where are our innovators? Where are our different ones? They're coming, maybe right out of high school or college, and they're going to look at the way we do things and ask, "Why?"
---
February 01, 2016
An organization of venture capitalists in San Francisco holds an event called DEMO. Innovators and inventors pitch their products and services to a group of VCs, a real-life "Shark Tank" on steroids. These entrepreneurs pay $18,500 for the opportunity to deliver their pitches, and they only have eight minutes to present. Are your presentation skills solid enough that you would pay five figures to for the privilege?
---
January 25, 2016
Remember that old saw from the Pogo comic strip? "We have met the enemy and it is us." Well, a lot of people in the PCB industry would rewrite that: "We have met the enemy and it's our customer." Don't you sometimes feel like this? How many times have you sat around with your sales team and complained about those darned customers? But think about where you would be without them.
---
January 18, 2016
Selling with the passion of a missionary? With the belief of an apostle? Are you ready to change the world, making it better every single day? Do you absolutely believe that you have the best product in the world—to the point where you just cannot understand why people would not want it? Do you honestly feel in your heart of hearts that you are doing people a favor by introducing them to your product?
---
January 11, 2016
If you want to be successful, you are going to have to put everything you have into your career. You are going to have to work hard to hone your sales and marketing skills. Technically, you may be a salesperson, but to be a great salesperson you also have to be a great marketer. You have to know how to get the fish to jump into the boat as well as how to catch them.
---
January 04, 2016
Even with all of the challenges the PCB industry faces every day, it is still a great ride, isn't it? I look at it as a great adventure, an adventure that has been going on for over 65 years, going back to when the first North American commercial board shop, Photocircuits, opened in 1951.
---
December 28, 2015
Because of some of the major consolidations that have taken place this past year, especially one company in particular, this is also good time to be looking for direct sales people. And because so many companies are merging, there are going to be some great sales managers looking for work. Yes, folks, there are going to be some good ones out there looking, and they're yours for the picking.
---
December 21, 2015
If you hire and manage salespeople, you need to have them write up a weekly report for you. Actually, they need to do it for themselves, because one of the true tenets of reporting is that the report is at least as important to the person writing the report as it is to the manager reading it. I am talking about a good and thorough accounting of what the salesperson has accomplished in the past week and what his plans are for the coming week.
---
December 14, 2015
Everybody knows you can't visit customers on Monday. And forget Friday. And you know that Wednesday is never ever a good day to visit customers, right? One guy told me that in New England they don't like seeing vendors in the summer, so there is no reason to even try. Everybody in New York takes August off, so that's out. If you've ever said any of these things, you don't really want to be a salesman.
---
December 07, 2015
Before you spend your hard-earned dollars on advertising, make sure that you know what you want to say and how you want to say it! Make sure that you know just exactly what message you want to get across and, finally, make sure that your ads are going to move your customers to do something. Here are 10 guidelines for developing a solid advertising campaign.
---
November 30, 2015
Twitter is the fastest way to get the word out about what's happening at your company. If you hire a new employee, buy a new piece of equipment, or develop a new technology, Twitter will reach the widest audience. If enough people retweet your post, then your Tweet can go viral, driving a bunch of people to your website. How else can you do that, old-timers?
---
November 23, 2015
I recently came across a terrific book on customer service by Flavio Martins. Win the Customer: 70 Simple Rules for Sensational Service is filled with new and innovative ideas and strategies for improving your customer service. I thought this would be a great time to pass on some of the more interesting, pertinent and instructive ideas from the book. And our industry needs all the customer service help it can get!
---
November 16, 2015
Demand for sales training is on the rise lately. People are realizing that the number one problem for any company is a lack of sales (as if you've never heard me say that before!). So now individuals and companies are looking for ways to gain more customers, and of course the very best way to do that is to make sure that your sales team is operating on all eight cylinders. That is, they must be fully trained, armed, and prepared to get out there and win more business.
---
November 16, 2015
No matter what books you read, the important thing to remember is that in the end, the salesperson is the one who makes it happen. You can read all the sales books in the world, attend all of the seminars and webinars that money can buy; but in the end, it's the person in the mirror who has to have the ambition, the passion and the diligence to make it happen.
---
November 02, 2015
Ask yourself this: Are your staff members allowed to think? Some of the new management techniques can encourage team members to leave their brains at the door. I know that my friends on the other side of this argument will strongly disagree, but I am going to stick to my guns on this one. When you start measuring every single step of an operation to the point where you are measuring minutiae, trying to save every half second of time on the manufacturing floor, you are squelching the very creativity that you claim to be encouraging.
---
October 26, 2015
Start being more productive with your time today by removing the tasks that are not dictated by someone else. Plan your days ahead of time. Get in the habit of laying out your work week, and do so two weeks ahead of time. Make appointments with the tactical scrutiny and planning of a U.S. Army general.
---
October 19, 2015
Yes, the ever popular ride along. That great American sales management tradition when the sales manager spends some good old windshield time with one of his sales people. Whether you have direct people or independent sales reps, the ride along is one of the most important tactics of sales management.
---
October 12, 2015
It's a fact: You have to get the basics right. Look, there is nothing wrong with using sales tools and techniques. There is nothing wrong with using that exciting customer relationship management (CRM) package. There is nothing wrong with trying a new approach to selling. No, not at all. All of these things are good and sometimes even great. But they should never be used as a substitute for the plain old "meat and potatoes" of basic selling.
---
October 05, 2015
It is no secret that it has become nearly impossible to convince good sales reps to take on a new board shop. They either have a couple of good shops already and don't want to rock the boat, or they have been so burned by PCB shops in the past that they are still scarred enough to never want to go near that fire again. So, what do we do about that? We still need sales reps. We can't function using only direct salespeople; that is just too expensive. Here's an idea to consider.
---
September 28, 2015
Do you base your advertising on what you think? Or what your family thinks? Or what your friends think? Or do you base advertising on facts, what your customers think? After all, aren't you trying to sell to your customers? Aren't your trying to make products that customers want? Shouldn't your advertising be focusing on what will appeal to your customers?
---
September 21, 2015
It's very simple. As a leader, it is your job to do everything you can to encourage your people to greatness. And a company filled with great people is a great company, every time. It's very simple. As a leader, it is your job to do everything you can to encourage your people to greatness. And a company filled with great people is a great company.
---
September 14, 2015
Are you truly leading the way? I once had a boss who wanted to sit in his office all day, never participating in any meetings. He would then ask us, his managers, to write long tediously detailed reports and give them to him so he would know what was going on. He wanted to know everything we were doing without having to participate in anything.
---
September 08, 2015
Set up a team of your smartest people, your creative people, and your best customer-oriented people, and meet for one hour each week. Just spend one hour weekly thinking about how you can provide more value to your customers and become a true customer-purposed company. I promise you that it will be the most valuable thing you do this week.
---
August 31, 2015
The making of a customer all starts with that first meeting. In order to make a sale, you have to meet with the potential customer. I hear from a lot of you that you are having problems even making that first appointment, and even if you do make that appointment the customer may stand you up. So, with that in mind, here are some tips to make sure that you have a successful follow-up plan.
---
August 24, 2015
Only deal with customer who appreciate the way you drop everything to help solve their problems (even if those problems come from your competitors' cheap products), the way you look out for them and act as their personal experts and consultants, and the way you put their interests first, making sure that you provide them everything they need to be successful. Those customers are the ones you invest in. They are the ones you target, win, service, and then keep for life.
---
August 17, 2015
I know that it is not always easy to hold your prices. This becomes especially difficult when some of your competitors—especially the ones who are on the brink of desperation—will lower their prices just to get the business and keep the last of their people employed. Ugh, not a pretty picture! Here are a few suggestions to avoid getting into the price game with desperate competitors.
---
August 10, 2015
From Peter Drucker: "The aim of marketing is to make selling superfluous. The aim of marketing is to know and understand the customer so well that the product or service fits her and sells itself. Ideally marketing should result in a customer who is ready to buy….the right motto for business management should increasingly be 'from selling to marketing.'"
---
August 03, 2015
Yes, board shops need to make a profit. In fact, every business needs to make a profit, right? Talk about the epitome of common sense, right? So, why do our customers resent the very idea of a board shop making money? Why do our customers think we are greedy so-and-sos who want to rip them off and take advantage of them?
---
July 27, 2015
Some of you may have heard the ongoing story about the New England supermarket chain called Market Basket. When the beloved CEO was fired by his cousin, the employees, customers, and vendors (yes, even the vendors) fought back, and eventually the CEO was reinstated. Would your customers do the same for you? Would your vendors?
---
July 20, 2015
In sales (and in life, for that matter) you are only as good as your friends and co-workers. You are only as strong as your affiliations. You have to be willing to work with everyone if you are going to be successful life. So, with that in mind, embrace every bridge you have and never, ever burn those bridges.
---
July 13, 2015
Many of the salespeople I talk to today will do anything but sell. They will take a meeting with a customer, have long meandering talks with that customer and then never get around to asking for the damn order. For them, asking for the order is about the same as asking the buyer for a personal loan. It is just not in their bailiwick to be able to come right out and ask for that order. Why not? You have to make the sale.
---
July 06, 2015
We've talked about how many of our customers compared doing business with a board shop to going to the Department of Motor Vehicles. Now we are going to talk about losing that negative cache. Let me give you a little bit of encouragement here: Our customers are so used to being abused by board shops that just a few slight areas of improvement will be noticed immediately.
---
June 29, 2015
True company leaders lead the charge for great customer service. They monitor what their people are saying, making sure that they are always positive about their customers. They lead discussions and brainstorming sessions to find newer and better ways to "WOW!" their customers. When there is an issue with a customer, a true leader will always take the high road and do what is best for the customer and do it loudly so that everyone in the organization gets the message and completely understand that this is a great customer service company. Dan Beaulieu explains.
---
June 22, 2015
Recently, I've reached out to some of my clients' customers to see how they felt about doing business with board shops. I wanted to see how we were doing. The results were disappointing. The companies talked about working with board houses with the same disdain that people have when they talk about doing business with their department of motor vehicles. We're a necessary evil. Yikes!
---
June 15, 2015
Are you getting the most from your rep team? Do you have a full network of sales reps all over the country, but you believe you're just not getting much out of them? If so, it may be time to meet with your reps in person and determine what, if anything, can be done to save the relationship.
---
June 08, 2015
What do the iPod, the Tesla, Amazon, and SpaceX have in common? They rocked their world. All of them were game-changers. All of them changed the way we do things, from the way we buy and listen to music to the way we build rockets and privately launch satellites into space. So, where are our Jobs, Musk, and Bezos?
---
June 01, 2015
An old adage states, "The more you put into your reps, the more you will get out of them." I believe this to be absolutely true. It's true to the point that if you want to have a successful relationship with your reps, you have to give them everything they need to be successful.
---
May 26, 2015
Yep, that's what I'm talking about. When we ignore common sense, we can always come up with lame-brained ideas and wind up shooting ourselves in the foot. It's not always common sense, unless you learn from what you are doing wrong.
---
May 18, 2015
Last week we talked about how most PCB buyers are missing the boat when it comes to getting the most from their vendors. We discussed how this new age of buying boards with minimum communications and almost no face-to-face relationships between buyer and vendor has really taken its toll on the PCB industry. Now, what are we going to do about it?
---
May 11, 2015
We have talked a lot in this column about how board shops should treat their customers, and how they should try to get to know their customers and their needs. So now, let's switch things around and talk about how customers should treat board shops, how they should work with board shops to get the best product and the best performances out of them.
---
May 04, 2015
Yes, Virginia, there is a document, the perfect document to help you plan the future of your PCB company. And that document is the new IPC Technology Roadmap, or, as it is formally called, The IPC International Technology for Electronic Interconnections Roadmap-2015.
---
April 27, 2015
Strategic planning is the key to running a successful business. If you don't plan on where you are going to go, how are you ever going to get there?
---
April 20, 2015
And what is a true salesperson? It's someone who finds a way. It's someone who studies the situation, evaluates his product, and learns all he can about his customers and what makes them want to buy from him. Then he goes out there and does it. He is a student of the game of sales, learning everything he can about how to be a great salesperson.
---
April 13, 2015
Do you want to get more business out of your current customers? Then give them value. Do you want to engage more new customers? Then offer them value. In today's world of social media the best way to get customers to notice you is to offer them value, and the most valuable thing you can give them is information in the form of content.
---
April 06, 2015
Sometimes, I think the biggest problem we have in our industry, or any industry for that matter, is indecisiveness; we can't seem to make a decision about anything. You know what I'm talking about: paralyses by analysis. When I work with company leaders, often the biggest part of my job is to get them to move off that darn dime.
---
March 30, 2015
We all know that there are plenty of great sales books out there, and there are all sorts of good courses that you can send your salespeople to as well. But in the end, there is nothing better than good old-fashioned sales training.
---
March 23, 2015
People are here to stay; people occupy the world and we have to keep people in mind when we develop systems. That's not a difficult concept. It's not hard to grasp, is it? When you are developing a system, make sure you take into consideration the most important part of that system…the people.
---
March 16, 2015
The world has changed drastically. The hands we are being dealt these days are very different than the hands we were dealt yesterday, and we have to learn how to play them today in this new and modern world.
---
March 09, 2015
Hiring a salesperson is one of the most, if not the most, important decisions you have to make as a sales manager—so make sure you take all of the time it takes to find out everything you can about your candidate.
---
March 02, 2015
There are a number of very good salespeople in your company right there under your nose. They are just sitting there hoping that someday they can be asked to be added to the glorious ranks of outside sales.
---
February 23, 2015
Business is back, people are investing in their companies again. Those company presidents and owners want you back, they are looking for you and they are ready to make some deals. Yes, things have changed, companies are more flexible, they want more feet in the street, and they are willing to make it work for you.
---
February 17, 2015
You should be constantly thinking how your company presents itself to the outside world: what it looks like when you walk through it, what it sounds like when customers call in. Does your company appear to be a well-run lucrative company or does it look like a company on its last legs, ready to go out of business?
---
February 09, 2015
How often has this happened to you? You have made one of your sales people your personal project? You know that he can do it, he has in the past. You know that given a bit more time she will turn things around. Maybe if you give that person some more of your personal time his numbers will come back up. She's just going through some bad times she'll be back.
---
February 02, 2015
The DoD has to come to its senses. It has to wake up and start working with the sub-$20 million well qualified board shops. These shops have been the backbone of the American PCB industry since its inception. It has to work with them and support them, making sure they pay prices that are fair enough for them to stay in business.
---
January 27, 2015
There are only a couple of hundred board shops left in this country. Do all of them have to go out of business before someone gets the idea that the board shops should make a buck once in a while?
---
January 19, 2015
If you want to be daring, if you want to try new things, if you want to do things differently from the way you have been doing them, then you'd better be prepared to take some heat. You'd better be prepared to hear some objections. People hate change, and people hate to try new things, so if you're trying something new, you will have people hating you for it.
---
January 12, 2015
More and more young people are asking me about opportunities in our industry. They not only want to know about the products we build, but they also want to know about the industry itself and where we fit into the greater scheme of things, they even want to know about our history. They are curious and ready to learn, and I love that.
---
January 05, 2015
Have you ever evaluated your own company? Have you ever opened one of your own boxes to see how your products are packaged? Have you ever sent a secret RFQ through your own inside sales department to see how your quotes are handled? Have you ever inspected your own boards to see what the customer sees?
---
December 29, 2014
Ask yourself: Are you the kind of leader you would want to follow? Are you proud of the way you lead your people? Are you proud of the way you carry yourself? Are you proud of the way your people react to you?
---
December 26, 2014
PNC Inc. specializes in working side-by-side with visionary engineers and buyers in the high-frequency RF/microwave, audio, defense, and medical industries to create solutions for ever-advancing concepts and designs. Columnist Dan Beaulieu recently sat down with President Sam Sangani to learn what he has to say about being one of the industry's leading PCB suppliers.
---
December 22, 2014
"I know this sounds pretty brutal, but I have to use any method I can to get your attention: If you don't change your ways, you'll go out of business in the next 12 months," writes columnist Dan Beaulieu.
---
December 18, 2014
American Standard Circuits' Vice President of Business Development and Technical Sales David Lackey is the company's resident guru when it comes to flex, rigid-flex, and military technology. Columnist Dan Beaulieu recently sat down with him to discuss the technology and its importance to ASC's growth and industry growth in general.
---
December 15, 2014
If you want to be successful you must do a forecast. You must understand your customers, their buying habits, and their ordering patterns. To predict what your customers are going to do next year you must know what they did this year and the year before that.
---
December 08, 2014
To be great you must to be unreasonable. You must be the one to expect more from yourself and those around you than most are comfortable giving. You must get off your butt, get out of your comfort zone, and make things happen that no one thought possible.
---
December 01, 2014
Who needs Harvard Business School when everything you need to get a full-fledged MBA can be found on your television set? That's right, everything you need to know about business is available with the click of a remote control.
---
November 24, 2014
I love watching the future unfold right before my eyes. I've been on a technology kick lately--reading everything I can get my hands on about new and exciting innovations. I came across a piece in this month's copy of Wired that really blew me away.
---
November 17, 2014
Columnist Dan Beaulieu comments, "Enough is enough: It's time for us to take our industry back. I think we can do it. We have more than a good chance of earning our way back. As Thomas Friedman would say, the world is flat and things have equalized. We can now make our move and ensure we get the PCB industry in this country back up and running."
---
November 10, 2014
This week, Dan Beaulieu writes, "Okay, all of you social media Luddites, it's time to give it up. It's time to get off of your butts and start learning about social media."
---
November 03, 2014
Dan Beaulieu writes, "I often invite salespeople to have their own conference calls so they can discuss the challenges they are having in getting business. They can exchange ideas and give each other tips and hints on how to win more business. They can also talk about what's going on at some of their large, multi-location customers and develop corporate strategies for handling those accounts."
---
October 27, 2014
This week, columnist Dan Beaulieu delivers a sad tale that is, unfortunately, true much too often.
---
October 20, 2014
Companies often become stuck in neutral when it comes to what business direction to take next. Some spend weeks (if not months) deciding if they should do anything at all. Others are frozen when it comes to actually hiring a salesperson--just not sure what they should do.
---
October 13, 2014
Dan Beaulieu discusses an article that tells the story of a two-year investigation of employees at JunBon Enterprises Co. Ltd. charged with crimes related to "trans-shipping"--shipping goods to an intermediary country to disguise their ultimate location...a country barred from receiving U.S. goods because it sponsors terrorism or is an enemy of the United States.
---
October 06, 2014
One of our industry's biggest companies bought up another of our industry's bigger companies recently--creating an even more massive company. Since then I have been surprised by the number of calls and e-mails I've received soliciting my opinion of what this means for our industry and, more importantly, what it means for the smaller companies I work with.
---
September 29, 2014
Dan Beaulieu writes, "There's one subject we seldom touch upon: Leadership. When I started thinking about that topic this week, I decided it is an important subject, actually critical, when it comes to the health and welfare of a PCB company and to our industry as a whole."
---
September 26, 2014
HSIO does not build PCBs, but invents and develops process technologies for the interconnect market. The company's mission is to develop customer technologies to meet today's challenges. Dan Beaulieu sat down with Jim Rathburn to discuss the new LCP PCB process his company developed. Beaulieu says, "Fasten your seatbelt and take a ride into the future of the interconnect industry."
---
September 22, 2014
I was at PCB West a few weeks ago and was surprised and delighted to see that out of the 45 exhibitors there, 27 were board shops, all looking for business. This is a good thing because it shows that times are finally changing and that board fabricators are coming to realize they have to do some marketing if they expect sales to grow.
---
September 17, 2014
Columnist Dan Beaulieu sits down with Mark Osborn, president of Colonial Circuits to discuss IPC-1071 IP protection, supporting U.S. troops, "Made in America" products, and a diminishing supplier base. Osborn also talks about the closing of Vermont Circuits and the owners' hope that their customers will turn to Colonial for future needs.
---
September 15, 2014
Do you truly love what you sell? Do you believe in your product or service? Do you honestly feel you are providing customers with the very best solution on the market today?
---
September 08, 2014
If you ask for something people will generally give it to you. How many of you ask for the order when you're selling? How many of you actually ask the prospect to give you the order?
---
August 25, 2014
Do you know why you are building boards? Do you remember why you got into this business? Where is that passion we once had?
---
August 18, 2014
Salespeople: Do you know what you are to your customers? Do you know what you represent? Columnist Dan Beaulieu will explain this to you, but prepare yourselves--it's not going to be pretty.
---
August 11, 2014
Columnist Dan Beauliue writes, "I like to bring up 'miricle solutions' to Bob in the same way kids like to poke a hornet's nest with a stick. Bob has never been one to keep his opinions to himself and I consider him a bonafied mythbuster when it comes to 'snake medicine' solutions--especially when it comes to technology."
---
August 06, 2014
Columnist Dan Beaulieu interviews IPC's Director of Market Research Sharon Starr about the assocition's recent survey, "On-Shoring in the North American Electronics Industry: 2014 Update on Trends and the Impact on Companies." Onshoring has been a hot topic in the industry for years, but is it a real trend or just an urban legend?
---
August 04, 2014
For years now, columnist Dan Beaulieu has been working with sales reps. This week, Beaulieu offers 10 ways to develop an environment that a good rep will not be able to pass up.
---
July 28, 2014
The "grey market" or, as some call it, the "underground market" is the nebulous world where rules don't matter at all, where anything goes, where there are no specs, surveys, registrations, or site visits. There's also no normal RFQ and quoting process. No, none of that exists in the wonderful brave new world of the grey market.
---
July 21, 2014
How many times I am going to have to say this? You need salespeople! It doesn't take a rocket scientist (but now that I think about it, some of you probably are rocket scientists!) to figure this out: If you don't have enough sales, you must hire some salespeople to get the ball rolling.
---
July 14, 2014
Finally, the ambiguity is gone, and clarity has taken its place. Once and for all the State Department has made it clear the PCB is to be controlled under USML Category XI. In other words, PCBs designed and built for defense-related purposes will now fall under ITAR jurisdiction. This is a big win for our industry and a hard-fought triumph for IPC.
---
July 07, 2014
The biggest mistake you can make about your competition is underestimating them. How many times have you said, "They're giving their boards away. Let's just wait for them to go out of business," or "We're so much better than they are. The customers will surely find that out and come back to us." You may be right and these things might be true, but it doesn't matter. It does you no good to think this way.
---
June 30, 2014
Being likable has everything to do with being a good sales person. Think about it: Who would you rather spend time with? Someone who is pleasant, charming, intelligent and informative? Or someone who is angry, constantly complaining, who only wants to talk about his goods and services? Are you an example of the former, or the latter?
---
June 23, 2014
When was the last time a customer said something nice about you? Better yet, when was the last time you did something so great a customer came back and told you about it? Isn't that the ultimate win?
---
June 16, 2014
The greatest challenge our industry faces right now is attracting more young people to our ranks. It seems that becoming a PCB process engineer, quality manager, production manager, or supervisor is just not what young people are going to college for these days. What are we going to do about it?
---
June 09, 2014
One of the most important aspects of being a sales manager is riding along with your salespeople. Working directly with your salesperson for a few days provides a magnificent opportunity to observe, evaluate, communicate, and motivate.
---
June 02, 2014
Dan Beaulieu writes, "I used to think that the summer doldrums were a myth, or maybe a lousy, lazy excuse for not working as hard as one should in the summer. Now I must admit that by tracking trends for the past five years I've found it's true--the summer months are indeed slower."
---
May 19, 2014
Of course branding is important--your brand is everything your company stands for. It represents the way you do business, how you stand out in the marketplace, what your service offering is all about, and what you're selling. But it's not the only thing. You must incorporate marketing if you're going to be successful.
---
May 12, 2014
"I think one of the most difficult aspects of being a sales manager is hiring the right people. I've heard many people say the reason it's hard is because salespeople are very good talkers and are very good at selling themselves. I agree," says Columnist Dan Beaulieu.
---
May 05, 2014
Remember how great we felt November 11, 1989 when we saw the wall go down in Berlin? Man, that was a great day--it marked the end of the Cold War. The borders were gone and freedom rang throughout the world...for the most part.
---
April 28, 2014
Dan Beaulieu writes, "I was shocked recently when I heard a salesperson talking about his design customers who don't want to hear what board vendors think about their design. I know this type of thing occurrs all too frequently, but what shocked me was that he told me this thinking was based on some kind of philosophy--actually, a well-known, well-regarded philosophy taught by a famous design guru."
---
April 21, 2014
Great customer service can not only be rewarding financially, but it can also be great fun. After all, what's more fun than making someone happy?
---
April 14, 2014
Am I wrong or is it more difficult to find good salespeople these days? Is it just me or are salespeople more interested in being relationship managers than they are in selling? Is it my imagination or are there fewer salespeople willing to pick up the phone and call someone they don't know and ask them for some business?
---
April 07, 2014
No matter what kind of marketing you do--print advertising, social media marketing--the cornerstone of such efforts will be your website. In the end, the goal is to get people to visit your website. Almost all of the time, money, and effort you spend on sales, marketing, and branding is to get people to make that click.
---
March 31, 2014
Dan Beaulieu has had it with companies that don't respect the customer: "Look, a burger joint that doesn't let you have burgers the way you want them sucks; wake up and figure it out. A coffee is a coffee, not some sort of hedonistic rite and an invitation software should make your life easier--not more difficult…right?"
---
March 24, 2014
What's keeping you? Why does that quote take so darn long? I hear comments like this all the time from my buyer friends who ask why PCB shops' quotes take so long.
---
March 17, 2014
Sales managers are always asking me to say more about the art of listening. They ask me if I know of any courses on the subject. I guess our world is filled with salespeople who do a whole lot of talking and not enough listening--at least that's what their managers think.
---
March 10, 2014
So, you're not exhibiting at IPC APEX EXPO, but you're attending to take a look around and see what you can see, who you can meet, and what you can find out. That's good, but is that really all you can do? Not if you're smart.
---
March 03, 2014
This week Columnist Dan Beaulieu comments on a LinkedIn denial letter to a 26-year-old job seeker that went viral. Hold on to your hats, folks--Dan doesn't hold back!
---
February 24, 2014
IPC APEX EXPO is just four weeks away. Are you prepared to put your best foot forward during the last week of March? If not, you'd better get off the dime and on the stick--it's time to prepare for the most effective showing you've ever had. And if I see you sitting in the back of a booth reading a book, I'm going to take your picture and post it in one of my columns!
---
February 21, 2014
Dan Beaulieu recently met up with John Vaughan, president of Circuit Solutions LLC, and an industry expert when it comes to military and defense electronics with a particularly interesting insight into the inner workings of Washington's beltway. Vaughan's company is a provider of integrated supply chain and program management solutions to the military C4ISR, unmanned systems, and IED detect and defeat communities.
---
February 17, 2014
When it comes to marketing--what it's about, how it works, and what it's for--you've got a lot of things wrong. Without a good marketing plan your company could be losing approximately 20 to 30% of business each year due to attrition.
---
February 10, 2014
Anyone can lower their prices, but that's a loser's game that we in the PCB industry have been playing for years--and look where it's gotten us. Only 250 board shops remain in North America because we've all played the "lower the price" game for years.
---
February 03, 2014
I'm told there are only about 250 or so board shops left in North America, down from an estimated high of 1,500 depending on who you ask. The U.S. industry has been devastated in the past 20 years to the point of annihilation.
---
January 27, 2014
Anyone can be a great vendor when things are going well, but, when times are tough and things go wrong, that's the time to show your customer how much you care; that's the time to show you'll walk to the ends of the earth to make the relationship right again.
---
January 20, 2014
The position of sales manager is the most important and yet most underrated position in a company. What makes a great sales manager? Dan Beaulieu gives six pieces of advice.
---
January 13, 2014
You may have been taken advantage of in the past, but that was then and this is now. A number of great board shops are out there and they know how to treat reps well. These companies have had a very successful run with independent sales reps and they are worth considering when you're looking for a good board shop to represent.
---
January 06, 2014
We all know that finding and maintaining great reps is one of the industry's greatest challenges. It's getting more and more difficult to get good reps--often because so many board shops screw them over.
---
December 30, 2013
As 2013 comes to a close, Columnist Dan Beaulieu takes a look back at the past 12 months and reflects on what's happened, evolving trends, and what both mean for the coming new year.
---
December 23, 2013
While Christmas shopping this week, Columnist Dan Beaulieu writes, "I spied the future, something we've all heard and talked about for the past couple of years at the end of one of the aisle. It's called 'The Cube' and it is the first 3D printer I've ever laid eyes on."
---
December 16, 2013
I'm done with passwords. I just don't care anymore; take anything you want from me. It's just not worth it. If you want to sneak into my house and steal $2.99 movies from my Apple account, do it! If you want to go to my audible account and steal a book, then be my guest--have a ball.
---
December 09, 2013
In the past month I have heard no less than three times about companies asking--demanding--that their PCB suppliers take 20% off the price of their boards. Not just the new part numbers, mind you, but the part numbers they've been building for years. Really?
---
December 02, 2013
A company's story explains what the firm does, what it stands for, why it's different from other companies, why it's better than other companies, and why people should choose its products over competitors.
---
November 25, 2013
I was horrified to read in the papers the other day that the FAA is about to cancel its ban on cell phone use during flights. Soon we'll be able to make calls while the plane is flying, which means we are about to lose the last bit of silent sanctuary the world offers us.
---
November 18, 2013
Columnist Dan Beaulieu writes, "We do the same things over and over again expecting different results. Very little thinking is done outside the box in our industry; this is something I deal with all of the time."
---
November 11, 2013
Like some of you, Dan Beaulieu knows that social media is something that he needs to get involved in, but just doesn't know how to get started. One book can solve his problem, and yours.
---
November 04, 2013
There are all kinds of reasons why we lose customers--it just happens. Should you just forget about these lost customers? Assume they are long-lost orphans and move on to greener, pastures? Dan Beaulieu says to do everything you can, whenever possible, to bring them home.
---
October 28, 2013
Where do you rank as a salesperson? Are you doing the best job you can? Whether you have been in sales for 20 days or 20 years there are things you should always be doing to ensure you're performing at a maximum.
---
October 21, 2013
Columnist Dan Beaulieu says, "For as long as I've been in the North American PCB industry, the strategy of every board shop has been to beat all other shops for business. We've all gone at each other with as much vengeful force as we can muster to 'beat' the other guy. It's got to stop."
---
October 14, 2013
Do you feel stuck? Do you feel like it's getting harder and harder to make a living in the circuit board industry? When was the last time you told someone that business was great, that things were going wonderfully? When was the last time you were happy about going to work?
---
October 07, 2013
The new generation apparently didn't go to kindergarten; they were probably learning to do their own thing in a Montessori school somewhere. They don't like to answer the phone, they don't like to make appointments, they don't like face-to-face meetings, and they sure as hell don't want to hear about anything--especially what you're selling--until they need to hear about it.
---
September 30, 2013
When you talk to young people today, you seldom hear any of them say, "When I grow up I want to work in a printed circuit board shop." Or "I'm going to college so that I can learn how to build printed circuit boards."
---
September 23, 2013
It's time to begin developing your strategy for next year, including your sales tactics, your marketing plan, your social media plan, and, most importantly, your account plans and sales forecast.
---
September 16, 2013
For some reason, you did not get the order. You have to suck it up and move on to the next one, because stuff happens sometimes. It's not fair, but, as we all know, life is not fair.
---
September 02, 2013
If you're the head of the company--CEO, president, owner, whatever--get out of the office and go visit your customers. There's no better way to spend your time. By knowing more about your customers you'll be able to relay important information about those customers to your management team.
---
August 26, 2013
Why don't we care as much about the quality of the PCBs as we do their price? Why don't our customers get goose bumps when they think about buying the very best PCBs that money can buy?
---
August 19, 2013
Have we been down so long that we can't imagine things getting better? It seems like we've been talking doom and gloom for so long that it's become a habit.
---
August 12, 2013
When you do manage to get that rare meeting with a potential customer you'd better make it good because chances are you're only going to get one crack at it. You'll get just that one opportunity to make good on your time with that target customer.
---
August 05, 2013
"Treat others as you would want to be treated." Remember that one? Have we outgrown that one? Has that one rule, after thousands of years of usage, gone the way of the fax and the horse-drawn carriage? Has that one become obsolete?
---
July 29, 2013
Good news is on the horizon: Things are looking a little brighter for North American board shops. Some analysts say this could be the last year that shops will have to struggle as they have for the past five years.
---
July 22, 2013
We are in the heart of summer and it's time for some great reading. While others may be reading the latest Robert Parker, Mary Higgins Clark, or Dan Brown, Dan Beaulieu is jumping into some great business books that just arrived.
---
July 15, 2013
As a sales manager, you need to be much more of a hands-on coach and leader than ever. You must be completely focused on your salespeople, dmaking sure you keep them engaged at all times. You have to be there for them.
---
July 08, 2013
Customers want us to understand everything about their companies. They want us to cut to the chase, know what they want, and give it to them.
---
July 01, 2013
Many of us have spent considerable amounts of time and money trying to compete with the Chinese. The fact is, we'll never be able to compete with them on high volumes. But if we concentrate on doing what the Asian shops can't do, we will win every time.
---
June 24, 2013
In the very near future we are going to have to sell much more than just bare boards alone (or assembly alone, or even design alone) to be successful. We must sell the entire package if we want to give customers what they want.
---
June 17, 2013
Dan Beaulieu gets a little personal this week: "It is Father's Day and I've been thinking about my father of late. Friday I was having lunch with a new friend and he asked if I liked what I do. Instead of answering him directly, I surprised myself by starting to tell him about my dad."
---
June 10, 2013
If you feel you are delivering perfect customer service and don't need to hear any more about it go read something about how to find new customers when you lose the old ones--you're going to need to know that pretty soon.
---
June 03, 2013
Why do we have meetings? Dan Beaulieu thinks companies sometimes have meetings simply because they don't know what else to do. Pretty scary, isn't it? This week, find out how to run a more efficient meeting.
---
May 27, 2013
Most of us are terrible at interviewing people and it's a process so overdone that it has become a silly and ineffectual dance designed to do nothing more than make both parties feel they have adequately filled the most critical requirement in the hiring process.
---
May 20, 2013
The North American PCB industry has never taken its fair share of the glory; never claimed all the good they have done in the past 60+ years. Instead, as an industry, we have been pushed and shoved and twisted to a point where we have almost broken.
---
May 13, 2013
On-time delivery, quality products, and great price don't make a customer happy says Dan Beaulieu. It's simply the customer experience. In the end, it's always the experience of doing business with a company that wins out.
---
May 10, 2013
Marc Carter, IPC director of technology transfer and editor of the latest version of IPC's 2013 International Technology Roadmap, details the incredibly detailed process involved in the development of the document and its importance to the entire electronics industry.
---
May 06, 2013
If you want people to pay attention to your ad, you have to say something important, something to make them click on your website or pick up the phone. No one is going to call you just because your ad says you deliver your products on time, you've been in business 27 years, or you offer free tooling.
---
April 29, 2013
While it's certainly true that good customer service can be taught, Dan Beaulieu would like to add that great customer service has to come from the top--it must be inspired by company leaders.
---
April 22, 2013
Whether you prefer the term "onshoring" or "reshoring," the process is happening more and more in North America and bodes well for our industry. Many companies--our customers--are finding ways to buy more boards here in the United States and Canada.
---
April 15, 2013
Columnist Dan Beaulieu is not impressed with American companies that give away our secrets and put the country at severe risk for the sake of the almighty dollar. A board can be produced much cheaper in China--so what? Is that worth risking our country's safety and security?
---
April 08, 2013
If you've been getting your ITAR boards offshore, stop it right now. And if you know someone who is not obeying that law, turn them in. This is not just a business thing anymore; it's not just a competitive thing either. It's an American thing, and it is your duty to turn these people in. So, do your duty.
---
April 01, 2013
If you're paranoid about someone seeing your customer list, relax. It's not a big deal. What is a big deal, the real challenge, is what you do with that list. How do you convert those names into customers? Dan Beaulieu offers six tips to get you started.
---
March 25, 2013
Let's assume that you have a problem with a customer and, hard as it is to imagine, let's also assume that you screwed up.
---
March 18, 2013
If what you're doing isn't working, do something different. Dan Beaulieu has known a number of companies that want to change. They know what they're doing is not working, but they just can't seem to get out of their own way. They're uncomfortable, and soon they begin looking for reasons to return to the old ways. Does this describe your company?
---
March 11, 2013
Any way you cut it, cheap is cheap; and cheap is inferior. Dan Beaulieu lists the true costs that occur when a board is late; when it is rejected and returned to you by a customer; when a board must be rebuilt; or, worst of all, when a field failure occurs.
---
March 04, 2013
Can you imagine a truthful ad from some in our industry? "We have searched far and wide and gone to the four corners of the Earth trying to find the cheapest parts we could buy to put into our products. These parts were made by the lowest-paid workers we could find with as little reliability as possible."
---
February 25, 2013
Sales works, marketing works, branding works, and, yes, social media marketing works if you are dedicated. If you don't "believe" in it, hire someone who does and get the hell out of their way. By hiring dedicated salespeople you will do well despite what you think.
---
February 18, 2013
It's finally here. After another year of hard fought "survival of the fittest" competition, we all come together again in San Diego, California to check out the competition, take a look at new equipment, learn about new technologies, meet up with customers, and, most importantly, get some new business.
---
February 11, 2013
The hard sell is dead--if it was ever alive in the first place. Now we have to work to gain the customer's trust. We have to work at making the customer comfortable with us personally--not just our products.
---
February 04, 2013
Take a deep breath and get ready for some serious self-examination. I want you to do this like your life depended on it because it does.
---
January 28, 2013
Business author Tom Peters says most companies spend too much time aiming and not enough time firing. Does this sound familiar?
---
January 21, 2013
"Breaking Bad" is a hit show on AMC and it's also a fascinating to watch. How often to you see a high school chemistry teacher with cancer trade in his second job at a car wash to become a crystal meth fabricator and dealer? Surprisingly, Walter White can teach our industry quite a bit.
---
January 14, 2013
The biggest challenge facing our industry is not outsourcing. It's not the increasingly high costs of materials and chemicals; it's not the diminishing supply chain structure. Nor is it new government regulations. According to Dan Beaulieu, the biggest challenge we face is finding the right people.
---
January 07, 2013
Author Alec Foege says, "...more manufacturing still happens on American soil than in any other country on earth. United States manufacturers created $1.7 trillion in goods in 2009 according to United Nations statistics--outproducing China by more than 40%. So why is there a perception that Americans are losing the manufacturing battle?"
---
December 31, 2012
There is a great deal of renewed interest in American board fabricators and, interestingly enough, those most interested are as we say in Maine, "from away." European companies are particularly interested in buying into the American market.
---
December 24, 2012
Kudos to IPC for trying to raise awareness when it comes to International Traffic in Arms (ITAR) regulations. The association recently hosted a workshop with the country's leading defense contractors in an attempt to educate them about ITAR in terms of PCBs.
---
December 17, 2012
A great company takes everything it does seriously. It considers everything important, from the way they answer their phone, to the way they handle customer issues, to the way they package and ship their boards.
---
December 10, 2012
For the past couple of weeks, Dan Beaulieu's been talking about the rep/principal situation which, these days, he says is as polarized as the Republicans and the Democrats or the rivalry of all rivalries--the Red Sox and the Yankees. But now, he says, it's time to declare peace.
---
December 03, 2012
Jean-Baptiste Alphonse Karr, a French critic, journalist, and novelist, once stated, "The more things change, the more they stay the same." When I look at our industry Karr's observation seems shockingly accurate.
---
November 26, 2012
Dan Beaulieu answers questions from his readers: How do I make the rep/principal relationship work? How do I create a successful partnership between these entities? How do I change things around so that instead of hating board shops, reps love board shops?
---
November 19, 2012
For the past couple of years, I've noticed that it's much more difficult to get independent sales reps interested in selling for board shops. One of my offerings, a task that is becoming my least favorite, is trying to find reps for shops. My fee for this is getting higher every year because it's getting more and more challenging.
---
November 12, 2012
Poor salespeople also find a way to make themselves feel better for failing. They choose to believe what they see in the news. It's as if they hear about a recession and think, "Aha! That's why I'm failing; that's why I can't win any business." But when I talk to successful people, they don't even discuss such things.
---
November 05, 2012
"DAM" thinking occurs when a person feels it is more important to push his or her own agenda than it is to contribute to the success of the company's agenda. A person or company with this type of thinking will end in failure.
---
October 29, 2012
The time you spend in preparation can be as important (if not more) than the time you spend selling. It's all about selling. Here are 10 things you should be doing on those days when you're not on the road in front of customers.
---
October 22, 2012
It's almost the end of October. Have you started planning for the upcoming year? What are you going to do in 2013? Are you ready to make things better than they were last year?
---
October 15, 2012
When you're out there selling PCBs make sure you pay attention to the design service bureaus and designers in general. This task will be easier with the launch of I-Connect007's newest online publication: The PCB Design Magazine.
---
October 08, 2012
In this week's all new "It's Only Common Sense," Dan Beaulieu reveals "power questions" salespeople can use to complete a successful sales call.
---
October 01, 2012
We dread the very idea of picking up the phone, calling someone we don't know, interrupting their day, and trying to get them to do something they don't want to do. For many of us, the very thought of this is terrifying. This week, Dan Beaulieu offers tips to getting over the fear.
---
September 24, 2012
This week, Dan Beaulieu provides a few brand new sales ideas/tips for your sales department. He guarantees each will help you improve your sales.
---
September 17, 2012
We lost a good man recently. My friend Juan Serra and I worked together at General Circuits in the '80s. He was one of the finest manufacturing guys I ever met, a man who clearly understood what it meant to make a promise and keep that promise. Juan was a man of his word.
---
September 10, 2012
If you don't have a plan, stay in the car. Wouldn't it be crazy if, after going to all the trouble of setting up an appointment with a prospective customer, you decide to wing it, to make it up as you go?
---
September 03, 2012
As Dan Beaulieu points out in this week's column, the relationship between the board shop and a customer isn't always a fairy tale.
---
August 27, 2012
Dan Beaulieu believes we are losing the art of selling. He finds that there are two kinds of salespeople: Those who are actually salespeople and those who are salespeople by title only. Which are you?
---
August 20, 2012
How did we get to this point? How does a company in China offer military board builds to an American company? Someone in this country had to get them the prints to quote and, worse yet, give them orders to build. Who did this? Is it you?
---
July 02, 2012
The PCB world shuts down during holidays, but I believe you should do the opposite. Tell the world you will stay open to meet customers' needs. Do this and you will get business. Make sure you promote this, and loudly. If a company's regular vendors are closed, this could be a great time to invade that account.
---
April 18, 2011
No, I don't think Jack Welsh could run a board house. He would have a hard time dealing with the challenges that we in the board business face. First, he would have to face his own people. Then he would have to deal with cash flow. For the first time, he would know how much it costs to hire that admin. And he would have to pay bills on time.
---
March 21, 2011
The events in Japan quickly became very personal for Dan Beaulieu last week. His son, Damon, a teacher in Morioka, Japan, gives his first-hand account of the events that followed the record-breaking earthquake and tsunami that changed an entire country.
---
January 17, 2011
If you want to be successful in sales you have to know your customers. You have to know what their needs are, what problems they face and what they consider a good vendor.
---
January 04, 2011
Multilayer Technology has seen some good years and some tough years. But while other companies chose to hunker down and merely weather the recession's storm, Multilayer chose to enhance the firm's technologies and capabilities. The company recently achieved AS 9100 certification, and management continues to plan technology upgrades.
---
August 16, 2010
This week, Dan Beaulieu gives you the cold, hard facts: Success in sales is entirely up to you. That's right, success or failure all depends on only one person--you.
---
March 15, 2009
Do you want to find some great representatives? Its not easy, but Dan can tell you how in this week's new column. This weeks is a must-listen: Listen for the free offer Dan mentions inside!
---
March 02, 2009
The key to success in the current economy is winning new customers. Current customers are ordering less, so you've got to grow your customer base. American companies are realizing that they have to look out for one another if things are going to improve--creating a new sense of nationalism in this country.
---
January 19, 2009
Companies need business now more than ever, but many are actually canceling sales travel! Dan Beaulieu has a serious problem with this senario. Sales travel is essential to the health of your company--it also lets your customers know that you're still alive and kicking. Be assured: There is business out there for companies willing to make a show of force and go after it aggressively.
---
October 13, 2008
You can have a great product and still not succeed in this industry. This week, Dan offers three economical and effective ways during these tough times to get the story of your products out to the rest of the world.
---
August 26, 2008
Its that time of year again--if you're going to have a successful 2009, you'd better start working on it now...right now. This week's edition of It's Only Common Sense tells you how to get prepared for a successful 2009!
---
August 11, 2008
Dan Beaulieu asks, "What are we going to do about always going for the lowest price at any cost?" The real cost of going for the lowest prices are real--very real, indeed. The customer may always be right, but when that customer insists on the lowest priced product, at the expense of quality, then that customer is not putting out the best product possible.
---
February 11, 2008
Want to get the most from your sales team? Listen to this week's "Its Only Common Sense: How to Motivate Your Salespeople" and find out.
---
December 10, 2007
Why do we refuse to buy into a great solution to our problems even when it's staring us in the face?
---
November 27, 2007
Are you the best salesperson you can be? If not why not...its your choice.
---
November 19, 2007
Do you hate cold calling?
---
November 14, 2007
Listen to this week's It's Only Common Sense column from Dan Beaulieu "
---
October 29, 2007
o you think the web site takes care of everything? That you no longer need a brochure? Think again my friend.
---
October 22, 2007
Some companies are old school and losing while other companies are new school and thriving
---
October 15, 2007
The world is changing -- are you ready?
---
October 08, 2007
Learn how to succeed in making your business plan work.
---
September 10, 2007
Want to hire great reps? Dan Beaulieu takes the mystery out of finding and signing the right sales reps for your company.
---
April 09, 2007
Listen to Dan Beaulieu's column ths week. Beware the bad guys. Be careful, be very very careful, if that job offer seems too good to be true...it is...
---
January 28, 2015
There are only a couple of hundred board shops left in this country. Do all of them have to go out of business before someone gets the idea that the board shops should make a buck once in a while?
---
November 19, 2014
Enough is enough: It's time for us to take our industry back. I think we can do it. We have more than a good chance of earning our way back.
---
September 15, 2014
Do you truly love what you sell? Do you believe in your product or service? Do you honestly feel you are providing customers with the very best solution on the market today? Do you think you're selling a product so great that you're doing customers a big favor by letting them have it?
---
September 01, 2014
All you need is a simple, elegant, and useful website. A site that is easy to navigate; where the visitor can find his way around without really having to think...
---
August 25, 2014
I was recently inspired by a TED Talk in which the speaker, Simon Sinek, discussed what made great leaders great. And not just leaders, but the companies or organizations they led as well.
---
November 09, 2014
If you ask for something people will generally give it to you. How many of you ask for the order when you're selling? How many of you actually ask the prospect to give you the order?
---